Durham Region honoured as one of the top Intelligent Communities for 2023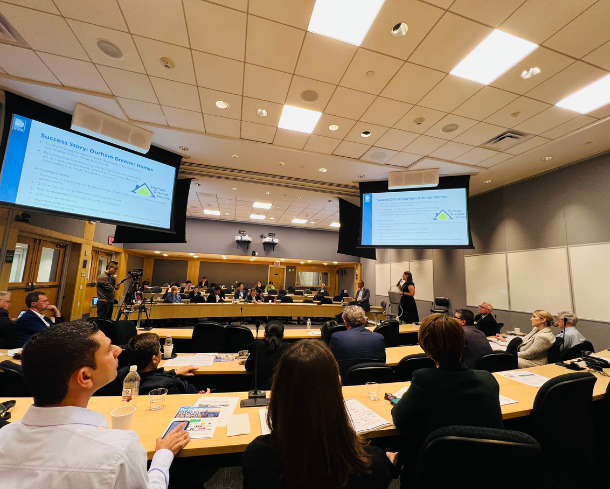 Whitby, Ontario – Durham Region is participating in the Intelligent Community Forum Summit, where yesterday it received an award recognizing Durham as one of the top seven Intelligent Communities in the world in 2023.
Durham Region was named to the prestigious top seven list alongside cities from Australia, Brazil, the United States of America and Vietnam. Durham's Intelligent Community profile explains how the region is strengthening its large and diverse community through improved connectivity, access, education and energy planning that promise to deliver a better future for all.
Durham's innovative network of government programs, academics, and community partners is creating a culture that encourages and welcomes digital transformation. Through its Intelligent Communities Plan, the Region of Durham is leading the way in innovation, with initiatives such as the Regional Broadband Project; CityStudio Durham; the Canada Learning Bond outreach project; and the myDurham 311 Smart Home Device Voice Service project. Durham also offers a strong network of digital support for small businesses and entrepreneurs, with collaborative initiatives to connect businesses directly to customers, like the Downtowns of Durham.
Durham's thriving innovation community is made up of top talent and innovative partners that translate research and development assets into jobs and investment. Durham Region's top Intelligent Community recognition is thanks to local success stories from the Durham Entrepreneurship Ecosystem Forum, the Durham Economic Task Force, Access IO, Durham College, Ontario Tech University, Trent University Durham, Spark Centre, OPG X-Lab, Durham Region Transit, Oshawa Senior Citizens Centres and others. Check out the #IntelligentDurham hashtag on Facebook, X (formerly Twitter) and LinkedIn to see Durham's innovation community in action.
To learn more about initiatives currently underway in Durham Region, visit durham.ca/IntelligentCommunities.
Quote
"In Durham Region we strive for innovative solutions for big problems across the board. From making Regional services more accessible through smart home devices to responding to climate change with our Durham Greener Homes project, we push boundaries. After being in the Top7 Intelligent Communities for the past two years, we remain committed to growing and improving with a goal of maintaining our position as a leading global innovator."
- John Henry, Regional Chair and Chief Executive Officer
About Durham Region
Located on the eastern side of the Greater Toronto and Hamilton Area (GTHA), Durham is a region with momentum. Offering a competitive advantage like no other, Durham is a community where talented, smart and ambitious people—known for their innovation, creativity, skills and education—bring access to world markets, insights, invention and traditions. A place where an innovative ecosystem helps propel new ideas forward. Where ingenuity and industry help tackle global challenges. Visit durham.ca to learn more about one of Canada's fastest growing communities.
– 30 –
For media inquiries, please contact Corporate Communications.