Durham Region named a Smart21 Community for 2023
Durham Region has been announced a Smart21 community of the year for the third year in a row!

The Intelligent Community Forum (ICF)'s Smart21 Communities program recognizes the world's leading municipalities that are successfully leveraging data and digital assets to develop inclusive and prosperous communities.

Durham Region is being recognized on the global stage for its modern technology and leadership in innovation to improve economic competitiveness, engage citizens, and increase connectivity to support smarter, healthier, more equitable and sustainable communities.

Innovative projects include the myDurham 311 Smart Home Device Voice Service project, the first in Canada to bring regional services to a smart home device; and CityStudio Durham offering experiential learning to tomorrow's leaders by opening up municipal government to the classroom. Learn more about these initiatives and how they embody our vision for an intelligent region below.
Learn more about the Smart21 Communities of 2023.

The Region, in partnership with ICF, will be hosting the 2023 Top7 Intelligent Communities Conference: Better Together – Building a Strong Region from Diverse Communities. The two-day hybrid conference features live and online events in the Durham Region and an announcement of the Top7 Communities of 2023.
For more information about ICF and the 2023 Smart Communities awards, visit IntelligentCommunity.org.
Contact us to collaborate: IntelligentCommunities@durham.ca
Intelligent Communities Implementation
Implementation of the myDurham Intelligent Communities Plan improves economic competitiveness, engages citizens and increases connectivity.
Durham is leading the way in innovation, with initiatives such as the Regional Broadband Project; CityStudio Durham; the Durham Greener Homes project; and the myDurham 311 Smart Home Device Voice Service project.
Durham also offers a strong network of digital support for small businesses and entrepreneurs, with collaborative initiatives to connect businesses directly to customers, like the Downtowns of Durham.
Learn more about these projects and how they embody our vision for an Intelligent Region.
Durham Greener Homes
The Region recognized early that in order effectively tackle a wicked problem like climate change, we were going to need to work with our partners. The ambitious Durham Home Energy Savings Program has been developed alongside municipal partners, energy utilities and financial institutions. The Program will leverage data from our partners to create an engaging digital platform that highlights customized energy savings opportunities, and will provide a Home Energy Coach service to answer residents' questions along the way. We are excited to be on this journey to a low carbon Region.
myDurham 311
myDurham 311 is a transformational project aimed at improving the customer experience across all channels. This project will ensure service is always available and accessible. Customers will access support and information at the time that is right for them and in the manner they prefer. As the program rolls out, it will expand across all Durham municipalities.
Call 311 to connect with Durham Region
Do you need to contact Durham Region? There's only one number you need to know: 311. You can connect with Durham Region by calling 311 for convenient access to information about Regional services like roads and traffic, transit, waste and recycling, water and sewer, and more.
Smart Home Device Voice Service Project
What is the myDurham 311 Smart Home Device Voice Service?
The myDurham 311 Smart Home Device Voice Service is an innovative new platform where Durham Region residents can access Regional services.
Customers can now interact with their Google Home or Amazon Alexa to find out who their local Councillor is, locate Regional facilities, find out when the next garbage pick up will take place (as well as what to do with different types of waste), where the nearest bus stop is to their location, and when the next bus will arrive. Residents can also get answers to frequently asked questions received by the Region.
Why is the Region integrating with smart home devices?
The Region of Durham is in the process of streamlining our customer service delivery. We are doing this by providing access to Regional services through numerous platforms—otherwise known as an omnichannel approach. This initiative is just one example of how we are enhancing the customer experience.
How do I use the myDurham 311 Smart Home Device Voice Service?
The myDurham 311 Smart Home Device Voice Service is available through both the Google and Amazon Alexa marketplace.
Alexa:
Open your Alexa account/app, go to "skills," search for myDurham 311, select "enable," and then "grant permissions."
Once the above steps have been completed, you will be able to access the myDurham 311 Smart Home Device Voice App by saying, "Alexa, open myDurham 311."
Google:
The myDurham 311 Smart Home Device Voice App is enabled on Google Assistant by default. To access the app, say "Hey Google, talk to myDurham 311."
What if I don't have a Google or Amazon smart home device?
If you don't have a Google or Amazon device and would like to access the myDurham 311 Smart Home Device Voice Service, you will be able to have access by downloading the Google Assistant app from your mobile device's app store.
What questions can I ask?
Smart Home Device Voice Service - Phase 1
● Who is my Regional Councillor?
● Who is my mayor?
● Where is the nearest [facility]?
● When is my garbage day?
● When is my recycling day?
● Can I recycle [garbage item]?
● What do I do with [garbage item]?
● Where is the nearest bus stop?
Smart Home Device Voice Servive - Phase 2
● What dates are advanced voting?
● What are the hours of the advanced poll?
● When is election day?
● What times are polls open on Election Day?
● Am I on the voters list?
● Can I vote?
● How old do you have to be to vote?
● Where can I get more information about voting?
● What's my ward?
● Who can I contact if I have a question about voting?
● Who can I call with questions around the elections?
● When are the election results announced?
Video resources
Smart Home Device Voice Service
Qwhery - Durham Region embraces innovation
Quick access to municipal elections information
Primary Care Outreach Program
The Primary Care Outreach Program was developed in response to support residents who were homeless or at risk of becoming homeless. A paramedic provides acute medical care and the social worker provides counselling and support services. Through virtual assessments and connection to nurses and doctors, vulnerable individuals can receive treatment they might not have previously. This program ensures all residents have access to social and medical care.
Traffic Management Centre
The Traffic Management Centre is the heart of the Region's Smart Mobility efforts. It is where the Region works to optimize traffic flows on our road network and improve safety. This hub receives data from every traffic signal, 150 intersection cameras and other sources to monitor traffic flow, adjust traffic signal timing and respond to incidents. This centre helps residents get to where they need to go safely and efficiently.
CityStudio Durham
The Region launched the CityStudio Durham collaborative initiative in partnership with our local post- secondary institutions. Through a web-portal, faculty and students connect to municipal staff to share ideas, develop collaborations and solve real world problems. CityStudio Durham engages students in their future by having them work on challenges in our community while they are in school. This is the opportunity to co-create the Durham of the future.
Trusteed Youth Research Project
Trusteed Youth are kids who are living on their own but are too young to receive social assistance directly. They are part of a system designed to support adults. To better support these youth, the Region began a review of our internal processes. We also participated in an applied research project with Durham College, community organizations and trusteed youth. Based on data collected and the voice of youth themselves, the Region has made significant changes to improve services and give youth the support they need to be successful.
The Regional Cycling Plan update incorporates feedback gathered from residents. Residents have been clear that the main concern is safety and the Region will explore new ways to increase cyclist and driver knowledge about safety on the road. As part of our overall effort to improve environmental sustainability, the Region will begin addressing connectivity of routes to ensure that cycling is a viable option for residents and tourists to explore Durham. We've received thousands of points of information – and we're using them to build a better Regional Cycling Plan.
COVID-19 Data Tracker
COVID-19 has had unprecedented impact on our communities. As a method to keep the public informed about the risk and aware of the cases in the community, the Durham Region Health Department collaborated with Information Technology and Planning and Economic Development to create the COVID-19 data tracker. As the pandemic evolved, the tracker did as well, growing from a website reporting positive cases to a comprehensive tracking and reporting system that equips the community with data to inform decision making.
Canada Learning Bond
Research has shown that children who have savings for post-secondary are three times more likely to attend. The Canada Learning Bond is a federal government contribution to a Registered Education Savings Plan (RESP) to support the costs of education for families living with low income. The Region has partnered with other levels of governments, community organizations and financial institutions to host annual sign-up events. These events are a one-stop shop to create a pathway to the Canada Learning Bond for all eligible families.
A Connected Network

Durham is a leader in community building. We are part of a larger Intelligent Communities network, participating in local and global conversations to support and inspire other communities.
Durham Region featured in Municipal World
Durham Region's Intelligent Community journey was recently featured in Municipal World.


"Connections with community organizations, other orders of government, not-for-profits, incubators, and post-secondary institutions create an innovative ecosystem to help propel new ideas forward. In a community of the future, these connections will be what keeps citizens engaged, connected, and thriving."

Learn how Durham became a global Top7 Intelligent Community.
Durham Region named a Top7 Intelligent Community for 2022
Durham Region has been named one of the top seven global Intelligent Communities of 2022 by the Intelligent Community Forum (ICF). The ICF's Top Seven list recognizes communities who exemplify best practices in broadband deployment, workforce development, innovation, digital inclusion and advocacy.

Durham's booming growth, talent pool, leading academics, and excellent quality of life is why top investors from around the globe want to be here.


Durham Region named a Smart21 Intelligent Community
The Intelligent Community Forum (ICF) has recognized Durham Region as one of the Smart21 Communities of the Year for the second year in a row.

Durham is undergoing digital transformation and leading the way in innovation. This award is a reflection of our ongoing commitment to innovation, engagement, and strengthening connectivity to our residents across the region.

Learn about the Smart21 Intelligent Communities of 2022.

Learn more about the Smart21 Intelligent Communities of 2021.
Hello Tomorrow: Durham Smart Cities Forum
Learn ● Experience ● Contribute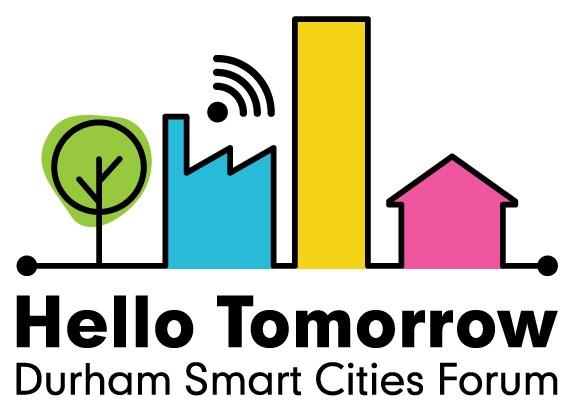 On September 29, 2018, the Region of Durham successfully hosted the Hello Tomorrow: Smart Cities Durham Forum at University of Ontario Institute of Technology (UOIT) in the City of Oshawa.
More than 300 residents, community partners, businesses, academics, students, government officials and tech industry leaders in Durham Region and beyond registered to attend the forum to share feedback on, and learn more about, smart cities approaches and technologies.
The forum included:
A keynote address by Hillary Hartley, Ontario's Chief Digital Officer.
Presentations and panel discussions on innovation in Durham Region (including transit, energy, income stability and information technology), smart city innovation, education, leadership in a connected community, and automotive technology and mobility innovation.
A free event app to allow attendees to interact and provide input.
Exhibits, technology demonstrations and networking opportunities.
As promised, we are pleased to share some exciting next steps, and invite you to sign up for future smart cities updates.
We continue to receive ideas regarding future sessions focused on specific industries, including energy, transportation, public health, etc.
The concept of 'smart cities' has evolved over the past decade. Intelligent communities are focused on solving problems that matter, not just the ones that technology can address. Durham is leading the way to a bright future. We invest in improving the citizen experience and in co-creating the future with our next generation of problem solvers.
Our innovation community is made up of top talent and innovative partners. We work collaboratively with local municipalities, and community to address our collective challenges in a smart, connected way. We use data and technology to improve service delivery, informed by our residents and businesses.
With initiatives underway, the myDurham Intelligent Communities Plan and framework guides project alignment and our future direction. The Plan doesn't replace an existing plan or strategy. Instead, it guides the deployment of intelligent approaches, enabling the Region to achieve our objectives while leaving space for new and innovative ways of providing service to our community.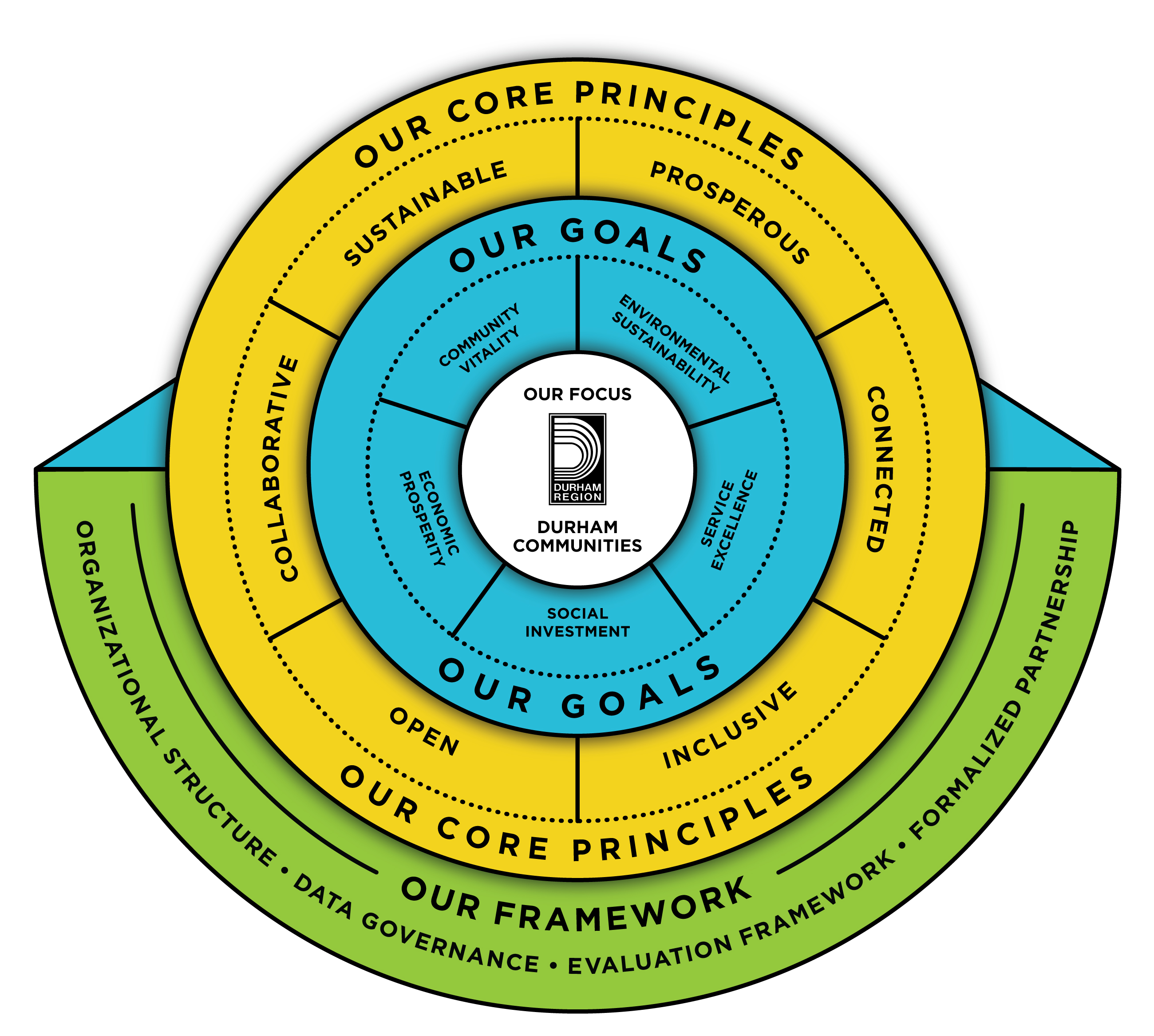 Principles
myDurham Intelligent Communities Plan is based on core principles:
myDurham is Open – There will be many ways to engage and co-create a Smart Durham.
myDurham is Collaborative – Partnership and collaboration will ensure Durham is a place where we work together to support our residents and businesses.
myDurham is Connected – Whether by physical or virtual infrastructure, Durham will be a place for connecting with your community.
myDurham is Inclusive – All Durham residents will be welcome and able to take part in activities and enjoy experiences
across the region.
myDurham is Prosperous – Durham will be a place of economic opportunity, supportive of business and piloting innovative ideas.
myDurham is Sustainable – Durham will be a place for environmentally sustainable living.
Organizational structure
Implementation of the myDurham Intelligent Communities Plan requires input from across departments and integration with our local area municipalities and community partners. It is important that everyone have a voice in the process. We envision three main governance structures.
1) Regional Intelligent Communities Steering Committee - Within the Region of Durham, staff in the Office of the Chief Administrative Officer will centrally manage and coordinate the Intelligent Communities Plan. The project lead will be supported by a multi-departmental Steering Committee. Together they will:
Build business cases for smart initiatives and identify financial resources
Foster an internal culture that embeds emerging smart values and promotes innovation, collaboration, creativity, openness, and risk taking
Foster relationships with regional partners to implement new initiatives, such as local area municipalities, utilities, local tech innovators and educational institutions
Develop a data governance model, policies and standards
Support the development of values-based procurement
Maintain the project and partnership inventory
Implement continuous public and stakeholder engagement
Develop an evaluation framework and collect data
Develop and execute a coordinated communications plan
2) Intelligent Communities Community Advisory Committee – The Advisory Committee will include representation from local area municipalities, educational institutions and members of the public to ensure alignment among community initiatives, participate in an evaluation process and inform future directions.
Continuous Public Engagement – The Plan will be based on comprehensive and ongoing community engagement and consultation. We will use a variety of engagement tools and methods, including:
Your Voice Durham platform to regularly engage the community in developing intelligent community ideas and developing collaborations.
Annual Hello Tomorrow event to engage the community and stakeholders in the development of smart solutions for Region of Durham.
Data Governance
The foundation of success for the Region's Intelligent Communities Plan will be a robust, transparent data governance process. It is critical to ensure privacy, the protection of personal information, and all applicable legislative and regulatory requirements. The governance structure will include the following:
Meaningful consent from residents
Standardized Intelligent Communities policies and processes that create opportunities for the safe sharing of aggregated, non-confidential data to inform decision-making across departments and partners where possible
Consideration of technological infrastructures, solutions and services that are provided through open digital service standards and ethically sourced data to ensure interoperability, inclusion and opportunity
Embedded principles of Privacy by Design (PbD) in every project to protect residents' digital rights and privacy
Data Use Guidelines that would apply to all entities seeking to collect or use Regional data
Evaluation Framework
An evaluation framework, developed in consultation with the Intelligent Communities Advisory Committee, will help measure the success of the Intelligent Communities Plan. Through this process, we will collect baseline data, identify key performance indicators and annually evaluate project success.
Formalized Collaboration
Durham can't become a truly intelligent region without the help of many partners. Using this framework as a guide, we will continue to seek partnerships with community organizations and leverage our innovation ecosystem to initiate pilot projects. Regional staff will develop a set of guiding policies and procedures to ensure alignment and coordination. Data governance policies will protect our residents in project implementation.
Key partners in the innovation ecosystem include:
Spark Centre, Durham's Regional Innovation Centre (RIC), provides support to earlier stage and pre-revenue technology start-up companies. Spark Centre acts as a "one-stop shop" providing business coaching and mentorship, learning tools and connections to business and research networks. The centre also offers help with access to investment and funding, ultimately creating jobs and wealth within Durham Region. Spark Centre has advised close to 600 companies in all facets of business and has 19 professionals focused on helping clients achieve scalable revenue and long-term success. Clients range in focus and include wearable technology, clean tech, health, software and invention
The 1855 Accelerator is a public private partnership (PPP) to support the growth of high potential technology companies. It fills a gap that exists in the Durham Innovation Ecosystem so that rapidly growing companies can stay in Durham to continue their trajectory. At the accelerator, entrepreneurs can move to the next stage in the business development cycle; receive greater depth and breadth of support; and secure resources and capital to grow their business.
1nnovation Village, a regional community hub in Ajax, for talent, technology and entrepreneurship. With a focus on Artificial Intelligence, cyber security, and robotics, 1nnovation Village is a key ingredient in the Region of Durham's innovation eco-system.
The Co-iLab Hub was created by the Community Innovation Lab and partners to provide entrepreneurs with access to affordable work space, professional development, skills training and business advisors and mentors. The Co-iLab Hub also offers entrepreneurs opportunities to connect with other entrepreneurs, industry leaders, innovators and thinkers. It is a central access point for all entrepreneurs to collaborate, convene and co-create.
Innovative Collaborations with Post-Secondary Institutions
CityStudio Durham - CityStudio is a proven model of experiential learning and civic engagement focused on developing tomorrow's leaders by bringing municipal government to the classroom. It is a collaboration between the Region of Durham, Durham Regional Police Service, Durham College, Ontario Tech University and Trent University Durham Greater Toronto Area. By furthering connections between municipal government, academic institutions, and the community, Durham's post-secondary students can apply their skills, creativity, and entrepreneurial spirit to real-world challenges facing our community to shape a better future for all of Durham.
TeachingCity Oshawa - Launched in June 2017, TeachingCity brings together the City of Oshawa and its education and research partners – the Canadian Urban Institute, Durham College, Ontario Tech University, Trent University Durham Greater Toronto Area, and the University of Toronto's Faculty of Applied Science & Engineering. The partners address Oshawa's urban issues through innovation, collaboration, applied research and shared experiential learning opportunities with the aim to position Oshawa as a local, national and global community of urban research and learning.