Posted on Thursday, February 25, 2021 03:36 PM
Whitby, Ontario – Downtowns of Durham, along with two other Regional initiatives, have received national recognition at the Economic Developers Association of Canada's (EDAC) Annual Marketing Canada Awards.
DowntownsOfDurham.ca was created in response to the COVID-19 pandemic. In early March 2020, the Durham Economic Task Force (DETF) was formed, and through conversations with Business Improvement Area (BIA) leaders the DETF determined that, due to the limited...
Posted on Thursday, February 25, 2021 08:48 AM
Whitby, Ontario – Durham Regional Council has approved the 2021 Regional Business Plans and Budget for property-tax supported purposes.
The 2021 Property Tax Supported Business Plans and Budget totals $1.488 billion. This is funded 48.9 per cent from property taxes. Residents will see a net property tax increase of 1.98 per cent on the Regional portion of their property tax bill or approximately $55 for the average residential home assessed at $483,100.
The property tax supported business...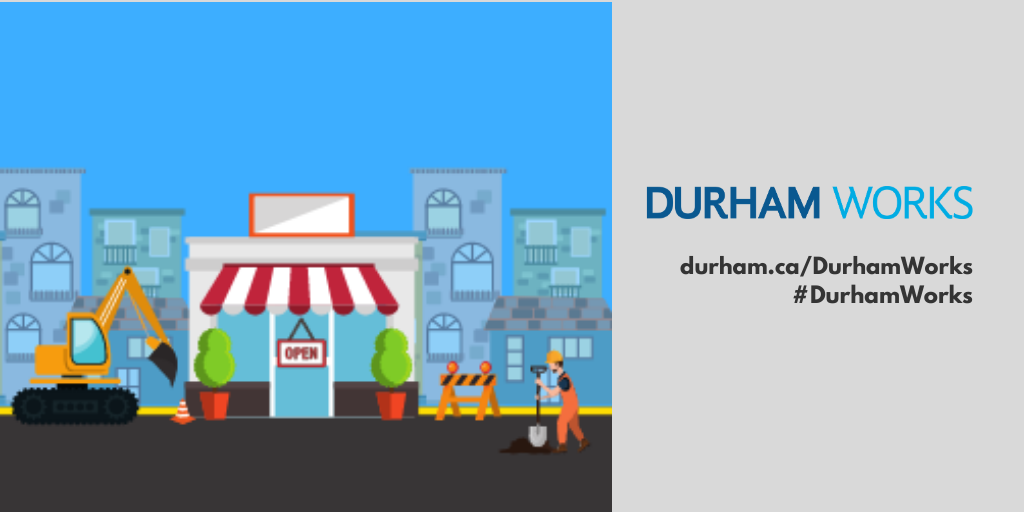 Posted on Wednesday, February 24, 2021 10:20 AM
Businesses in the area will remain open during an upcoming road closure at the intersection of Bloor Street East and Wilson Road South in Oshawa from March 1 to April 2. This work is part of the ongoing construction of the new feedermain on Bloor Street; and is necessary to replace aging infrastructure while ensuring residents continue to have access to safe, reliable and clean municipal drinking water. An overview of what businesses can expect during construction, and some tips on how to minimize...
Posted on Wednesday, February 24, 2021 10:08 AM
Whitby, Ontario – The Region of Durham is pleased to announce the appointment of Allison Hector-Alexander as the new Director of Diversity, Equity and Inclusion for The Regional Municipality of Durham. This role reports to the Chief Administrative Officer.
Hector-Alexander is a senior director, advocate, and policy professional who has worked in human rights, equity, anti-racism training, anti-discrimination/oppression, and accessibility organizations—within the not-for-profit and education sector—for...
Posted on Tuesday, February 23, 2021 11:00 AM
Whitby, Ontario – The Region of Durham submitted its budget priorities to both the provincial and federal governments for their consideration on February 12.
The pre-budget submissions are a chance for the Region to advocate for funding at the local level, from partners at the higher levels of government.
The Region works in partnership with both the provincial and federal governments to ensure that Durham receives the funding necessary to continue to deliver high quality programs and services to...