Posted on Thursday, June 09, 2022 12:19 PM
Whitby, Ontario - The Canada Infrastructure Bank (CIB) and the Regional Municipality of Durham (Durham Region or the Region) have signed a Memorandum of Understanding, that could see the CIB invest up to $68 million to support Durham Region Transit's (DRT) purchase of up to 100 battery electric buses by 2027.
The CIB's investment will contribute towards a portion of the capital acquisition costs of the battery electric buses. When compared to diesel buses, electric vehicles are anticipated to have...
Posted on Thursday, June 09, 2022 10:52 AM
Whitby, Ontario – Durham Region Health Department has started testing waters at designated public beaches throughout the Region as part of the 2022 Beach Monitoring Program. Test results for the week of June 6 indicate that three beaches have been posted as unsafe for swimming due to elevated bacteria levels. Beaches are posted as unsafe for swimming when elevated levels of E. coli exceed the provincial standard of 200 E. coli per 100 ml of water.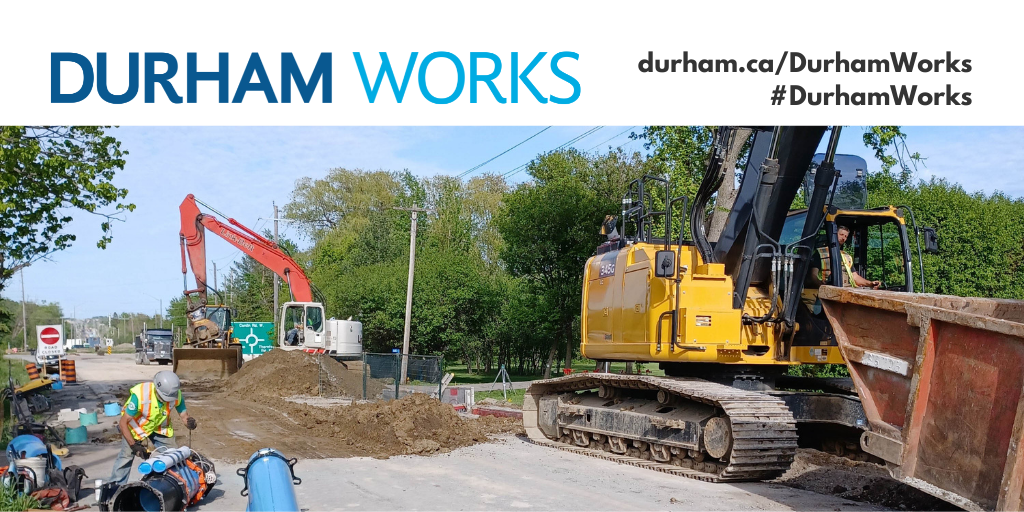 Posted on Wednesday, June 08, 2022 03:45 PM
Durham Region is working to improve infrastructure and expand the water and sanitary sewer systems on Conlin Road. Conlin Road, Conlin Road West and Thornton Road North will be closed in stages to through traffic throughout the construction work. Access for local traffic and emergency vehicles will be maintained at all times.
The construction phase is being completed collaboratively with the City of Oshawa and includes a new feedermain, watermain, sanitary and storm sewer, and road reconstruction....
Posted on Wednesday, June 08, 2022 02:09 PM
Whitby, Ontario – On May 17, the Region of Durham's Works Department was recognized with a Project of the Year Award at the National Public Works Week event, for the Victoria Street Road Widening and Re-construction project.
Presented by the Ontario Public Works Association (OPWA), this award promotes excellent management and administration of public works projects in municipalities across Ontario. Durham's award-winning project was selected in the Environment category for demonstrating an awareness...
Posted on Tuesday, June 07, 2022 12:09 PM
Whitby, Ontario – Based on consultation with the Province of Ontario, local area municipalities, conservation authorities and agricultural committees, the Region of Durham has developed a draft Regional Agricultural System based on existing regional and provincial mapping and is inviting the public and agencies to comment. The draft mapping is intended to implement the Provincial Agricultural System and is a key component of Envision Durham, which is the Municipal Comprehensive Review of the Regional...