Posted on Thursday, September 15, 2022 11:00 AM
Whitby, Ontario – The Regional Municipality of Durham is advising residents that Regional Headquarters, the Waste Management Centre, Ontario Works offices and Adult Day Programs at Hillsdale Estates and in Port Perry will be closed in observance of the federal National Day of Mourning.
When: Monday, September 19
Where: There will be no impacts to the following services: curbside waste collection; Durham Region Transit; Regional Early Learning and Child Care programs; and courts located at Regional...
Posted on Wednesday, September 14, 2022 01:33 PM
Whitby, Ontario – The Region of Durham and the City of Oshawa are working together on the Simcoe Street Rapid Transit Visioning Study; seeking feedback from residents to help assess the demand for rapid transit along Simcoe Street in Oshawa.
The Region will host the first virtual open house, with an opportunity for residents to ask questions and provide study-related comments at the end of the session.
When: September 28, 2022, from 6 to 8 p.m.
Where: Residents of Durham are encouraged to join virtually...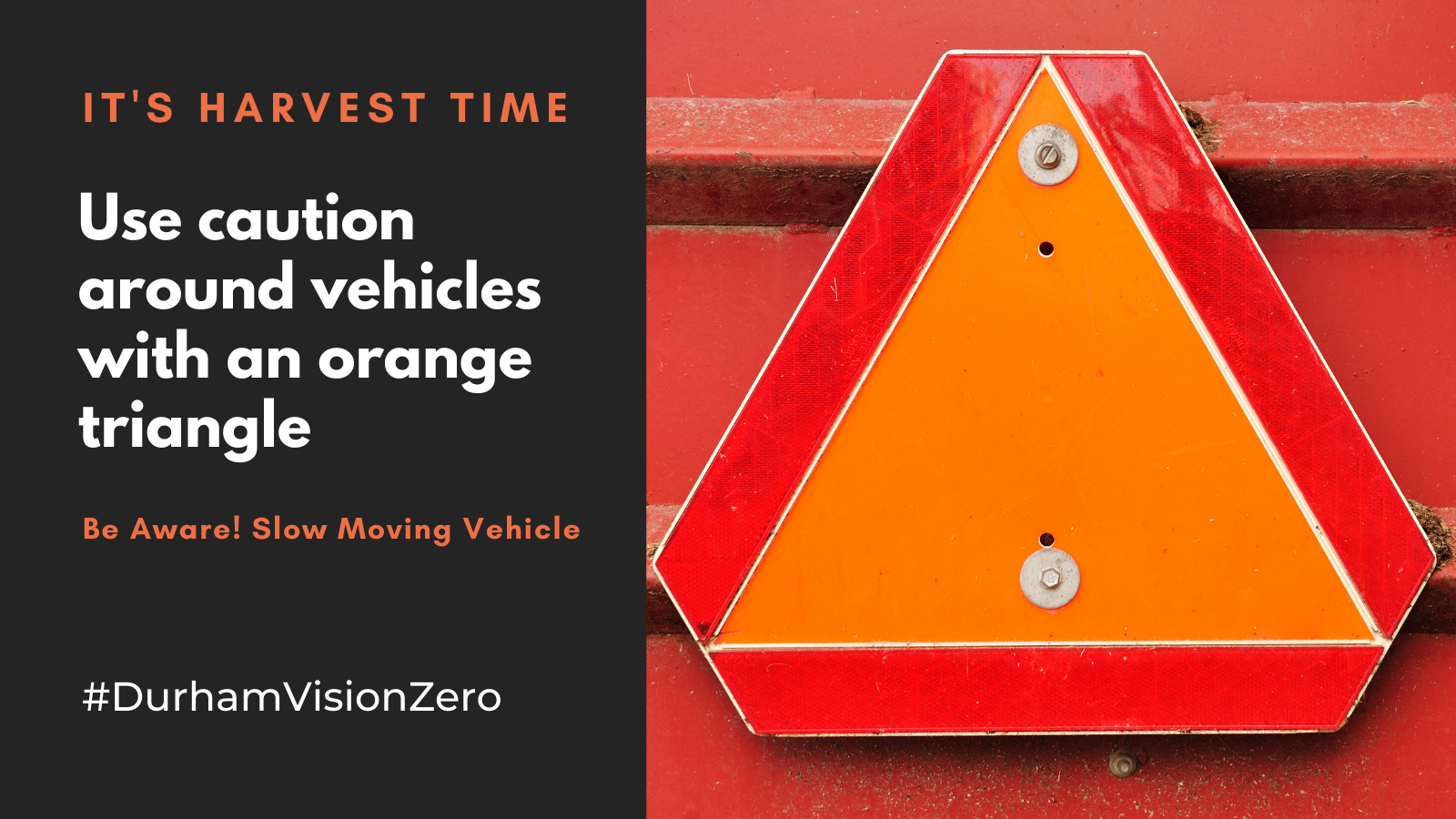 Posted on Wednesday, September 14, 2022 12:03 PM
With harvest season underway, drivers may experience temporary delays on rural roads due to slow moving farm machinery. Motorists are reminded to be patient and cautious when sharing the road with these vehicles.
Farmers have the important task of transporting the food that feeds our communities, and as part of that transportation they often use public roads to get from field to field, both day and night.
Safety tips to observe when coming across farm machinery on Regional roads include:
Posted on Monday, September 12, 2022 03:57 PM
Whitby, Ontario - Durham Region Health Department will begin offering Moderna Spikevax Bivalent COVID-19 vaccine booster doses to eligible individuals, as announced by the Ontario Ministry of Health.
Vulnerable populations including residents of long-term care homes and congregate settings, adults 70 and older, healthcare workers, First Nations, Inuit and Métis individuals 18 and older, immunocompromised individuals 12 and older, and pregnant individuals, will be eligible to receive the bivalent...
Posted on Monday, September 12, 2022 10:01 AM
Whitby, Ontario – The Region of Durham will observe the National Day for Truth and Reconciliation at a Remembering the Children Memorial on September 24 at 11:30 a.m.
A commemorative orange crosswalk—designed by visual artist, Jon Colwell, a proud member of the Mississaugas of Scugog Island First Nation—and an accompanying plaque will be unveiled at the memorial. The crosswalk has been planned with the advice and guidance of Mississaugas of Scugog Island First Nation, Indigenous community members...