Posted on Monday, October 10, 2022 11:11 AM
Durham Regional Council has reversed recent changes, related to the limits of responsibility for repairs on private property related to sanitary sewer service connections within the Sewer User Rate By-law, which came into effect on July 1, 2022.
Effective immediately, the Region of Durham will continue to carry out repairs to sanitary sewer service connections, on private residential property to within one metre of the structure, in accordance with By-law #90-2003.
Durham Region will also be establishing...
Posted on Friday, October 07, 2022 11:19 AM
Whitby, Ontario – Yesterday, Durham College in partnership with Durham Region's Economic Development and Tourism Division (Invest Durham), unveiled the temporary location for the new Barrett Centre of Innovation in Sustainable Urban Agriculture's (Barrett Centre) urban farm at a groundbreaking ceremony in Ajax.
John Henry, Regional Chair and Chief Executive Officer, joined Bob and Francine Barrett of The Barrett Family Foundation; Don Lovisa, President, Durham College; Kelly O'Brien, Associate...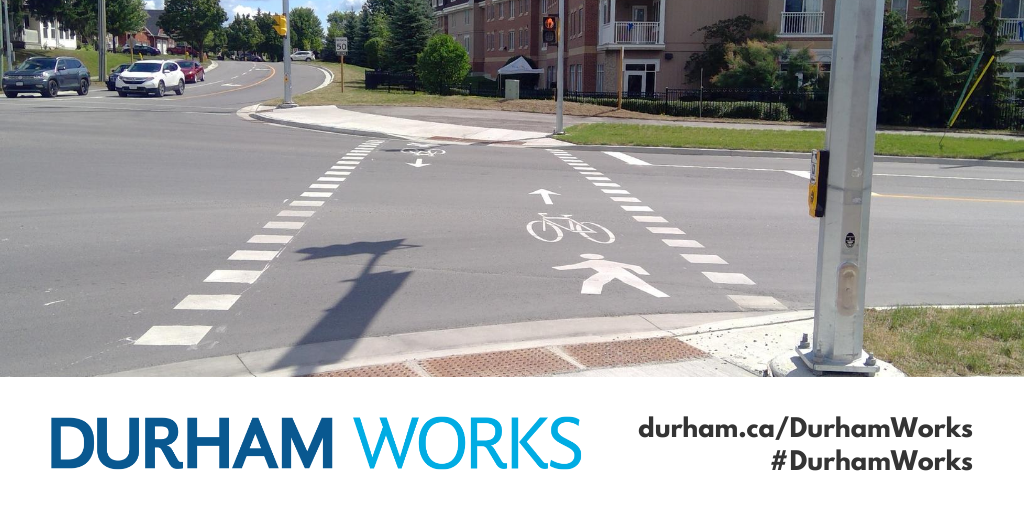 Posted on Thursday, October 06, 2022 03:18 PM
As part of Durham Vision Zero, Durham Region is making bicycle crossings easier and safer for cyclists, drivers and pedestrians by installing crossrides along multi-use path routes at intersections throughout the region.
A crossride is a dedicated space at an intersection where cyclists can legally ride their bicycle through the intersection without dismounting. Crossrides are identified by unique pavement markings and may be located beside a pedestrian crosswalk or on its own. Crossrides can also...
Posted on Thursday, October 06, 2022 11:04 AM
Whitby, Ontario –In honour of World Homeless Day on October 10, which raises awareness of homelessness and encourages communities to respond to the needs of vulnerable residents, The Regional Municipality of Durham reaffirms its commitment to ending chronic homelessness in Durham Region.
The Region is part of a nation-wide effort called the Canadian Alliance to End Homelessness - Built for Zero Canada program, which helps communities end chronic homelessness. Through the collection of real-time data,...
Posted on Wednesday, October 05, 2022 04:21 PM
Whitby, Ontario – The Regional Municipality of Durham has completed an Addendum Report to the Class Environmental Assessment (EA) study for the establishment of a reservoir and pumping station for the municipal water supply system in the Bowmanville Urban Area in the Municipality of Clarington.
The recommendations from this Class EA Addendum are to proceed with the construction of a new Zone 1 Reservoir and Zone 2 Pumping Station located at 3403 Liberty Street North.
The study process and recommendations...