Posted on Wednesday, March 08, 2023 08:48 AM
Whitby, Ontario– The following statement is being issued on behalf of John Henry, Regional Chair and Chief Executive Officer for The Regional Municipality of Durham:
"Durham Region is filled with talented, courageous and hard-working women; people who bring fresh insights, innovation and ingenuity into our lives.
We all have women in our lives, whose direct actions helped to shape us, while also helping to make our communities better. Today, we invite everyone to celebrate their contributions,...
Posted on Tuesday, March 07, 2023 10:43 AM
Whitby, Ontario- Durham Region Health Department is encouraging parents of school-aged children to book an appointment for their child with a local optometrist as vision screening is an important component of a child's visual health.
The Ontario Association of Optometrists recommends that children should have their first eye examination at six-months old, another between two and five-years old and, subsequently, every year from that time on. The Ontario Health Insurance Plan (OHIP) covers a...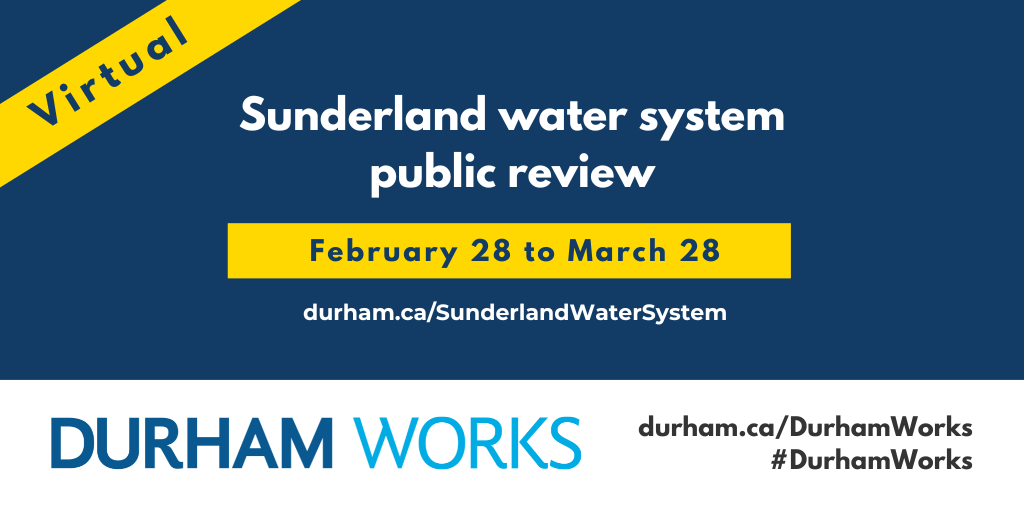 Posted on Monday, March 06, 2023 03:49 PM
The Regional Municipality of Durham has completed the Class Environmental Assessment (EA) to plan for additional water supply, water storage capacity and pumping facilities to service the Sunderland community, in the Township of Brock. The additional capacity is required to provide a long-term, secure and sustainable water supply to service the increasing population in the community.
The public can review and comment on the proposed solution until March 28 atdurham.ca/SunderlandWaterSystem.
Posted on Friday, March 03, 2023 01:45 PM
Whitby, Ontario –The Regional Municipality of Durham, in partnership with the City of Oshawa, is advising residents of additional closure areas on Conlin Road in the City of Oshawa.
When and where:Conlin Road will be closed to through traffic in stages during the 2023 construction season to complete the work. Access for local traffic and emergency vehicles will be maintained at all times. Unfavourable weather conditions may influence the work schedule.
Road closureStage 2:Starting March 6, the...
Posted on Thursday, March 02, 2023 01:22 PM
Whitby, Ontario– The Regional Municipality of Durham is moving forward with two five-year plans to deliver new economic development projects, programs and approaches to grow its agri-food industry and create high-value jobs in north Durham. The Region will be working hand-in-hand with its partners in the north to create jobs and economic growth over the next five years.
TheGrowing Agri-food Durham Plan 2023 – 2027 was created in co-operation with Durham's various agri-food producers, businesses...