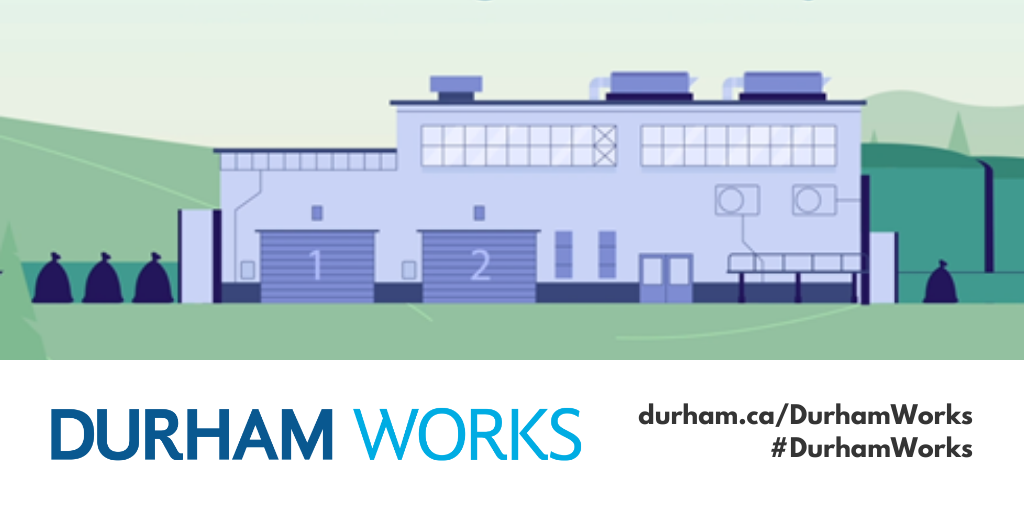 Posted on Tuesday, January 12, 2021 11:01 AM
The Region of Durham's new animated video provides an overview of mixed waste pre-sort and anaerobic digestion. The Mixed Waste Pre-sort and Anaerobic Digestion (AD) Facility will convert organic waste like food scraps into a renewable natural gas. This facility, the first of its kind in North America, will also remove non-combustible material and recyclables from garbage bags to further increase diversion, and free-up capacity at the Durham York Energy Centre (DYEC) for actual garbage to be...
Posted on Monday, January 11, 2021 04:01 PM
Whitby, Ontario – The Regional Municipality of Durham is advising subscribers to Durham Region's newsroom of a notification error on January 11.
Individuals who have subscribed to receive email news updates from durham.ca may be receiving multiple emails from noreply@www.durham.ca with information that was previously published to the website.
We apologize for any inconvenience and thank you for your patience and understanding as we work to resolve this issue.
-30-
Posted on Sunday, January 10, 2021 01:07 PM
Whitby, Ontario – The Province of Ontario has extended emergency child care for school-aged children to January 25, continuing to offer free care in Durham Region for eligible health-care and front-line workers so they can provide critical services to the community amid COVID-19.
The list of eligible workers has been expanded to a broader number of front-line workers who are performing critical community functions, such as working with vulnerable populations; maintaining food, hydro and water systems;...
Posted on Thursday, January 07, 2021 12:56 PM
Whitby, Ontario – Members of the Transit Executive Committee (TEC) met virtually at Regional Headquarters on Wednesday, January 6, to discuss various Durham Region Transit (DRT) initiatives and updates, which included paper transfers, On Demand ridership and PRESTO. Details and highlights include:
Paper transfers: To mitigate the risks of COVID-19 transmission and protect the health and safety of employees and customers, paper transfers were suspended at the onset of COVID-19. TEC approved the recommendation...
Posted on Tuesday, January 05, 2021 03:40 PM
Whitby, Ontario – The Regional Municipality of Durham has been experiencing excessive foaming in the wastewater collection system in Port Perry due to the increased use of cleaning products containing high levels of phosphorus and/or nitrogen. Residents and businesses in Port Perry are asked to reduce the usage of excess cleaning products.
When: Effective immediately.
Where: Port Perry in the Township of Scugog
Why: Foaming and nutrient levels interfere with the operation and compliance of the wastewater...