A strategic road safety action plan for Durham Region
Durham Region is working to create safer roads for drivers, pedestrians and cyclists through the Durham Vision Zero Strategic Road Safety Action Plan.
When a resident suddenly dies on our roadways, it is not just a traffic inconvenience. The community member we lose—the hockey coach, the teacher, the friendly neighbour who shovels your driveway—has needlessly been denied the right to celebrate their next birthday, to be at their kids' graduation, to feel the warm summer breeze as they cycle the waterfront. That's why the guiding principle of Durham Vision Zero is that no loss of life on our roads is acceptable.
Through Durham Vision Zero, Durham Region has purposefully chosen to endorse preventing collisions from happening in the first place, instead of spending money responding to them. By investing in public education, new road safety technologies, increased law enforcement and more—the investment will pay off endlessly for our community, because the cost of saving a life is priceless.
Open the Durham Vision Zero Strategic Road Safety Action Plan
Definition of Vision Zero
Vision Zero is an approach in road safety thinking that originated in Sweden in 1997, and has been adopted in various forms around the world. It can be summarized in one sentence: no loss of life resulting from a motor vehicle collision is acceptable. The road system needs to keep us moving, and must also be designed to protect us at every turn by preventing collisions from occurring and designing the road network to minimize the consequences of collisions that do occur.
With Vision Zero as a guiding principle, safety is prioritized over factors such as cost, speed, delay, level of service, and convenience, factors upon which decisions were traditionally made.
Vision and goal
Vision: Zero people killed or injured across all modes of transportation.

Goal: Minimum 10 per cent reduction of fatal and injury collisions within five years (2019-2023).
Emphasis areas
Through research, engagement, data analysis and stakeholder input, Durham Region has identified eight emphasis areas to focus on improving road safety.
1. Intersections
Collisions caused by turning movements are the most common types of collisions at intersections in the Region—representing approximately one third of all fatal and injury collisions at intersections.
2. Aggressive driving
Aggressive driving actions include speeding, driving too fast for conditions, following too close, disobeying traffic control, and failing to yield the right-of-way.
The Region of Durham is using a speed radar feedback sign (RFB) program on Regional roads to improve driver awareness of speed limits on Regional roads and reduce aggressive driving.
An RFB is an LED sign that displays a vehicle's speed when approaching the sign. The RFB sign will be mounted above an existing posted speed limit sign. The sign is solar powered, allowing it to be easily deployed in any location. Research carried out by the Region and other external agencies have shown that RFB signs are effective for about six to eight weeks at a time, when combined with police enforcement.
The signs will be installed in locations rotating throughout the Region such as hamlets, school zones, community safety zones.
The Region will be using fifteen temporary RFB signs on a rotational basis for a period of two to three months at a time, with additional signs planned for the future.
3. Distracted driving
Distracted driving has become one of the leading causes of injury and death on Ontario roads and was also indicated as a top priority in the public survey. Approximately 25 per cent of all fatal and injury collisions in Durham are due to distracted driving.
4. Young drivers
Young drivers aged 16 to 25 years are the single age group with the largest number of collisions from 2012 to 2016. Inexperience and driving beyond the driver's skill level are the primary reasons why young drivers have a higher chance of being involved in a collision.
5. Pedestrians
Fifty three per cent of pedestrian-involved collisions occur at signalized intersections. In 69 per cent of pedestrian collisions, the pedestrian is walking with the right-of-way. Pedestrian collisions almost always result in injury, often serious.
6. Impaired driving
Impaired driving collisions are those coded on the police report with the following attributes:
Driver had been drinking
Driver's ability impaired due to alcohol use
Driver's ability impaired due to drug use
Driver's medical or physical disability
Driver is fatigued
In recent years, Durham Region has seen a decrease in impaired driving collisions, however the legalization of marijuana may affect this trend.
7. Cyclists
There has been a steady increase of cyclist collisions in Durham in recent years. This may be attributed to a higher ridership within the Region. Most collisions involve young cyclists aged 11 to 20. More than 50 per cent of the cyclist collisions occurred in June, August, and September.
8. Commercial vehicles
There were 370 collisions involving commercial motor vehicles in Duham in the five-year study period; 20 per cent of fatal collisions in Ontario involve a commercial motor vehicle.
Countermeasures
To reduce the number of fatal and injury-causing collision on our roads, the Durham Vision Zero Strategic Road Safety Action Plan outlines countermeasures that focus on the eight emphasis areas. Countermeasures are the specific actions that will be taken by Durham Region and its road safety partners. Some of the key countermeasures are detailed in the plan, and will be strategically implemented over the next five years.

Roundabouts Pedestrian Crossovers Automated Speed Enforcement Red Light Cameras
What can you do?
Whether driving, walking, cycling, or using transit, you, as a roadway user, need to be aware of what to expect when using the transportation network. There are many situations that may be dangerous to roadway users. The following are actions that you, can take to help the Region achieve its goal and work towards the vision:
Be able to adapt to changing conditions, such as weather, construction zones, etc.
Educate yourself (and others) about proper behaviour.
Know, respect, and follow the rules of the road.
Respect other road users around you.
Be aware of your condition, your vehicle's condition, and any distractions before you start driving.
Be safe.
Pedestrian Crossovers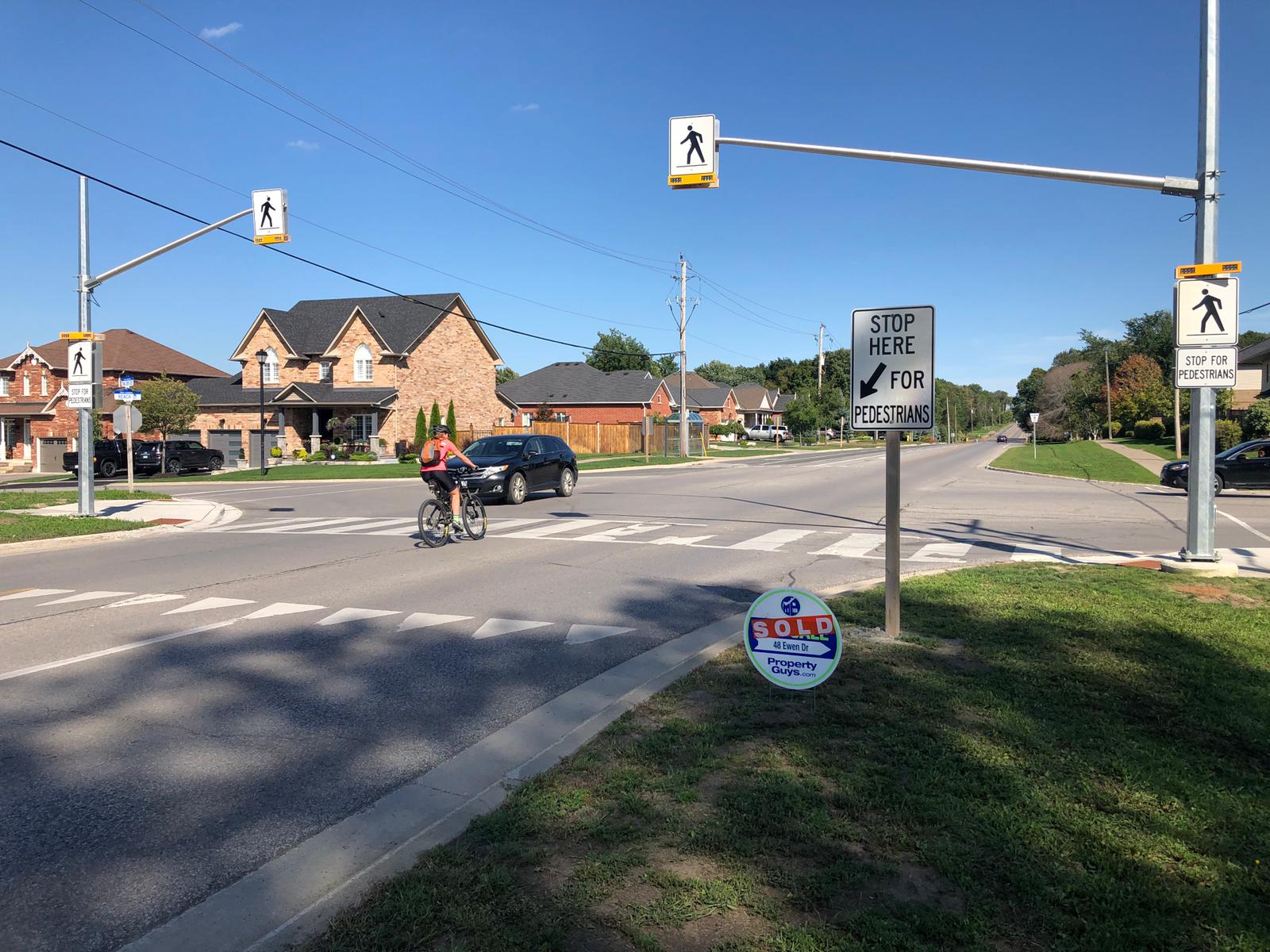 Pedestrian crossovers are a new way for pedestrians to easily and safely cross the road. By law, drivers and cyclists must stop and yield to pedestrians intending to cross the road while waiting for them to completely reach the other side before driving ahead.
Pedestrian crossovers have special ladder-style stripes that mark the crosswalk and marked yield bars showing where drivers must stop. Some crossovers have flashing lights that are activated by pedestrian push buttons. Signs are also present telling drivers to stop for pedestrians.
If there is a push button, press the pedestrian push button and cross when all vehicles (including cyclists) have come to a complete stop. If a push button is not present, be sure to make eye contact with motorists before stepping into the crossover. Motorists must come to a complete stop when signals are flashing or when pedestrians are within the crossover. Drivers must not proceed until the signals have stopped flashing or until pedestrians are no longer in the crossover.
Pedestrian crossovers
A pedestrian crossover is a new way for pedestrians to cross the road without stop signs or traffic signs. These locations are designated using special pavement marking and "stop for pedestrians" signage along with a yield sign.
Drivers are required to come to a complete stop while a pedestrian is within the crossover and may not proceed until the pedestrians are completely off the road.
Responsibilities
Drivers:
Must come to a complete stop to comply with the "stop for pedestrians" sign, proceed with caution and watch for pedestrians and cyclists.
Must remain stopped until pedestrians have completely stepped onto the opposite sidewalk. Driver must yield the whole roadway to pedestrians.
Must yield to vehicles after passing the crosswalk and only merge when safe to do so.
If a pedestrian is waiting to cross, drivers must make a complete stop to let pedestrians cross safely.
Pedestrians:
Look both ways, make eye contact with drivers to ensure vehicles clearly see you, and indicate that you want to cross.
If a vehicle is too close to safely stop, allow the vehicle to proceed before entering the crosswalk.
Only cross when it is safe to do so.
Cyclists (when riding through crossover):
Cyclists face the same responsibilities and fines as drivers. They must stop and yield at pedestrian crossovers when riding through crossovers.
When crossing with pedestrians, follow rules for pedestrians: dismount and walk your bike across the road.
Fines
Cyclists- An $85 fine will be issued to cyclists if/when failing to dismount from their bicycle and walk across the road at a pedestrian crossover. When riding through a crossover, cyclists face the same fines as drivers as they are considered vehicles under the Highway Traffic Act.
Pedestrians- A $35 fine will be issued to pedestrians if/when moving into the path of a moving vehicle, whereas the vehicle is too close to the crossover that it is unable to safely stop.
Drivers- A fine of up to $1,000, and four demerit points, will be issued to drivers if/when failing to yield at a pedestrian crosswalk.
*Fines are doubled in Community Safety Zones. These areas are clearly marked with signs.
Types of Pedestrian Crossovers within Durham
Pedestrian crossovers are identified by specific signs, pavement markings and sometimes lights. Some have signage overhead and pedestrian push buttons. There are three types of pedestrian crossovers within Durham Region:
Level 2 Type B
Identified by overhead signage in addition to a rectangular rapid flashing beacon.

Uses specialized yield pavement markings.

Typically used at high-volume crossings.
Level 2 Type C
Identified by the use of rectangular rapid flashing beacons and push buttons at crossing.

Uses specialized yield pavement markings.

Level 2 Type D
Identified by use of regulatory signage and pavement markings.

Used at low-volume crossings and right-turn channels.
School Crossing
A school crossing is any pedestrian crossing where a school crossing guard is present and displaying a school crossing stop sign.