Gerri Lynn O'Connor was appointed to the Regional Chair position on April 11, 2018.
View the latest speeches and statements from the Regional Chair and CEO.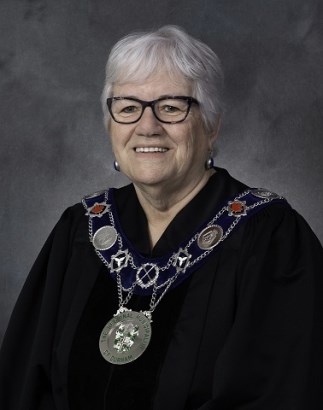 Roles and responsibilities
In Ontario, the Municipal Act sets out the responsibilities of the Regional Chair. The Regional Chair is both the head of council and the Chief Executive Officer (CEO) of the Region.
The Regional Chair is responsible for:
Introducing motions and voting on items during Committee of the Whole meetings (the Regional Chair has one vote, the same as all members of Durham Regional Council).
Opening and chairing Durham Regional Council meetings.
Declaring emergencies under the Emergency Management and Civil Protection Act.
Being a member of all Regional Committees, serving on the Durham Regional Police Services Board and as Chief Executive Officer of the Durham Region Transit Commission.
Providing leadership, information and recommendations to Durham Region Council.
Acting as the primary speaker on public issues, and acting as Durham Region's representative within and outside of the municipality.
Acting as the head of the institution under the Municipal Freedom of Information and Protection of Privacy Act (MFIPPA).
Encouraging public interest and participation in the Region and our activities.
Promoting Durham Region.
Participating in and leading activities that improve the economic, social and environmental well-being of Durham Region and its residents.
Profile
Gerri Lynn O'Connor was appointed to the position of Regional Chair in April 2018, making her the fifth Regional Chair, and the first female to hold this role.
O'Connor has 34 years of municipal experience, including 29 years as Mayor of the Township of Uxbridge. She is a long-time resident of Durham Region, having moved to Uxbridge, at the age of eight, from her hometown of North Bay. After graduating with a diploma from Shaw College, O'Connor became interested in politics while working as a reporter for a local newspaper; covering the major decisions of Uxbridge Council.
Hoping to make a change, O'Connor was elected, as a local councillor, in 1980; a Regional Councillor in 1982; and moved into the role of Mayor in 1985. She took a break in 2006, to focus on family, and then returned to serve as Mayor in 2010.
Throughout her time on Durham Regional Council, O'Connor has served as the Chair of the Planning & Economic Development Committee for 17 years. She was also Chair of the Toronto Region Conservation Authority (TRCA) for eight years.
Under her leadership, Uxbridge has had significant improvements, including infrastructure, enhanced community facilities, a designation as the Trail Capital of Canada, additional economic development opportunities, strong financial reserves, and various other initiatives.
O'Connor will hold this position until November 30, 2018 (the current term of council). Regional Councillors had voted to appoint O'Connor; believing that, with less than a year remaining in the current term of council, a current Regional Councillor would have the experience and knowledge necessary to step into the role.
Submit a request
Invite the Regional Chair and CEO to an event
If you want to invite the Durham Regional Chair to an event, submit an Event Request.
Please note, due to a busy schedule and Regional obligations, the Regional Chair cannot accept every invitation.
Request a greeting, certificate or proclamation
We issue letters of greeting for events, such as region-wide sports tournaments, cultural celebrations, festivals and charity fundraisers.
We issue certificates in five-year increments. We start at the 50th wedding anniversary and 80th birthday. After a 100th birthday, you can request a certificate every year. We do not send belated certificates.
To request a letter of greeting or certificate, submit a Greeting, Certificate or Proclamation Request at least four weeks before you need it.
Speeches and statements
2018
2017
2016
2015
2014