View the latest speeches and remarks from the Regional Chair and CEO.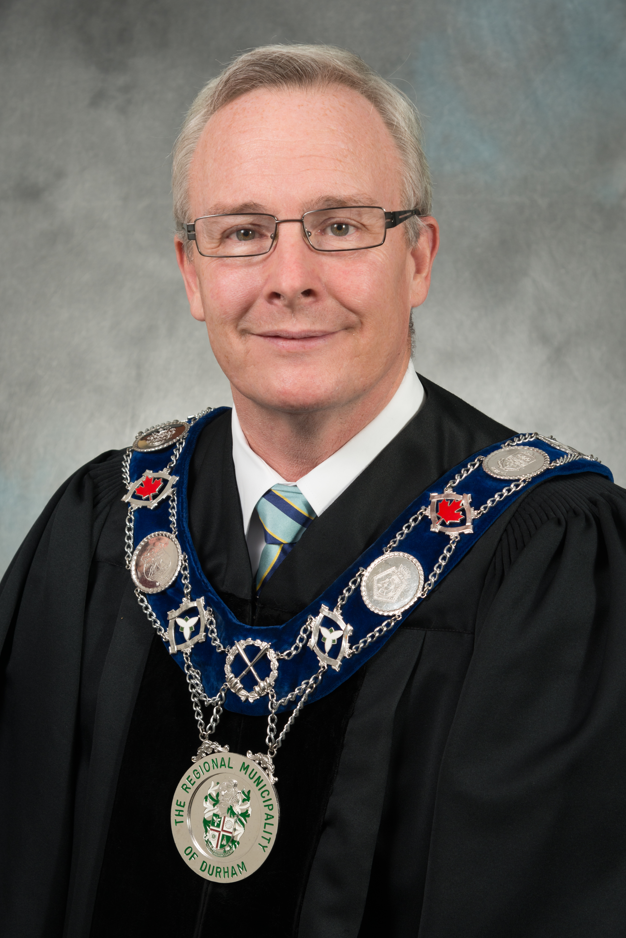 About Regional Chair John Henry
Born and raised in Oshawa, John Henry was first elected as Regional Chair and CEO in 2018 and re-elected in 2022. A dedicated husband, father and grandfather, John has a vested interest in the future development, prosperity and quality of life for all Durham residents.
John is a graduate of R.S. McLaughlin C.V.I., Durham College, George Brown College and Panasonic's Corporate School. He is also a trained Industrial Fire Fighter, Ice Rescue Specialist and Dive Rescue Specialist.
John and his wife Katherine, a retired Pharmacist, have two daughters, Danielle who is a Speech Pathologist and Jessica, who is an Officer and Dentist for the Canadian Armed Forces. John is also the proud grandfather of two grandchildren.
A message from John Henry, Durham Regional Chair and Chief Executive Officer
COVID-19 is the single biggest challenge that we have faced as a Region. While the past few years have been difficult, it is thanks to the dedication of our staff and communities that we continue on the path forward to building the Durham of tomorrow.
We have been working hard at modernizing operations to create a more responsive municipal government—one that puts public interest at the forefront and adapts to meet the ever-changing needs of our communities. I am proud of the work we have accomplished and the work we continue to do to create a safe, equitable and sustainable future.
We have implemented initiatives and prioritized key advancements that position Durham as a globally recognized hub of innovation. We introduced the myDurham 311 Smart Home Device Service project during the pandemic to make information more accessible to residents, becoming the first regional municipality in Canada to bring Regional services to smart home devices—a huge accomplishment.
And, we have taken another step toward achieving our vision for a smart, connected and accessible Durham Region with the recent launch of the myDurham 311 phone service, transforming how our community connects with us and accesses the information they need.
Durham Region is a community that stands together—accepting people for who they are. A major milestone for the organization was establishing a Regional Diversity, Equity and Inclusion (DEI) Division.
Working across the organization and with the community, this division is dedicated to addressing systemic racism, promoting community development and advocating for equity. Each and every resident deserves to feel a sense of belonging and we will continue this critical work in 2023 and beyond to ensure a more equitable tomorrow.
We remain focused on building a sustainable future that prioritizes the everyday quality of life for residents. Our climate action plan charts a path toward net zero greenhouse gas emissions over the next several decades.
We are taking important steps to accelerate the transition to a low-carbon future through tree-planting programs, advancing low-carbon fleet transitions for Durham Region Transit vehicles, and implementing clean and smart technologies in the energy sector.
We made positive strides in bringing the region up to speed with some of the best-connected communities in the world. Important work is underway to expand broadband infrastructure in north Durham so that all residents can participate, compete and thrive in the twenty-first century. We are also focused on connecting communities through continued work to make the GO Lakeshore East Extension a reality.
We continued to support our business community through initiatives like Shop In Durham—an annual campaign spotlighting the amazing local shops and business owners in Durham Region. Small and local businesses are at the heart of our communities and are essential to creating Durham's vibrant neighbourhoods. I know that Durham Region residents will continue to support local and shop close to home in the new year.
While we have done tremendous work this past year, there is more to be done. I am confident that Regional Council will embrace its duty in service and work together to always do what's best for the entire Region and its residents. I am looking forward to the next four years of modernization, innovation and service excellence, as we work to shape a better Durham Region—for everyone.
Submit a request
Invite the Regional Chair and CEO to an event
If you want to invite the Durham Regional Chair to an event, submit an Event Request.
Please note, due to a busy schedule and Regional obligations, the Regional Chair cannot accept every invitation.
Request a greeting, certificate or proclamation
We issue letters of greeting for events, such as region-wide sports tournaments, cultural celebrations, festivals and charity fundraisers.
We issue certificates in five-year increments. We start at the 50th wedding anniversary and 80th birthday. After a 100th birthday, you can request a certificate every year. We do not send belated certificates.
If you would like a letter of greeting or certificate, submit a Greeting, Certificate or Proclamation request, at least four weeks in advance.
Current and Past Durham Region Proclamations
2023
Throughout the year, Durham Region receives proclamation requests from the community. The 2023 list will be updated as requests are confirmed. If you have a date you would like recognized, please submit a proclamation request.
2023 Proclamations

| Proclamation | Date |
| --- | --- |
| Tamil Heritage Month | January |
| Alzheimer's Awareness Month | January 9 |
| World Religion Day | January 15 |
| Durham Region Hospice Awareness Day | January 29 |
| Global Community Engagement Day | January 28 |
| World Behaviour Analysis Day | March 20 |
2022
The following Durham Region proclamations were requested by the community in 2022. If you have a date you would like recognized please submit a proclamation request.
2022 Proclamations

| Proclamation | Date |
| --- | --- |
| World Religion Day | January 16 |
| National Organ Tissue Donor Awareness Week | April 24 to 30 |
| Huntington Disease Awareness Month | May |
| Steps for Life Day | May 1 |
| VON Week | May 23 to 30 |
| Brain Injury Awareness Month | June |
| Seniors Month | June |
| Pride Month | June |
| World Elder Abuse Awareness Day | June 15 |
| National Indigenous Peoples' Day | June 21 |
| Circular Economy Month | October |
| Hispanic Month | October |
| Islamic History Month | October |
| World Polio Day | October 17 |
| Child Care Work and Early Childhood Educator Appreciation Day | October 18 |
| World Stroke Day | October 29 |
| "Do It In Durham" – Celebration of Global Entrepreneurship Week | November 14 to 20 |
| Transgender Day of Awareness | November 20 |
| International Day of Persons with Disabilities | December 3 |
| Shop In Durham Week | December 4 to 10 |
| Salvation Army Week | December 18 to 24 |
Request a letter of recognition
Recognition is issued to residents and/or organizations providing donations goods, services or monetary donations and acts of kindness within the Durham Region Community. Supporting documentation is required.
If you would like a letter of recognition, submit a Letter of Recognition request.
Speeches and statements
View archived speeches and statements (insert button here directing to speeches and statements interior page).