Residents are invited to celebrate National Public Works Week (NPWW) from May 20 to 26, 2018.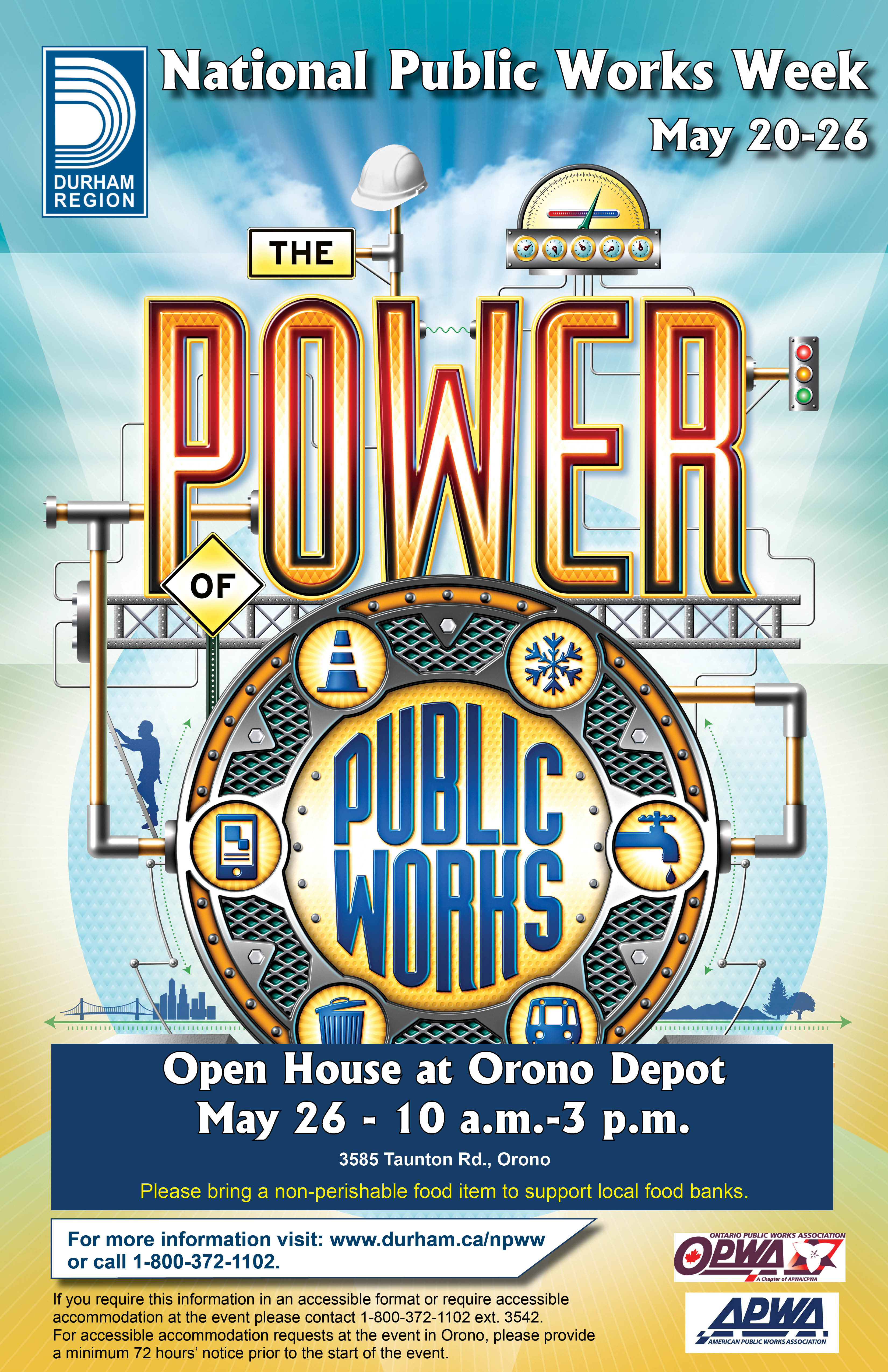 NPWW is an annual event recognizing and celebrating public works professionals across the country. For 2018, the theme for NPWW is The Power of Public Works, illustrating the impact public works has on modern civilization. From providing clean water to disposing of solid waste, to building roads and bridges or planning for and implementing mass transit, to removing snow on roadways, public works services determine a society's quality of life.
We value our communities and the role public works professionals play in keeping them safe and functioning smoothly. We want to increase public awareness of their contributions as well as to enlighten the public about the duties, practices, and goals of public works professionals.
Public works professionals include those who manage water, sewer, public transportation, and waste removal systems as well as those responsible for maintaining public buildings and grounds. They are, in short, the people who maintain and improve the systems and services vital to a community's health, safety and comfort.
Throughout NPWW, the Region of Durham Works Department supports a variety of initiatives to raise awareness and understanding of the impact that public works have on the daily lives of people who live and work in Durham.
NPWW is a fun way to show the community what we do!
Open house on May 26 in Orono
The Region of Durham's Works Department has been celebrating NPWW annually for the past 17 years and this year's free event is scheduled for Saturday, May 26 from 10 a.m. to 3 p.m.
Join us at the newly renovated Works maintenance depot in Orono (3480 Taunton Road, Orono) where children can explore our truck and equipment display, play games, visit a face painter and more! Learn how we have incorporated drone technology into public works. Staff from various areas of the Works Department, such as Waste Management and Technical Support, will be on hand to educate residents about our programs and services.
Please bring a non-perishable food item to support local food banks.
Can't make it in person? Learn more about the Works Department by taking a virtual tour of some of our facilities and hear from our Water Champion about working at a water pollution control plant:
Material Recovery Facility virtual tour
Durham York Energy Centre virtual tour
Wastewater treatment plant tour
The Works Department provides our communities with safe roads, clean drinking water, recycling, composting and waste disposal programs, as well as many more operations that impact our daily lives.
Join us at our 2018 National Public Works Week open house to find out how we work for you!
If you are attending our open house and require accessible accommodations, please contact 1-800-372-1102 ext. 2834 at least 72 hours in advance of the event.