Candidates for the Office of Regional Chair

Candidate
Date and Time Registered

John Mutton

905-721-8818

May 1, 2018

9:11 am

John Henry

257 Sherwood Court

Oshawa, Ontario

905-410-2419

May 14, 2018

3:08 pm

Tom Dingwall

Hampton, Ontario

905-926-3517

June 1, 2018

10:13 am

Muhammad Ahsin Sahi

416-587-9334

June 27, 2018

10:00 am

Peter Neal

July 23, 2018

12:15 pm
You may vote only once for a Regional Chair candidate, regardless of how many properties you may own or rent within Durham Region.
Election of the Regional Chair
History
On April 4, 2012 Regional Council passed By-law #19-2012 to change the method of selecting the Regional Chair to election by general vote, in accordance with the Municipal Elections Act, 1996.
By-law #19-2012 attained "triple majority" approval on May 29, 2012.
As a result, since the 2014 municipal election, the Regional Chair has been elected by general vote of the eligible electors in Durham Region.
Resources
Are you on the voters' list?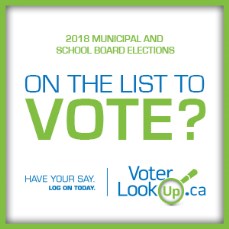 The voters' list is a list of individuals who are eligible to vote in the 2018 Municipal Election. If you wish to vote, it is important to verify that your information is included and correct. Your information will appear on the voters' list for the municipality in which you are eligible to vote. The Region does not maintain voters' lists.
Compliance Audit Committee
Municipalities are required to establish a Compliance Audit Committee as outlined in the Municipal Elections Act.
The Compliance Audit Committee is responsible for reviewing applications requesting an audit of a candidate's or third party advertiser's election campaign finances.
Additional responsibilities include:
Reviewing reports filed by the Clerk;
Appointing an auditor when the Committee grants an application;
Reviewing reports filed by an auditor in response to an application;
Determining if legal proceedings are justified in light of the findings of an auditor's report; and
Appointing a prosecutor to commence legal proceedings where it has been determined that legal action is appropriate.
If you feel that a candidate for the Office of Regional Chair has not followed the election campaign financing rules in the Municipal Elections Act, then you may submit an application for a compliance audit. Compliance Audit application forms will be available on this page once the campaign period has ended. The campaign period runs until December 31, 2018.
Members
The Regional Clerk, along with the Clerks from the municipalities of Oshawa, Pickering, and Whitby, and the Durham District School Board, formed a partnership in order to recruit and appoint a roster of eligible members for their respective Compliance Audit Committees. The roster is as follows:
Paul Jones
Gary Valcour
Richard Austin
Peter Robinson
David Boghosian
Gurlal Kler
Chris Rous
Ron Kanter
David Michael Wade
Aileen Ashman
Joseph Wyger
Terms of Reference
Terms of Reference for the Compliance Audit Committee.