By balancing a healthy diet and physical activity with a healthy sleep routine, you and your family can reduce the risk of developing chronic diseases. Working towards a healthy routine as a family can promote lifelong health habits that will help to build and maintain a healthy body and mind.
Healthy routines:
Help friends and family spend more time together.
Build children's confidence, knowledge and skills.
Enhance children's ability to learn.
Check out the Creating Healthy Routines resource for more ideas!
Aim for snacks to have foods from at least 2 of the 4 food groups.
Aim for meals to have foods from at least 3 of the 4 food groups.
Try to have at least 1 vegetable or fruit at every meal and snack.
Avoid meals and snacks high in sugar, fat and salt.
Eat meals together as a family with no screens; encourage everyone to talk about their day as this helps to build strong family bonds.
Make meal time family time!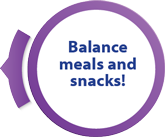 Role model making healthy choices!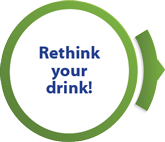 Choose water more often to quench your thirst.
Make water the easy choice for the entire family (e.g. have a cold pitcher of tap water available in your fridge, or try adding fruit to water to change up the flavour).
Carry a refillable water bottle.
Children under 2 years - screen time is not recommended.
Children aged 2-4 years – limit screen time to less than 1 hour per day; less is better.
Children and youth aged 5-17 years – limit recreational screen time to less than 2 hours per day; less is better.
Spend less time sitting!

Be active and play together as a family!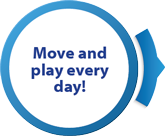 Children aged 3-4 years need at least 180 minutes (3 hours) of physical activity at any intensity spread throughout the day.
Children and youth aged 5-17 years need at least 60 minutes (1 hour) of moderate to vigorous physical activity every day.
Practice basic movement skills like throwing, running and jumping with your child.
Encourage walking, cycling, or wheeling to school, the store or the park.
Children aged 3-4 years need 10-13 hours of sleep.
Children aged 5-13 years need 9-11 hours of sleep.
Youth aged 14-17 years need 8 -10 hours of sleep.
Keep TVs, video games and computers out of your child's bedroom. Screens can make it harder to fall and stay asleep.
Try to have the same bed and wake-up time every day!