Climate Change and Health
Climate change is causing more frequent and intense climate hazards and increases the risk of climate shocks; sudden and significant changes in weather that can have severe and unpredictable consequences to our health. It also impacts the air, food, water, homes, land, communities, and health care systems that we depend on.
What are some of the health impacts of climate change?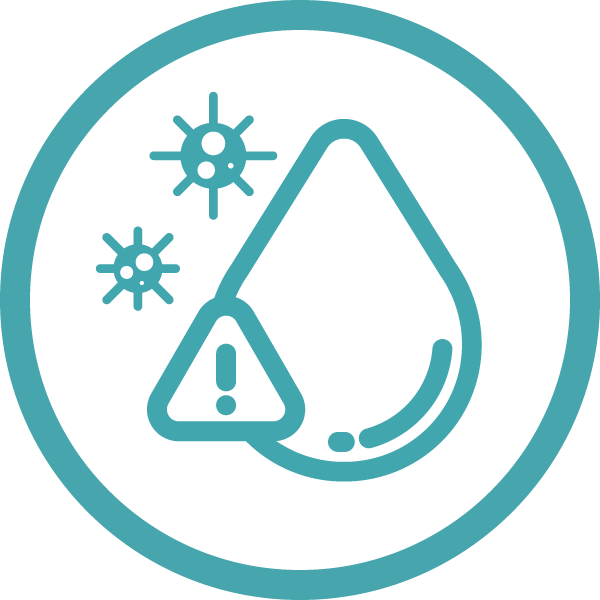 Water contamination
Who is the most at risk?
At-risk populations

Although everyone is affected by climate change some people face greater health risks than others.
Health risks from climate change are related to many factors including age, income, access to health care, safe and stable housing and a healthy, inclusive, supportive community.
Our understanding of risk factors is still developing, and many people experience more than one risk factor.
In general, at-risk populations include:
adults over age 65,
children and youth,
people who are pregnant,
Indigenous Peoples,
racialized populations,
people with disabilities,
residents of remote communities,
individuals who are socially and economically disadvantaged, and
people with pre-existing physical or mental health challenges.
Let's explore how climate vulnerability is influenced by exposure, sensitivity, and adaptive capacity.*
Are you exposed to climate hazards? Some people and communities have greater exposure to climate hazards such as extreme heat or flooding because of where they live or work.
Are you sensitive to climate hazards? Some people are more sensitive to climate hazards because of their age or health. For example older adults and young children are more susceptible to heat-illness than others due to a reduced ability to regulate body temperature.
Are you able to protect yourself from climate hazards? The ability to protect yourself from climate hazards is called adaptive capacity. Harm from climate hazards can be prevented by improving the ability of people and communities to protect themselves.
The illustration (on the right) shows how these factors can determine a person's risk of harm from climate hazards. *The term "vulnerable" can be stigmatizing. While factors of vulnerability are important for assessing risk, the term vulnerable as a label for individuals, communities or populations can be harmful.

Climate vulnerability
and health
---
What is Durham Region Health Department doing to protect residents from the impacts of climate change?
Durham Region is already experiencing the effects of climate change and there is an urgent need to be prepared for local health impacts now and in the future.
As part of the Ontario Public Health Standards (2021), Durham Region Health Department works to assess and address the health impacts of climate change. This involves monitoring emerging trends and priority populations and working with partners to reduce exposure to climate hazards. This includes: