Canada's Guidance on Alcohol and Health
The advice regarding the quantity and patterns of drinking alcohol have been updated for Canadians by the Canadian Centre on Substance Use and Addiction. Canada's Guidance on Alcohol and Health provides people with the information they need to make well-informed decisions about their alcohol consumption to benefit their health and well-being. The guidance is based on the latest research on alcohol-related risks and replaces Canada's Low-Risk Alcohol Drinking Guidelines (LRDGs) issued in 2011. The guidance is based on the principle of autonomy in harm reduction and the fundamental idea behind it that people living in Canada have a right to know that all alcohol use comes with risk.
Alcohol and your health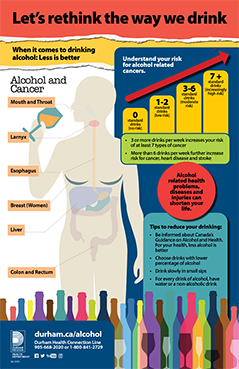 Drinking alcohol has many health risks. They can become worse if you drink alcohol frequently.
Risks include at least seven different types of cancer:
Mouth and throat cancer
Larynx cancer
Esophageal cancer
Breast cancer (women)
Liver cancer
Colon and rectum cancer
Other risks include:
Heart disease
High blood pressure
Stroke
Canada's Guidance on Alcohol and Health
Canada's Guidance on Alcohol and Health
All levels of alcohol consumption are associated with some risk, so drinking less is better for everyone.
Among healthy individuals, there is a continuum of risk for alcohol-related harms where the risk is:

Low for individuals who consume between one and two standard drinks per week.
Moderate for those who consume between three and six standard drinks per week.
Increasingly high for those who consume more than six standard drinks per week.

On any occasion, any level of consumption has risks, and with more than two standard drinks, most individuals will have an increased risk of injuries or other problems.
Disproportionately more injuries, violence and deaths result from men's drinking.
Above moderate levels of alcohol consumption, the health risks increase more steeply for women than for men.
It is safest not to drink while pregnant or trying to get pregnant.
For women who are breastfeeding, it is safest not to use alcohol.
What is a standard drink?
341 ml (12 oz.) bottle 5 per cent alcohol (beer, cider, coolers).
43 ml (1.5 oz.) shot of 40 per cent hard liquor (vodka, rum, gin, whiskey).
142 ml (5 oz.) glass of 12 per cent wine.
Binge drinking and risk
Binge drinking, usually defined as consuming five standard drinks or more for men, or four standard drinks or more for women in one setting, is a pattern of consumption that results in legal impairment for most people. The risk of negative outcomes begins to increase with any consumption, and with more than two standard drinks, most individuals will have an increased risk of injuries or other problems.
On any drinking occasion, the risk of acute outcomes such as unintentional injuries and violence is strongly associated with consuming larger amounts of alcohol and a reduced ability to think clearly or perform certain activities (e.g., is caused by alcohol impairment).
Risk of death
It is a well-established risk factor for death from any cause, including unintentional injuries, violence, heart disease and high blood pressure, inflammation of the gastrointestinal system, and the development of an alcohol use disorder (e.g., alcohol dependence).
Violence, child abuse and neglect
Many of the complications arising from acute impairment and binge drinking involve second-hand effects that affect someone other than the person who drinks alcohol (e.g., violence, child abuse and neglect).
Gender and risk
The Canadian Center for Substance Use and Addiction (CCSA, 2022) has reported that:
Gender-related (social) factors contribute to the negative impacts of alcohol in real life, increasing vulnerability to marketing exploitation, stigma, sexual assault and intimate partner violence (IPV).
Sex, gender and factors such as trauma and poverty interact and make dependence on alcohol, treatment and recovery more difficult for women.
"Overall, disproportionately more injuries, violence and deaths result from men's drinking. Men drink more alcohol than women do and are more likely to drink in excess."
Men are more likely to:
be involved in impaired driving collisions
be treated in hospitals and hospitalized for alcohol-related medical emergencies and health problems
be diagnosed with an alcohol use disorder
take other risks including the use of other substances
die from alcohol-related causes.
perpetrate violence including violence against family or women (CCSA, 2022).
"Above low levels of consumption, lifetime risk of health harms increases more steeply for women than for men." Enzymes, genes, body weight and size, organ function and metabolism are important in processing alcohol. For females, these factors cause faster intoxication, more risk for disease (including breast cancer), and more long-term harm (such as liver damage and injury) using lesser amounts (CCSA, 2022).
Reproductive health is compromised by alcohol use.
Possible increases in miscarriage, hypertensive disorders of pregnancy and placental abnormalities.
Alcohol is an agent that can cause malformation of the fetus.
Alcohol can lead to Fetal Alcohol Syndrome with lifelong learning, health, and social problems. These effects can occur with both low levels of exposure or short-term exposure to high levels of consumption. It is safest to not to drink at all while pregnant and during the pre-conception period (CCSA, 2022).
Alcohol and pregnancy
Alcohol can harm your baby's health. Be Safe: Have an alcohol-free pregnancy.
Alcohol and youth
In Durham, 55 per cent of high school students say they drank alcohol in the past year. The legal drinking age in Ontario is 19, but many teens begin drinking between the ages of 13 to 18.
Alcohol use among Durham Region students grades 9-12
What are the risks for teens that drink?
Youth who drink alcohol are at risk for harmful changes in the brain.
The brain is still developing until age 25. Drinking alcohol before the age of 25 may have long-term effects on:
Problem solving skills, decision-making and memory.
Sleep disturbances.
Addiction.
Chronic diseases such as cancer.
Teens that begin drinking at an early age are at risk of having problems related to alcohol later in life.
Heavy drinking can lead to:
Trouble in school.
Experiences with violence, such as physical or sexual assault.
Motor vehicle collision, falls or drowning that cause injuries or death.
Risky sexual behaviour.
How you can support your teen
Here are some ways you can help your teen make healthy decisions around alcohol:
Talk to your teen about their thoughts on alcohol.
Be informed about what is going on in your teen's life.
Remind your teen that not everyone is drinking.
Spend time together as a family.
Be a good role model for your teen. Make healthy decisions.
Alcohol and our community
Alcohol affects our community.
When there are bars and/or alcohol stores close together in an area, there are more:
Crashes
Violence
Injuries
Heavy drinking
Disease and death - especially in communities that may have lower incomes
People drink more alcohol when there are:
Many alcohol stores in one area.
Alcohol stores with longer hours.
Discounted or low-cost alcoholic drinks.
Alcohol advertisements.
Alcohol sponsored events.
Durham Region works with municipalities to create safe communities with strategies that focus on the responsible use of alcohol.
Municipal alcohol policy
What is a municipal alcohol policy?
A municipal alcohol policy aims to protect the community's health. Municipal alcohol policies address activities and factors that contribute to alcohol-related issues.
How do municipal alcohol policies work?
Municipal alcohol policies must use different strategies to work well. Municipal alcohol policies should include these six key policy components:
Identification of which properties, facilities and events can serve alcohol.
Directions for how alcohol should be handled at events.
Prevention strategies.
Consequences and penalties for not following the policy.
Information to be put on signs.
Policy support.
How to create a municipal alcohol policy
Public Health Ontario provides Eight Steps for Creating a Municipal Alcohol Policy.
Resources for municipal alcohol policy
Alcohol Policy Review: Opportunities for Ontario Municipalities
Alcohol use and aging
Rethink how you drink: Alcohol and aging
Alcohol use and COVID-19
Curriculum support
Reduce your risk of alcohol related health problems
Even in small quantities, alcohol can be harmful to your health.
Keep track of how many standard drinks you have per week to understand your habits.
Set a target to reduce your drinking if it is above the low-risk range (three or more drinks per week).
Stick to the limits you have set for yourself using the Low Risk Drinking Guidelines.
Choose drinks with a lower percentage of alcohol.
Drink slowly in small sips.
Always have a pitcher of water on hand.
For every drink of alcohol, have one non-alcoholic drink.
Try some alcohol-free cocktail recipes.
Never drink and drive or ride with someone who you suspect is impaired.
It is okay not to drink alcohol! You don't need to explain your healthy choices to anyone.
Get help