Case Status in Durham Region
Welcome to the Durham Region COVID-19 Data Tracker
The Data Tracker dashboard presents updated information about COVID-19 cases, institutional outbreaks, vaccinations and wastewater surveillance in Durham Region.
Durham Region COVID-19 Data Tracker
Data Tracker frequently asked questions (FAQs)
How have changes in testing affected Data Tracker information?
As of December 31, 2021, eligibility for PCR/molecular testing was limited to individuals at increased risk of severe outcomes and those living and working in high-risk sites such as hospitals, long-term care homes, retirement homes and congregate living settings.
Only cases with positive PCR or rapid molecular test results are counted as COVID-19 cases in the provincial CCM database. Positive results on rapid antigen tests (RATs) in staff, patients and residents of highest-risk settings may be sufficient for declaring outbreaks in these sites. However, individuals with a positive RAT only, and no positive laboratory test, will not be counted as a case in CCM and on the Data Tracker.
Reduced laboratory testing has led to a greater underestimation of the number of confirmed COVID-19 cases. While infectious disease cases are always undercounted because many asymptomatic infections are not detected, the underestimation of COVID-19 cases has increased significantly as of December 31, 2021, and the counts on the Data Tracker do not accurately represent the true number of cases in Durham Region.
Because PCR/molecular testing is limited to high-risk individuals, it is more likely that those tested will be positive, pushing up the percent positivity rates.
What is a confirmed case?
A confirmed case is a person who has tested positive for COVID-19 infection based on a PCR or rapid molecular laboratory test. For the COVID-19 case definition, see the Ministry of Health website. The Data Tracker reports only confirmed cases who are residents of Durham Region.
Are probable cases reported on the Data Tracker?
The Health Department does not report probable cases because they represent a small number, may change status to become confirmed cases, and the definition of a probable case has changed greatly over the course of the pandemic. Refer to the Ontario Ministry of Health's current definition.
Why are your numbers sometimes different from what is reported provincially on the same day?
COVID-19 counts produced by the CCM provincial system are dynamic and always changing. The time of day that the data are extracted can make a big difference because cases are continually being processed. The Health Department extracts information at 1 p.m. and updates the Data Tracker around 3 p.m., reflecting complete data as of the end of the previous day. The Ministry of Health and Public Health Ontario extract data at different times.
As well, the reporting metric may be different. For example, the "number of new cases" could be the number of cases on a specific reported date, or it could be calculated as the change in the number of cases from the previous day.
How are data on COVID-19 cases collected?
The Health Department receives notifications of positive COVID-19 laboratory results for Durham Region residents from all Ontario laboratories. These results are received electronically or by fax and entered into the provincial database Public Health Case and Contact Management Solution (CCM).
How are vaccination data collected?
Vaccination data are collected in the provincial reporting system COVaxON. This system is used by all providers administering vaccinations in Ontario, including public health units, hospitals, pharmacies and physicians.
Why are hospitalization numbers reported on the Data Tracker different from those reported by Lakeridge Health?
The Health Department identifies COVID-19 patients in hospital through various means: the public health nurse speaks directly with the client during the outreach call or to their next of kin, the hospital reports the status to public health, or the public health nurse calls the hospital directly as part of follow-up.
The Data Tracker reports the number of Durham Region residents who have been hospitalized (or that have had their hospital stay extended) because of COVID-19, regardless of where the hospital is located. A case hospitalized for some other reason not related to COVID-19 will not be counted as hospitalized on the Data Tracker. Hospitals report the number of patients in their hospital who have COVID-19, regardless of where the patient lives.
How are COVID-19 deaths counted?
A COVID-19 death reported on the Data Tracker is a death resulting from a clinically compatible illness in a confirmed COVID-19 case. The number of deaths includes those for which COVID-19 is the underlying cause of death, COVID-19 contributed to but was not the underlying cause of death, and those with type of death listed as unknown or missing. It excludes deaths where the cause of death is unrelated to COVID-19 (e.g., trauma).
When is an outbreak declared in an institution? When is it declared over?
An institutional outbreak is one that occurs in a long-term care home (LTCH), retirement home (RH) or hospital. Outbreaks in congregate living settings such as group homes and shelters are not counted as institutional outbreaks.
For LTCHs and RHs, a confirmed outbreak is currently defined as: two or more residents with a common epidemiological link (e.g., same unit, floor, etc.), each with a positive molecular or rapid antigen test, within a 7-day period, where both cases have reasonably acquired their infection in the home.
Epidemiological link is defined as reasonable evidence of transmission between residents/staff/visitors and there is a risk of transmission of COVID-19 to residents within the home.
For hospitals, a confirmed outbreak is defined as two or more patients with a common epidemiological link (e.g., within a specified area/unit/floor/ward), both with positive results from a polymerase chain reaction (PCR) test OR rapid molecular test OR rapid antigen test within a 7-day period where both cases have reasonably acquired their infection in the acute care facility.
Outbreak definitions have changed throughout the pandemic. Prior to April 8, 2021, only one case of COVID-19 occurring in a resident or staff was needed for an outbreak to be declared in a LTCH or RH.
The outbreak may be declared over when 7 days have passed after the last potential exposure to a resident case in the home or patient in the hospital. The health unit may consider 10 days if there is ongoing transmission and/or evidence of increased severity of illness.
Note that the definitions above are for surveillance purposes only. Public health units have the discretion to declare an outbreak when investigating suspected cases and conditions in institutions, including when the above definitions are not completely met, based on Ministry of Health guidance for public health units on LTCHs, RHs and on the congregate living settings and on acute care settings.
On the Data Tracker, outbreaks are listed in a table on the "Institutional Outbreaks" tab by alphabetical order of institutional name. You can also sort by "reported date" or "date declared over" by clicking on that heading in the table.
COVID-19 wastewater surveillance frequently asked questions (FAQs)
How are data on COVID-19 in wastewater collected?
Durham Region Works Department collects wastewater samples hourly for 24 hours approximately five times per week from the Corbett Water Pollution Control Plant (WPCP) and three times per week from the Darlington WPCP. Each sample represents the community that is contributing wastewater to that specific WPCP site.
The samples are shipped to Ontario Tech University, where they are analyzed to extract and detect RNA fragments from the SARS-CoV-2 virus which causes COVID-19 infection. The PCR detection methods used for wastewater are very similar to those used in clinical testing from nasopharyngeal swabs. However, since COVID-19 viral fragments are present in very low concentrations in wastewater, the lab uses special scientific methods to first capture the viral particles from wastewater before extracting the viral RNA. This ensures accurate and consistent detection using a highly sensitive PCR detection method.
Wastewater samples are collected across the province as part of Ontario's Wastewater Surveillance Initiative (WSI). Public Health Ontario reports the wastewater signal for Ontario and its sub-regions in its report on COVID-19 Wastewater Surveillance in Ontario.
Why did the number of sampling sites in Durham Region decrease in April 2023?
The Ontario Ministry of the Environment, Conservation and Parks (MECP) has been responsible for managing and funding Ontario's Wastewater Surveillance Initiative (WSI) since fall 2020. The MECP, in partnership with academic laboratories, municipalities and public health units, created a comprehensive and internationally recognized wastewater surveillance network across Ontario. As a result of a comprehensive review of data from all Ontario wastewater sites and consultations with public health units, the MECP launched a new network of sampling sites as of April 1, 2023. The WSI changes were made to represent each public health unit area, provide early warning or confirmation of trends, support public health and health care decision-making, and focus resources on sites that provide results with the least amount of duplication.
For Durham Region, the number of sites reduced from seven to two, with an additional site identified for emergency sampling if needed. The frequency of testing in the Corbett Water Pollution Control Plant (WPCP) in Whitby increased from three times to five times per week in the expectation that more frequent sampling and a shorter lag time would be more effective as an early warning system. The sites of Corbett and Darlington WPCPs provide very good representation of the Durham Region population.
How is the wastewater trend determined? Sometimes it looks like it is increasing or decreasing but is categorized as "stable".
The trend in COVID-19 viral signal in wastewater is calculated for the past 14 days based on data from at least three samples. This trend is assessed using a linear regression model, which provides two key pieces of information to categorize trend, direction, and statistical significance.
The direction of the trend tells us if the COVID-19 signal in wastewater has increased or decreased over the past 14 days.
The statistical significance tells us how likely the 14-day trend could be due to chance.
How we categorize the 14-day wastewater trend is illustrated in the figure below.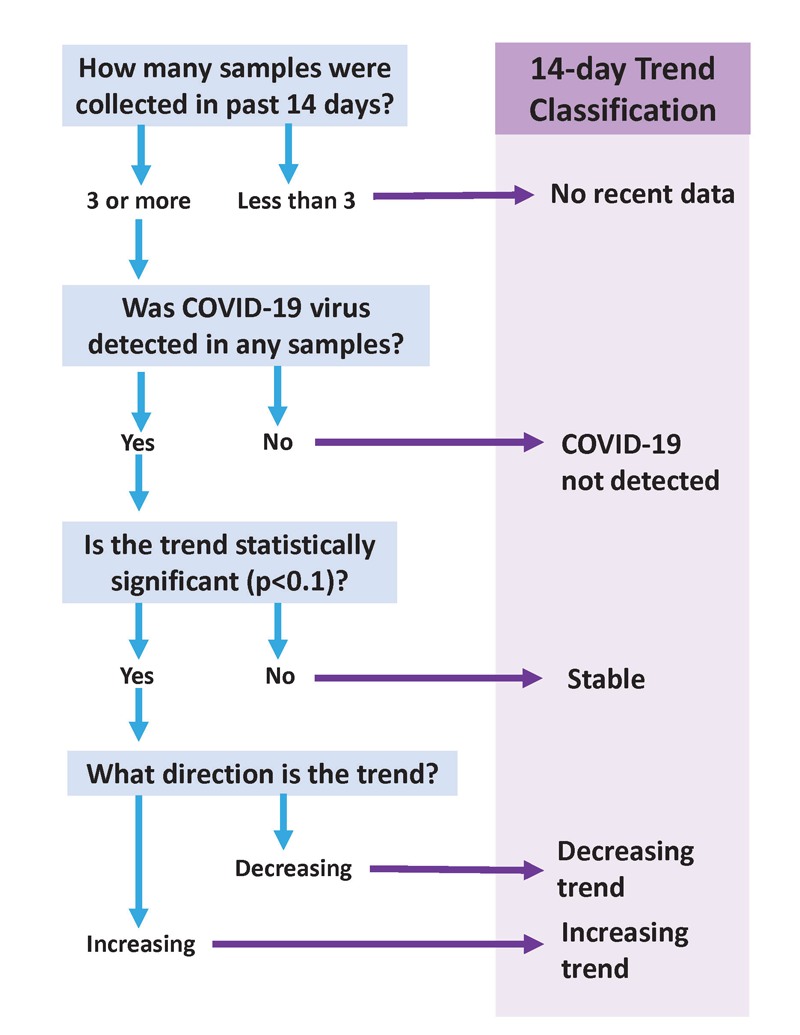 For the 14-day trend to be categorized as increasing or decreasing, it must be statistically significant (P<0.1). If it is not significant (e.g., likely due to chance), the trend is categorized as stable.
It is possible for the trend to look like it is decreasing, as shown by the purple line in the graph below but be categorized as "stable" if the trend is not statistically significant. When there are more samples, there is more precision and an estimate is more likely to be statistically significant, particularly when there is consistency in the direction where most or all samples are going down or going up. If there are fewer samples and less consistency, the trend is less likely to be statistically significant and more likely to categorized as "stable".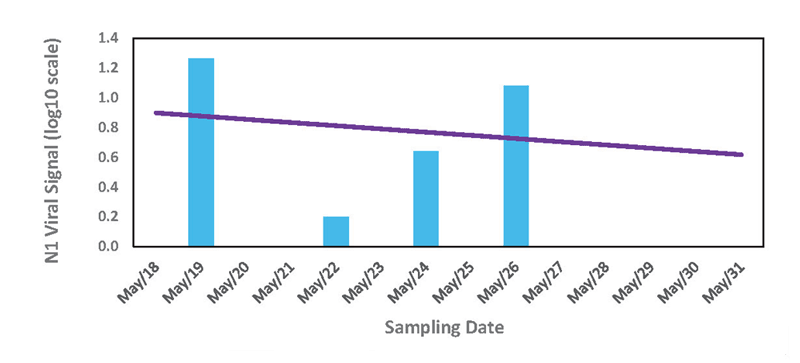 Why is there such a lag between the time when samples are collected and when results are reported?
There are many steps in the process of analyzing and reporting wastewater results. Since samples are collected hourly for 24 hours, a full day is required for sampling. Samples are then transported to Ontario Tech University for analysis. Due to the unknown composition of wastewater, which may contain compounds other than human excreta, and the sensitivity of viral RNA to water temperature and composition, researchers at Ontario Tech University must use high quality reagents and equipment to process and analyze the samples, while meeting all safety protocols. This process takes approximately 8-10 hours from when the samples first arrive at the lab and when results are obtained.
Following analysis, the results are uploaded to the Ontario Wastewater Surveillance Data Hub, managed by the Ministry of the Environment, Conservation and Parks (MECP). MECP process the data and make them available the same day or within 24 hours from when the labs upload their results. These data are then extracted by the Health Department and posted on the Data Tracker weekly. The amount of time required to collect, transport, process, and analyze the wastewater samples results in a reporting lag.
Can you estimate the number of cases from the wastewater signal?
It is difficult to estimate the number of COVID-19 cases in the community from wastewater because so many factors influence the wastewater signal, including how much virus individuals shed and who is moving in and out of the community during the day. There is some evidence that people infected with some sub-variants of Omicron may shed more virus leading to higher wastewater signals but not necessarily higher numbers of people with COVID-19. Increases in COVID-19 levels in wastewater over multiple samples may indicate increasing transmission within the community. However, individual samples with unusually high levels may not be indicative of increasing transmission as they are not as precise as looking at the overall trend. The signal can fluctuate greatly from sample to sample.
COVID-19 summary reports
Check out our epidemiological reports to learn more about COVID-19 activity in Durham Region
Status of cases in Ontario
For information regarding the status of cases in Ontario, including Durham Region, see the Public Health Ontario Data Tool.
The COVID-19 Data Tracker was created with the assistance of the Region of Durham's Corporate Services - Information Technology Division and the Data, Mapping & Graphics Group within the Planning & Economic Development Department.