School Screening Dental Clinics
A dental screening is a quick look at the teeth and gums with a dental mirror. Elementary schools receive screenings from a registered dental hygienist every year.
The dental hygienist is looking for obvious dental conditions that are causing or may cause pain in the near future. They also tell parents if their child has a serious dental condition, or if they have any recommendations for additional services.
A dental screening does not replace a regular check-up by a dentist.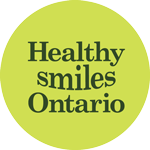 Dental screenings inform families and help them access dental care. Data from the dental screenings help the Ministry of Health understand the oral health status of Ontario's children. The Ministry uses this information to create programs like Healthy Smiles Ontario (HSO).
You can request a dental screening for anyone 17 years or younger. Contact the Durham Region Health Department's Oral Health Division set up an appointment.
Durham Region Health Department Oral Health Clinic
The Health Department's main oral health clinic is located at 200 John St. Unit E8, Oshawa. You can call us at 1-866-853-1326 extension 4567 or come in during our business hours, Monday to Friday from 8 a.m. to 4 p.m.
The clinic is free for families participating in the HSO program. If you have questions about your child's dental health, call and book an appointment for a dental screening.
The Oral Health Clinic offers:
Check-ups
X-rays
Fillings
extractions
Cleanings
Fluoride treatments
Sealants
Individual oral hygiene instruction
Portable dental clinics
Some Durham Region schools have portable dental clinics that run during school time. The clinic has services for children who need them.
Services:
Cleaning (scaling and polishing) of teeth
Fluoride treatments
Sealants (plastic coatings on the chewing surfaces of molars)
Individual oral hygiene instruction