Durham Region Weekly Beach Report
Throughout the summer, Durham Region Health Department tests waters at public beaches as part of its beach monitoring program.
Tests done at each beach include:
Taking water samples.
Analyzing them for high levels of bacteria.
Let beach visitors know which beaches are safe for swimming.
Swim safe
Durham Region Health Department posts signs to tell you if it is safe to swim. We check for water bacteria. If it's higher than the provincial guidelines for recreational water quality, we notify the public.
Check for signs that may show that the beach is not safe for swimming.
If you don't see an "unsafe for swimming" sign, follow these general rules: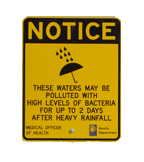 Avoid swimming if:
You can't see your feet when standing in waist deep water.
It has been raining two days before you plan on swimming.
In Durham Region, all beaches have permanent yellow signs posted on beaches from June to September.
Don't swim in beach water for at least 48 hours after heavy rainfall. High levels of bacteria in the water may be harmful to your health.
Due to special conditions, we may close a beach. This could be because there are signs of dangerous or infectious materials in the water. We will also close a beach if blue-green algae are in bloom.
What are the risks of going into the water?
We may post a sign because the water has bacteria that could give you an infection, especially if you have an existing infection or open cut.
The most common issues are:
Minor skin issues
Eye infections
Nose infections
Throat infections
Upset stomach
The people who are most at risk for these infections are:
Young children
Older people
People with weak immune systems
What is polluting our beaches?
Several sources of water pollution can cause us to post a sign.
These include:
Heavy rain or storm water run-off into rivers and lakes.
Storm water run-off that contains bacteria from animal droppings.
Storm water run-off from ditches and storm sewers.
Overflows from sewers that have both sewage and storm water.
Overflows that have not been treated by municipal or industrial sewage treatment plants.
Domestic septic systems that are not properly maintained and poorly located.
Illegally connected sanitary sewers and poorly installed basement washrooms.
Run-off from manure piles and feed lots.
Run-off from farming lands near swimming areas.
Farming activities, particularly cattle operations that are not properly managed.
Large numbers of water birds that settle at a beach or surrounding area.
Environmental conditions such as wind, rain, sunlight, air and water temperature.
Waste left from boats.
How can you help to keep our beaches clean and safe for swimming?
Respect stoop and scoop bylaws. Pet droppings are a big cause of bacteria in storm water. Pick up dog droppings right away from streets, public parks and private property.
Improve septic systems and keep them working properly.
Make sure that any washrooms that you add to your home are properly connected to the sanitary sewer pipes or your private sewage disposal system.
Do not attract animals or birds to beaches by feeding them.
Clear backwash pool water three days after the last chemical treatment. Clear it into the sanitary sewer or to the storm sewer.
If you allow pool water to flow across a lawn, some water will enter the ground and most pool chemicals will dissolve into the air.
Wherever possible, detach eaves trough downspouts so that rainwater goes into the ground rather than into the sewer.
Lower water use at home. This helps avoid overflow problems at some municipal sewage treatment plants that may cause untreated sewage to enter lakes and rivers.
Consider a driveway of crushed or interlocking stone. An open surface driveway such as this reduces the amount of storm water that goes into the sewer system. It also refills groundwater.
In farming areas, keep livestock away from streams and give them another source of water.
Make sure that run-off from feed lots and manure piles are contained properly.
Practice pollution-free boating by properly disposing of human wastes.
Adapted with permission of the Ontario Ministry of the Environment.