Public health and education go hand in hand
A healthy school provides a positive environment where children can be healthy. This helps them learn at their best.
The Health Department offers health programs. They include immunization and curriculum support. We work with the school community. Together we create and promote healthy schools. We try to improve overall child health.
Contact the public health nurse associated with your school to learn more.
---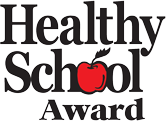 2018/2019 Healthy School Award
The Healthy School Award has been offered by Durham Region Health Department for over 10 years. It recognizes schools for their commitment to a healthy schools approach by creating an environment that is supportive of student health and well-being.
The Healthy School Award recognizes schools for supporting at least one of the following health topics:
---
Support health in your school!
Newsletter inserts for schools
Ready to use inserts for your school newsletter or website! The healthy schools newsletter inserts for parents provide up-to-date information on health-related topics for parents and guardians. Add the inserts below into your school newsletters or on your school website. The inserts are listed by health topic, inserts for elementary or secondary schools and recommended month of use.
Order healthy school resources
To get copies of healthy schools resources:
Contact your public health nurse