Adaptation and Resilience
Durham's Community Climate Adaptation Plan sets out a vision, goals and actions to help Durham Region adapt to climate change. This strategy was developed in collaboration with Durham Region, local municipalities, Conservation Authorities, energy utilities, and other local stakeholders.
Durham's Future Climate
Adaptation planning uses climate modelling to forecast our future climate. In 2019, Durham Region updated the climate modelling to project our short, medium, and long-term forecasts.
Based on the climate modelling results, Durham Region is expected to see:
Warmer air temperatures
More extreme heat days with temperatures above 30°C
Less extreme cold days below -20°C
Increasing precipitation, particularly during the winter and spring seasons
More extreme weather events, especially intense storms
Longer growing season with the increased risk of pests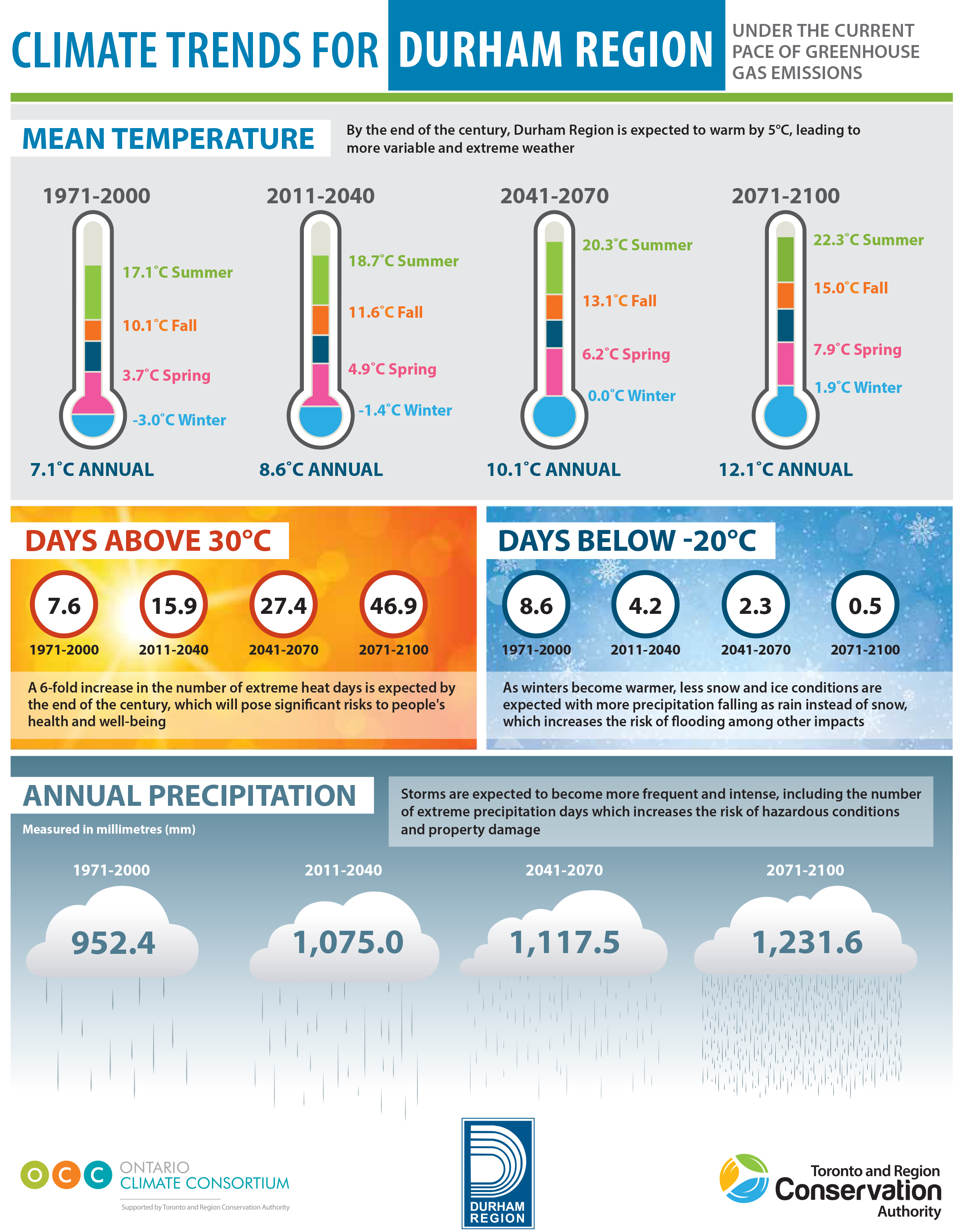 Climate Change Webinar Series
Durham Region offers a webinar series on preparing and adapting to extreme weather – snow, hail, ice, and wind. Learn what actions to take to reduce the impacts it may have on your family, your home, and your property. Other topics planned for 2021 include nature-based solutions, food security and extreme heat. Additional resources for homeowners are available at the Intact Centre and ICLR.
The webinar series includes:
Managing Urban Heat Islands
According to Statistics Canada (2016), 81 per cent of Canada's population lives in an urban area. Urban spaces provide a rich diversity of social, recreational, and economic opportunities; however, these urban spaces are getting hotter, which can pose health risks.

Durham's Keeping Our Cool report takes a closer look at urban heat islands in the context of risks and concerns for Durham Region.
Agricultural Sector Climate Adaptation Strategy
Durham Region is home to more than 1,300 farms, covering approximately 47 percent of the total land area. The agricultural sector is already experiencing climate impacts such as risks to some varieties of crops and yields, heat and health risks, flooding and stormwater management, invasive species and pests, and damage to infrastructure.
Growing Resilience, the Durham Region Agriculture Sector Climate Adaptation Strategy, will help Durham's agricultural community proactively adapt to climate change. The strategy identifies risks, presents programs and tools, and outlines an action plan to help Durham's agricultural sector remain resilient.
Preparing for Flooding or Extreme Weather
Are you interested in learning how to prepare your family and home for extreme weather events? Then review the Durham Region Emergency Preparedness Guide.
Be #FloodReady in Durham! Extreme weather, aging infrastructure and lack of preventative maintenance are some of the leading causes of basement flooding in Canada according to the Insurance Bureau of Canada, 2017. A homeowner's best defence against home flooding is to understand flood risks and take preventative action. Become #FloodReady with these tips:
Flood Protection Tips
Do-it-yourself Checklists
Resource Links
Instructional Videos
Emergency Preparedness
Reports and Updates
Future Climate Based on Climate Modelling Executive Summary