Message from the Commissioner & Medical Officer of Health
I am pleased to present our 2023 Health Plan. Durham Region Health Department (DRHD) is responsible for the delivery of public health and paramedic programs and services. Each year, DRHD communicates its public health priorities for the year in the Health Plan. Priorities are reported under the following program categories: Health Analytics and Business Affairs, Health Protection, Healthy Families, Healthy Living, Infectious Diseases, and Paramedic Services. Additionally, quality assurance and improvement initiatives are planned across programs and are highlighted separately.
We are happy to report that we have restored all our regular programs and services and continue to work on recovery after spending the past three years largely focused on COVID-19 response and vaccine administration. We will continue to respond to the COVID-19 pandemic as the virus is still active in our community, but thankfully, the demands on our resources are less significant compared to previous years. DRHD will therefore incorporate COVID-19 response into regular program activities, while remaining flexible enough to respond to spikes in COVID-19 activity and align with provincial direction.
We have a 2023 approved budget of $131,673,275 and a total of 763.8 FTEs that work collaboratively to meet the needs of Durham Region residents.
Robert Kyle, BSc, MD, MHSc, CCFP, FRCPC, FACPM
---
2023 Approved Budget (Gross Operating)
Healthy Living ($17,576,421)
Healthy Families ($12,265,456)
Infectious Diseases ($17,310,495)
Health Protection ($8,243,532)
Health Analytics & Business Affairs ($7,332,683)
Facilities Management ($873,205)
Headquarters Shared Costs ($2,490,666)
Paramedic Services ($65,580,817)
Total: $131,673,275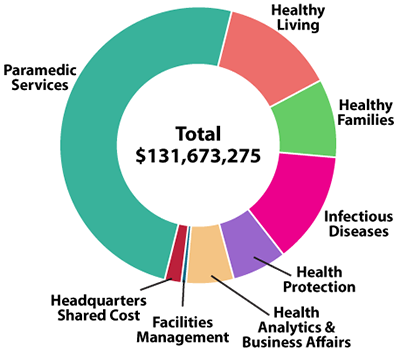 2023 Full-Time Staff Positions (FTEs)
Healthy Living (117.4)
Healthy Families (88.5)
Infectious Diseases (120.7)
Health Protection (50.7)
Health Analytics & Business Affairs (37.5)
Paramedic Services (349.0)
Total: 763.8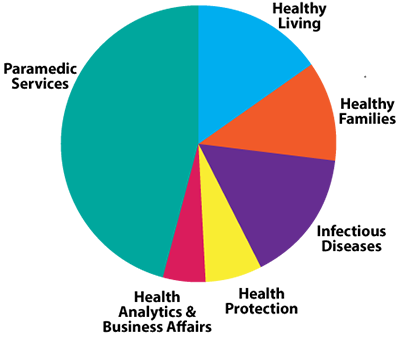 ---
2023 Health Plan Priorities
Health Analytics & Business Affairs
Administrative Support Services

Goal: To provide effective and efficient support to all DRHD divisions, programs and services that help to enhance the delivery of the Ontario Public Health Standards and to meet all requirements of internal and external customers.

Train identified staff in creating accessible documents.
Support the implementation of myDurham 311, in collaboration with all DRHD divisions.
Develop partnerships with DRHD divisions to support financial management, facilities planning and program delivery objectives, and corporate initiatives.
Community & Resource Development (CARD)

Goal: To provide support to all DRHD divisions, programs, and services, helping to enhance compliance with the Ontario Public Health Standards.
Review and consider continuing to publish Medical Officer of Health blog posts/messages based on results from an evaluation of COVID-19 communication products.
Provide ongoing support to DRHD programs and services related to media relations, graphic design, web production, social media, and resources.
Health Analytics & Research Team

Goal: To ensure public health practice responds effectively to current and evolving conditions and contributes to the public's health and well-being with programs and services that are informed by the population's health status, including social determinants of health and health inequities.
Post and promote the release of Health Neighbourhoods 5 on durham.ca with updated 2021 Census and other data, including an overview report and infographic.
Post and promote a Maternal & Infant Health Data Tracker.
Release nine climate change health vulnerability assessments on the topics of extreme heat, extreme cold, extreme weather, air quality, UV exposure, safe food and water, mental health, and vector-borne diseases as part of the Climate Change and Health Vulnerability Assessment.
Health Policy & Equity Team

Goal: Public health practice results in decreased health inequities so that everyone has equal opportunities for optimal health and can attain their full health potential without disadvantage due to social position or other socially determined circumstances.

Identify staff learning needs related to enhancing health equity in public health services, programs, and policies.
Collaborate with Regional departments on initiatives that improve access to resources that address the social determinants of health.
Identify processes and opportunities to apply sociodemographic data in programs and policy work at DRHD.
Privacy & Information Security

Goal: To provide effective and efficient privacy and information security support to all DRHD divisions, programs and services that helps to enhance compliance with applicable privacy and public health related legislation, information security standards and information management best practices.
Develop a privacy audit framework.
Update the online privacy training module.
Onboard and assign responsibilities to a new Privacy Analyst.
Health Protection
Durham Health Connection Line

Goal: To respond to inquiries and requests for service, including applications for new businesses and special event vendors from the community.
Respond to health protection related inquiries on the Durham Health Connection Line within prescribed reporting and response timelines.
Continue to collaborate with the myDurham 311 Change Agent Network and guide the development of knowledge articles for the call centre.
Emergency Management

Goal: To enable consistent and effective management of emergency situations.
Review DRHD's current Emergency Management program activities against the current Emergency Management Guidelines under the Ontario Public Health Standards to identify gaps and develop program priorities.
Plan and launch three potassium iodide (KI) communication campaigns to raise awareness on the availability and ordering process for obtaining KI tablets.
Food Safety

Goal: To prevent or reduce the burden of food-borne illness and support the implementation and enforcement of the Healthy Menu Choices Act, 2015.
Conduct all required compliance, complaint, and re-inspections, as mandated by the Ontario Public Health Standards and Food Safety Protocol.
Develop and deliver staff consistency training.
Review special event procedures and the inspection process.
Healthy Environments

Goal: To prevent or reduce the burden of illness from health hazards in the physical environment.
Complete the Climate Change and Health Vulnerability Assessment (CCHVA) and develop a communication plan to share the findings in collaboration with the CARD Team and HART.
Recruit and orient a new Climate Change and Health Specialist to lead a departmental climate change strategy and an adaptation plan following the release of the CCHVA.
Ontario Building Code - Part 8 (Sewage Systems)

Goal: To prevent diseases in humans and contamination of the physical environment due to on-site private sewage systems.
Develop a strategy to raise awareness of the building permit and inspection process of sewage systems to ensure that private sewage disposal systems are properly designed and constructed in accordance with the Ontario Building Code.
Inspect sewage systems within 100 metres of the shoreline or a tributary of Lake Simcoe to prevent contaminating surface water by ensuring private systems are working effectively.
Collaborate with Township of Scugog officials to renew the contract for the mandatory sewage systems maintenance inspection program.
Safe Water

Goal: To prevent or reduce the burden of water-borne illness related to drinking water and to prevent or reduce the burden of water-borne illness and injury related to recreational water use.
Develop and provide private well water information sessions to owners of private water wells.
Develop and provide an online training module for recreational water facility operators.
Inspect all recreational water facilities in Durham Region in accordance with the Operational Approaches for Recreational Water Guideline and the Recreational Water Protocol.
Healthy Families
Durham Health Connection Line

Goal: To ensure Durham Region residents have access to health information, counselling, and referral to appropriate resources on health issues as outlined in the Ontario Public Health Standards.
Respond to inquiries from the community.
Collaborate with Population Health Division programs to deliver health education, counselling, and referrals on topics identified in the Ontario Public Health Standards.
Child & Youth, Prenatal & Newborn, and Healthy Babies Healthy Children (HBHC)

Goal: To achieve optimal preconception, pregnancy, newborn, child, youth, parental and family health.
Visit with families identified with risk to help them meet their goals and improve caregiver/parent-child interactions.
Screen prenatal, postpartum and early childhood families for risks to healthy child development using the HBHC screening tool.
Develop and implement a workflow related to Ontario's maternal-child health data system (BORN-ISCIS) and HBHC electronic screen transfer.
Lead a nine-week Cognitive Behavioural Therapy series to address postnatal depression.
Increase breastfeeding home visits in North Durham to fill the existing service gap experienced by families in this area.
Complete a situational assessment related to mental health among infants and children aged zero to six years.
Infant & Child Development

Goal: To enhance the growth and development of children, including those with a developmental disability and/or risk of developmental delay by partnering with families to provide support, information, and early intervention services.
Provide home visiting services for children between the ages of birth to four years and who have a developmental disability or who are at risk for developmental delay.
Provide transitional service coordination support to families and children to increase community awareness of inclusionary practices and create the opportunity for children with disabilities to reach their full potential in child care, school, and life.
Healthy Living
Chronic Disease Prevention

Goal: To reduce the burden of chronic diseases of public health importance* and improve well-being.
*Chronic diseases of public health importance include, but are not limited to, obesity, cardiovascular diseases, respiratory disease, cancer, diabetes, intermediate health states (such as metabolic syndrome and prediabetes), hypertension, dementia, mental illness, and addictions.
Increase awareness of food insecurity among Durham Region stakeholders to support advocacy efforts that address food insecurity.
Address tobacco use and vaping in ten school communities using healthy school strategies to create a tobacco/vape-free environment.
Oral Health

Goal: To enable all children in Durham Region to attain and sustain optimal oral health and development potential and to support adults who require assistance in accessing oral health information and services.
Offer and provide dental screening to all children in Durham Region schools by July 2024.
Promote the Ontario Seniors Dental Care Program.
Implement the Regional Long-Term Care Home (LTCH) Dental Program and Ontario Works Dental Pilot.
Complete the Denture Lab and implement the Denture Program.
Prepare a business case to begin planning for a dental clinic in West Durham.
Prevention of Injury & Substance Misuse

Goal: To reduce the burden of preventable injuries and substance use.
Increase awareness of the link between alcohol and cancer as well as other alcohol-related harms among Durham Region residents.
Implement a plan to promote safe supply/opioid agonist therapy (OAT) prescriptions by health care providers.
Engage Durham Region residents on the link between cannabis use and associated health risks, with a spotlight on edibles.
Engage Durham Region residents in community connectedness strategies to promote mental health.
School Health

Goal: To achieve optimal health of children and youth in schools through partnership and collaboration with school boards and schools.
Adopt the comprehensive school health approach across schools in Durham Region with public health nurses.
Provide publicly funded vision screening to senior kindergarten students in Durham Region.
Smoke-Free Ontario Act, 2017

Goal: To ensure tobacco, e-cigarette vendors, and other organizations subject to the Smoke Free Ontario Act, 2017 (SFOA) comply with the Act and restrict youth access to tobacco products and e-cigarettes.
Explore and implement legal tools to obtain compliance with facility operators who are not compliant with the SFOA and Durham Region Smoking and Vaping By-law.
Conduct two youth access inspections of all known tobacco retailers and one youth access inspection of all known vapour product retailers.
Explore alternative options to legal action when students are not compliant with the SFOA while on school property.
Infectious Diseases
Immunization

Goal: To reduce or eliminate the burden of vaccine preventable diseases through immunization.
Provide provincially funded immunizations to all eligible grade seven and eight students through school-based clinics.
Support Immunization of School Pupils Act compliance in all students aged four to 17-years in elementary and secondary schools.
Increase COVID-19 booster dose coverage for Durham Region residents.
Infectious Diseases Prevention & Control - Health Protection

Goal: To reduce the burden of communicable diseases and other infectious diseases of public health importance.
Inspect all personal service settings, licensed child care centres, and Homes for Special Care/Community Homes for Opportunity for compliance with relevant regulations, protocols, and guidelines.
Respond to all infection prevention and control (IPAC) complaints and/or refer complainants to appropriate regulatory bodies, including regulatory colleges.
Revise DRHD's Child Care and IPAC learning module and investigate a new learning platform for the module.
Plan for DRHD's 25th annual flu event and re-brand the campaign to distribute COVID-19 vaccines along with the flu vaccine, creating an annual respiratory virus event.
Receive and respond to all reported cases of potential rabies exposures received from the public, community partners, and health care providers in accordance with the Health Protection and Promotion Act, the Management of Potential Rabies Exposures Guideline and the Rabies Prevention and Control Protocol.
Switch to electronic records for all rabies investigations and eliminate hardcopy files.
Review and update the Racoon Rabies Contingency Plan.
Develop and implement a quality assurance process for larval mosquito surveillance and West Nile virus vector mosquito control.
Develop and distribute resources to raise awareness of Lyme disease within Durham Region for audiences such as pharmacists, hiking groups, cyclists, and other groups at higher risk.
Infectious Diseases Prevention & Control - Population Health

Goal: To reduce the burden of communicable diseases and other infectious diseases of public health importance.
Manage all sporadic communicable disease cases and contacts according to the Infectious Diseases Protocol and the disease specific appendices.
Manage all suspected and confirmed cases of tuberculosis according to federal guidelines and provincial protocols.
Offer sexual health clinic services at the two locations in Oshawa and Pickering.
Paramedic Services

Goal: To deliver a quality Paramedic Services system that is responsive to client needs and reduce mortality and morbidity related to illness and injury through the provision of pre-hospital advanced life support procedures. Primary program delivery is through the Region of Durham Paramedic Services with assistance from the Central Ambulance Communications Centre and local fire department tiered response programs.
Implement the early phase of the Paramedic Services Master Plan and monitor its impact on response times, end of shift overtime, meal breaks, and attendance.
Work with hospital partners to continue developing solutions to mitigate offload delays.
Work with the provincial government to establish a stabilized funding model for the Community Paramedicine program.
Continue work to implement the new Medical Priority Dispatch System algorithm.
Quality Assurance and Improvement

Goal: To ensure that programs and services meet requirements as articulated in policies, standards and legislation and to continuously improve the efficiency and effectiveness of services provided to Durham Region clients.
Update the DRHD Electronic Client Record system, implemented in 2014, to support uninterrupted access to client records and to ensure that the highest level of security is applied.
Continue to transfer all Health Protection records into an electronic database and explore opportunities to expand electronic record keeping.
Connect with municipal chief building officials and promote routine health inspection solutions that encourage new operators to notify DRHD of their business so they can open without unnecessary delays (e.g., electronic stamps, resources for municipalities, and a durham.ca landing page).
Upgrade an electronic database (Hedgehog) and public disclosure (Check&GO!) to improve functionality, useability, and performance, and incorporate new features anticipated by Health Protection staff.