Low Carbon Pathway
The Durham Community Energy Plan is Durham Region's ambitious strategy to reduce greenhouse gas emissions (GHG) and seize economic opportunities related to the clean energy transition. It presents low carbon pathway up to 2050 that lays out a set of long-term strategies to reduce GHG emissions while growing our economy.
Durham Community Energy Plan
The Durham Community Energy Plan will accelerate the transition to a clean energy economy in Durham while simultaneously achieving multiple economic, environmental and social benefits.
Durham Region's community GHG emissions reduction target is 80% below 2007 levels by 2050.
The Region is currently working to establish a new set of corporate GHG emissions reduction targets for 2025 and 2030. Achieving these targets will require transformational changes in how we live, work, build and commute.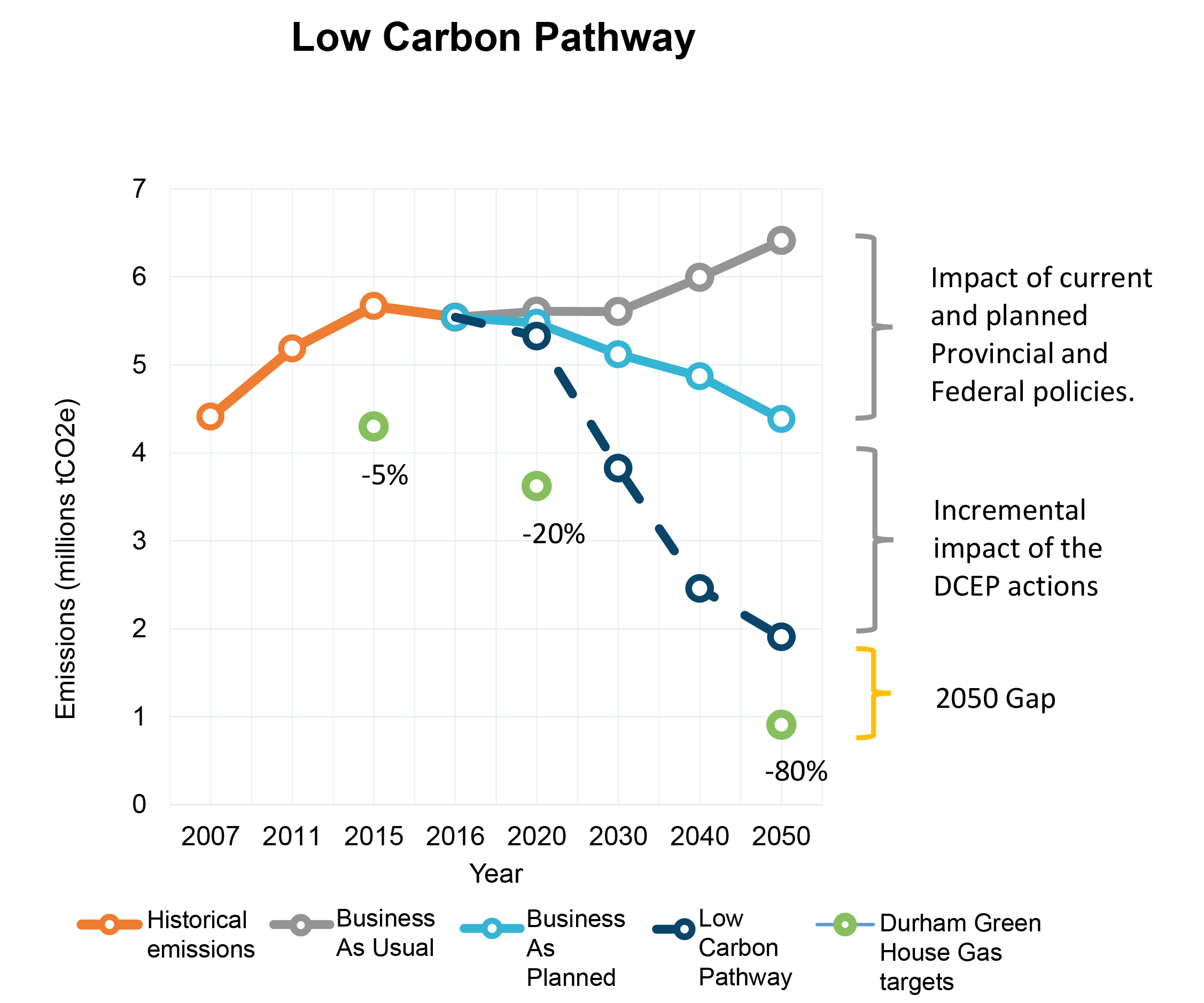 Durham's Greenhouse Gas Emissions
Durham Region's community GHG inventory shows that most GHG emissions come from buildings and transportation.
Durham Greener Homes (Retrofit Accelerator Program)
Durham Region is proud to launch their Durham Greener Homes program effective April 28, 2022. Visit durhamgreenerhomes.ca for program details.

Electric Vehicles
Vehicles are the largest source of greenhouse gas emissions (GHG) in Durham Region, representing more than 40 percent of total emissions in 2017. Durham's Community Energy Plan highlights the critical importance of electric vehicles in meeting the Region's GHG emissions reduction targets. Electrification of personal, municipal and commercial vehicle fleets is estimated to represent close to 20 percent of the total GHG emissions reductions needed to align with Durham's "Low Carbon Pathway". By 2030 all new vehicles purchased in the Region are expected to be zero emissions.
The Region is acting on its own vehicle fleets. In November 2019, Durham Region Council committed $10 million in funding towards Durham Region Transit's first eight battery electric buses and charging infrastructure as a pilot project to inform the transition of the region's transit fleet to zero-emission buses over the next 10 years.
In addition to our own Fleet, Durham Region is working with local municipalities and partners to expand the availability of public EV charging stations. In 2021, the Region, together with Ajax, Clarington, Oshawa (in collaboration with Oshawa Power and Utilities Corporation) and Whitby will be installing 60 new EV charging stations across 21 municipally-owned and publicly-accessible sites.
This initiative is made possible through a $296,000 grant from the Government of Canada's Zero Emission Vehicle Infrastructure Program.
The investment will help to encourage more people to use EVs and reduce their greenhouse gas emissions. Transitioning to EVs is a key action needed to meet Durham Region's climate change commitments.
EV Chargers in the Region of Durham
Where to find an EV charging station?
Find an EV charging station near you or your destination with online maps and mobile apps such as Plugshare or Chargehub.
Reports and Updates