Traffic control signals are important. They keep traffic movement safe and efficient. They show the right-of-way in conflicting movements.
The Works Department's Traffic Engineering and Operations Division handles Durham's traffic control signals by planning, designing, constructing, operating and maintaining the traffic control systems.
They take care of the traffic signals on:
Regional roads
Municipal roads
Provincial highways
About traffic control signals
Planning
The Works Department is responsible for the planning traffic control on Regional roads. Traffic control devices include markers, signs and signals. They are used to inform, guide and control traffic. This includes:
Pedestrians
Drivers
Bicyclists
The need has to be determined before we can install traffic signals. We use criteria to make sure the proper and safe device is installed to meet the needs of the public.
The planning for traffic signal installations also includes a process to assess the requirements for accessible pedestrian crossing devices.
Design
The Works Department is responsible for designing traffic control signals. The main components of a signal are:
Vehicle signal heads
Pedestrian signal heads
Signal poles
Traffic signal controller cabinet
Underground electrical conduit
Vehicle and pedestrian detection
Closed circuit television monitoring camera where necessary
Installation and maintenance
The Works Department is in charge of the installation and ongoing maintenance of traffic control devices. Ongoing maintenance includes the regular inspection and emergency repairs to the control devices and its parts. These parts include:
Signs
Signals and/or beacons
Push buttons
Signal heads
Poles
Vehicle/bicycle/pedestrian detection devices
Emergency vehicle pre-emption
Communications systems
Closed circuit television monitoring cameras
If you see an issue with a traffic control signal, or a damaged or fallen sign, report it.
For after-hours emergencies, please call: 905-576-9991 or 1-800-372-1104.
Construction
When an intersection is reconstructed or improved, we may change the:
Design of the intersection.
The installation of traffic control signals.
Upgrading existing traffic control devices.
Before we turn on the new signals, we will cover the the signal heads with bags. This so people know the signals are not working yet. You should follow the existing traffic controls at the intersection until the signals are working. A police officer will be present to direct traffic while we install signals.
Operation of traffic signals and the Region's centralized traffic control system
We use a centralized traffic control system. It operates the Region's signal network. The traffic control system monitors the condition of traffic equipment and traffic flows. It identifies faulty equipment and changing traffic patterns or incidents. We can change the signal timing quickly.
As traffic volumes increase, so can congestion and delays. Co-ordinating traffic control signals allows the most vehicles to travel along the road with the fewest amounts of stops and vehicle delays. This makes travelling safer and more comfortable.
The central traffic control system communicates to each traffic control signal. Signal timing plans for each traffic control signal are stored in a computer. We send timing plan changes sent to each traffic control signal on a time-of-day basis. We make changes where there are unexpected changes to traffic patterns.
We monitor:
Vehicle volumes
Speeds
Delays
All this is automatic. We use midblock vehicle detection stations. We make sure the traffic control signal programming is working effectively.
Other types of traffic control
We handle traffic control signals and stop signs. The Region also uses other forms of traffic control to promote safe travel on roads for all users.
Speed limits
Posted speed limit signs tell people the highest safe speed for the road. This is under normal operating conditions. The speed limit gives people enough time to react to a potential hazard.
Each year, municipalities get many requests to install stop signs or traffic control signals. This is to reduce speed. However, stop signs and traffic control signals also assign the right-of-way at intersections. They are not always to control speed.
Speed limits are determined based on traffic engineering surveys. These surveys look at:
Road conditions
Collision history
Vehicle operating speeds
A safe speed limit is set according to these conditions. A posted speed limit that is too low might make drivers ignore the speed limit. This creates more hazardous conditions.
Traffic flowing at the same speed is safer. There are fewer collisions. Drivers are less impatient. They pass less often. They are less likely to tailgate. Posted speed limits make police officers' jobs easier. This is because most of the traffic is moving at the posted speed. Speeders are easily spotted. Safe drivers are not penalized. Police officers are not asked to enforce and defend unrealistic speed limits.
Community Safety Zones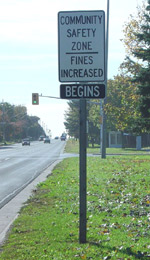 Community Safety Zones are sections of road that allow fines to be doubled for violations. A Community Safety Zone is established by a warrant. This includes an assessment of roadside characteristics and uses. Examples are nearby schools or other areas that can generate high pedestrian traffic and speeding.