Has your building been closed or on low occupancy over the last few months due to COVID-19? The water in your building could be stagnant and can pose serious health risks if not restored properly. There are critical steps individual property owners must take to safely restore water services when reopening buildings. Learn how to safely restore water services to your building using the Canadian Water and Wastewater Association's Fact Sheet for Building Owners and Operators.
The Regional Municipality of Durham's Works Department treats and distributes safe drinking water across our region.
We are home to some of the best tap water in the world. To ensure safe drinking water in the region:
A sophisticated system processes the water.
We test the water daily to make sure it is safe to drink.
Our staff monitors Durham's municipal water plants.
The Ontario Ministry of the Environment, Conservation and Parks inspects the plants.
Top three reasons to choose tap water over commercial bottled water:
Tap water in Durham is clean and safe.
It reduces waste to fill a reusable container.
It saves you money.
View our Water Champions video.
Water treatment
Water treatment is the process of taking water from the environment and treating it to produce clean and safe drinking water.
Drinking water systems
Durham has 12 drinking water systems that operate across our eight area municipalities. These drinking water systems include surface water (such as Lake Ontario and Lake Simcoe) and ground water sources (such as wells).
Surface water treatment
Surface water treatment takes water from open water sources such as rivers or lakes. This treatment process involves both chemical and physical treatment. It removes any biological, organic or inorganic matter from the water.
The two surface water sources in Durham are Lake Simcoe (with a water supply plant located in Beaverton) and Lake Ontario (which has water supply plants in Ajax, Whitby, Oshawa, Bowmanville and Newcastle).
Below is a diagram showing the treatment process of converting lake water into clean drinking water.
Intake
Lake water flows through an intake pipe into the plant by gravity. Some chlorine is added to keep zebra mussels off the intake.
Screening
Screens remove large items from the water such as fish and logs.
Chemical Treatment: Coagulation and Flocculation
During coagulation, a liquid chemical is rapidly mixed into the water from to help particles clump together. The next step is flocculation, where slow mixing helps to form even larger clumps so that they are easy to remove from the water.
Filtration
Filters are large basins full of anthracite or granular activated carbon (GAC) and sand. During filtration, the water flows through the filter by gravity, leaving all unwanted particles behind.
Disinfection and Fluoridation
Chlorine is added to eliminate pathogens and to maintain a residual in the distribution system. Disinfection is achieved by the addition of chlorine at multiple locations throughout the treatment plant. Fluoride is added to improve oral health in Courtice, Oshawa, Whitby, Ajax and Pickering
Pumping and Distribution
Once the drinking water is pumped out of the plant, it travels through an underground network of pipes to fill water storage towers and underground reservoirs before arriving at your tap. Drink up!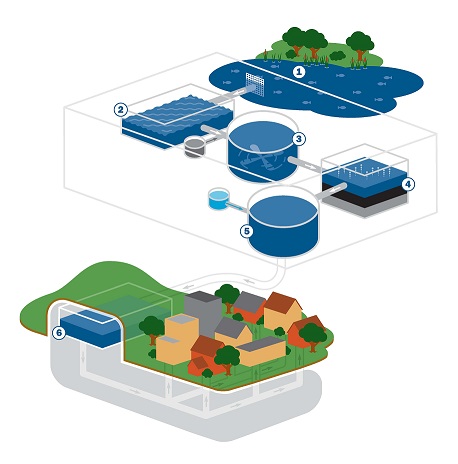 Groundwater treatment
Groundwater treatment takes water from underground water sources (such as wells). The ground acts as a natural filter for the water, which simplifies the treatment method. The water needs only a small amount of chemicals to control minerals (such as iron) and to maintain disinfection in the distribution system.
There are 22 groundwater wells located in Blackstock, Cannington, Greenbank, Newtonville, Orono, Port Perry, Sunderland, Uxbridge and Uxville.
Water distribution
Water treatment plants distribute water through a system of underground pipes. You may notice water storage towers, reservoirs and pumping stations in your community. These are all part of the distribution system that ensures water is always available.
Our water distribution system includes:
21 water storage facilities to meet peak demand and fire emergencies.
17 pumping stations to ensure that there is enough water pressure.
2,470 kilometres of watermains.
Annual water quality reports
The annual drinking water quality reports inform you on your drinking water quality. As per Section 11 of Ontario Regulation 170/03, the owner of a drinking water system shall ensure that the reports are prepared for the preceding calendar year and made available to the public.
The Region must prepare an annual report for each system, and the report must include:
A brief description of the drinking water system.
A list of water treatment chemicals used.
A summary of the test results covered under the reporting period.
A summary of adverse test results and other issues, including corrective actions taken.
A description of major expenses incurred to install, repair or replace equipment.
2021 annual water quality reports
2020 annual water quality reports
2019 annual water quality reports
2018 annual water quality reports
2017 annual water quality reports
2016 annual water quality reports
2015 annual water quality reports
Asset management programs
Our formal asset management program includes:
Evaluation of assets and their condition.
Identifying key challenges and risks.
Detailed options analysis.
Financial strategy with a multi-year economic and financial forecast.
Assessment of financial options for existing major assets and future growth.
Water master plan study
This study will develop a long-term servicing strategy. The strategy will plan for the design and operation of all water systems in the Region of Durham.
The plan will focus on the trunk infrastructure system requirements, including:
Water treatment plants
Reservoirs
Pumping stations
Water storage facilities
Major trunk water mains for the distribution system
Integrated management system
An Integrated Management System helps the Region meet the Standard of Care and due diligence requirements by demonstrating that management controls over the Region's municipal drinking water and waste water treatment systems have been established. The Integrated Management System was put in place in 2003 for the Region's municipal drinking water systems. The drinking water systems are registered to the Drinking Water Quality Management Standard (DWQMS) and maintain the requirements of ISO9001 and ISO14001.
The Region is committed to demonstrating leadership through the Integrated Management System, reflected in the Scope Statement, Environmental Policy and the Quality Policy which details the objectives and commitments to delivering an effective management system. These documents are available through the Region's Integrated Management System co-ordinator.
The DWQMS requires that the Operational Plan for the Drinking Water Systems is made available for public viewing at the principal office of the owner and/or on a website that is accessible to the public. If you would like to view the Operational Plan for the Region of Durham Drinking Water Systems, please request access from the Region's Integrated Management System co-ordinator.
Water Financial Plan
As part of the requirement to renew the Municipal Drinking Water License as per the Safe Drinking Water Act, 2002 the Region of Durham must prepare and submit to the Ministry of Municipal Affairs and Housing an approved Water Financial Plan. This plan can be accessed at Water Financial Plan.
Facts about water
The following facts will give you more information on the water in your home as well as answers to common questions and concerns.
Low water pressure
A watermain break in your area could cause low water pressure. Please contact your local Durham Works Depot for help.
Milky or cloudy water
Air bubbles in your glass may make the water look milky or grey. This is normal, and the water in the glass should clear after a few minutes.
Pink film in shower, sink or toilet
Pink film in bathrooms is created by a cluster of common household bacteria. These bacteria thrive in damp environments. You can remove the film with bleach-based cleaning products. Prevent its return by keeping the area dry.
Strong chlorine smell in water
If you find your water smells like chlorine, you can leave a lightly covered jug of it in the refrigerator. This will reduce the amount of chlorine in tap water as the chlorine will evaporate within six hours.
Brown water
Brown water may be present after a watermain break and repair. You can fix this by opening up all the cold water taps for 10 minutes. If after this time it does not clear up, contact your local Durham Works Depot.
Seasonal Taste and Odour
If you notice a musty or earthy taste or odour from your drinking water, rest assured that the water is still safe to drink. The taste and odour are often caused by naturally occurring compounds, called Geosmin and 2-Methylisoborneol (2-MIB), which can be detected in very small concentrations. While the taste and odour may be undesirable, Geosmin and 2-MIB are not harmful to human health and are safe to drink.
The Region conducts weekly sampling at all Lake Ontario and Simcoe-based water supply plants for Geosmin and 2-MIB from June 1 to October 31, and when the drinking water source is above 15°C.
Simple home remedies that may reduce taste and odour in drinking water are to keep a jug of water in the fridge and add ice cubes or a few drops of lemon juice to it before drinking.
Door-to-door water treatment sales
Regional staff will never come to your home in an attempt to sell you a water treatment system. Our staff will always call before a home visit and have a Regional identification card.
Fluoride in Durham
Water in Oshawa, Whitby and Ajax contains fluoride. The current maximum concentration of fluoride in drinking water is set at 1.5 milligrams per liter. We continuously monitor fluoride at the plant. The Ministry of the Environment and Climate Change enforces this policy. You can find more information on fluoride from the Region's Health Department.
Water hardness
Hardness is the concentration of minerals such as calcium and magnesium in water. You can find these minerals underground. There is more hardness in ground water than in surface water. Durham has many sources of drinking water with different hardness levels.
Water hardness concentrations

| Drinking Water System | Hardness as milligrams per litre Calcium Carbonate |
| --- | --- |
| Pickering/Ajax/Whitby/Brooklin/Oshawa/Bowmanville/Newcastle | 125 |
| Beaverton | 148 |
| Blackstock | 316 |
| Cannington | 312 |
| Greenbank | 276 |
| Orono | 309 |
| Port Perry | 274 |
| Sunderland | 345 |
| Uxbridge | 186 |
Water softener or home treatment unit
The Region produces water that is safe to drink and tastes good. It is your choice to buy a water softener or filter system.
Water testing
To test your drinking water, you can take it to our Regional Environmental Lab. The Region's Health Department is responsible for testing the water quality for private wells.
Lead in drinking water
Typically, when lead is present in drinking water it is due to a lead service connection. If your house was built prior to the mid-1950s, it may have a lead service connection. A licensed plumber will be able to verify this for you. Find out more about Durham Region's Lead Service Replacement Program.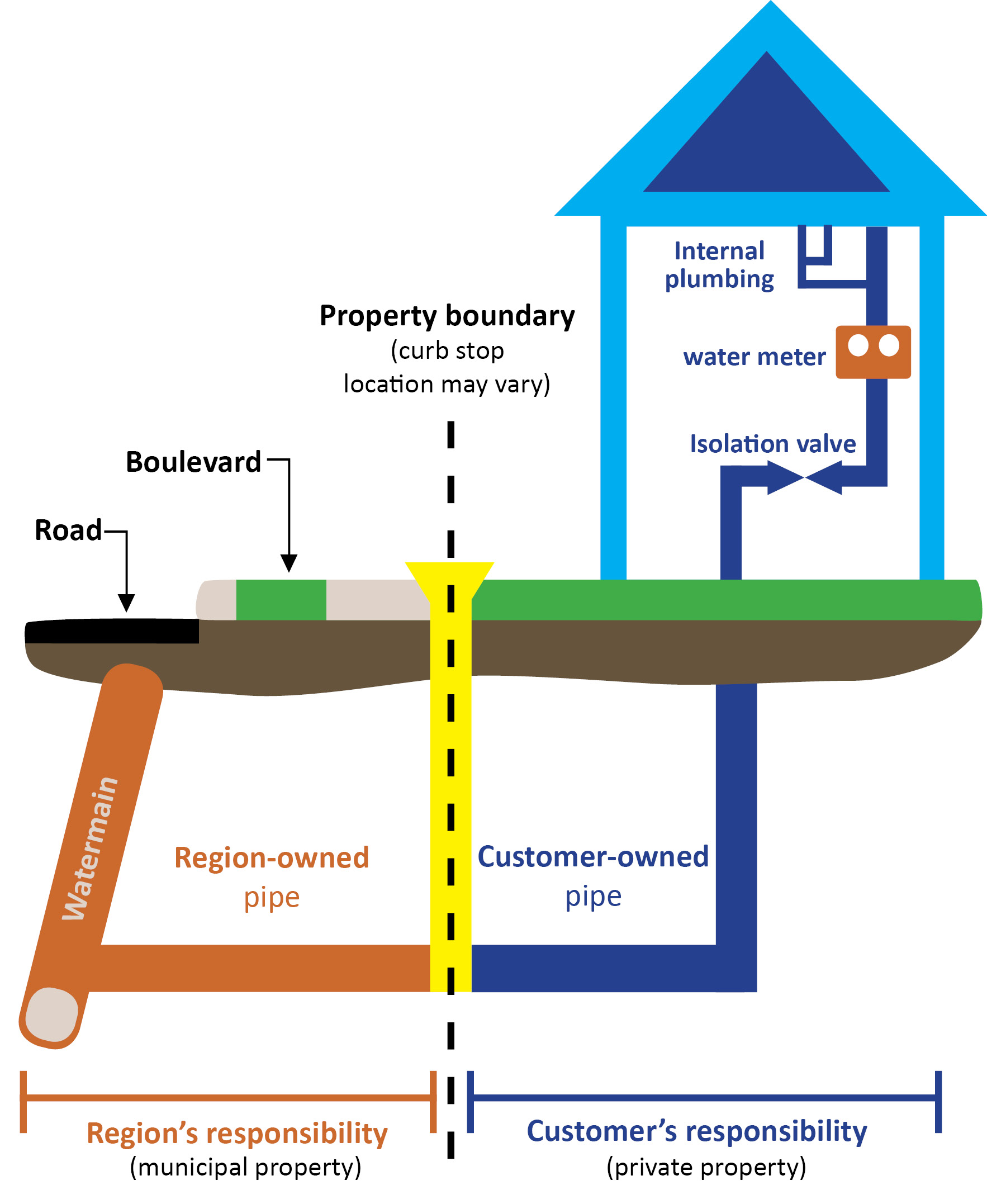 If you have any questions about our water system or published reports, please contact us.