Report basement flooding
You can report basement flooding to your local Region of Durham Works Department depot. Learn more about our Basement Flooding Loan Program.
For after-hours emergencies, please call: 905-576-9991 or 1-800-372-1104.
Private residences and homes can have their connections cleared from the sewer main to the property line by our Works Department when it is determined that there is a backup outside of private property. Industries, businesses and institutions maintain the sewer connection from the maintenance hole at the property line.
Facts about basement flooding
There are two types of sewers in Durham Region:
Sanitary sewers convey wastewater (sewage). They are connected to your home's plumbing fixtures (toilets, sinks, laundry, etc.). Wastewater flows through a series of pipes to a sewage treatment plant. We are responsible for the sanitary sewer system.
Storm sewers collect storm water from catchbasins (street drains) along with eavestroughs and weeping tiles in many areas in the region. The storm sewer system conveys these flows directly into nearby streams or Lake Ontario. Storm sewers on local roads are the responsibility of the local area municipalities. We are responsible for storm sewers on Regional roads.
There are many causes of basement flooding, especially during heavy rain storms or during snow melt, such as:
A leak in your home's foundation, basement walls or basement windows or doors.
Poor lot drainage.
Failure of your home's weeping system (foundation drains).
Overflowing eavestroughs.
Leaking/plugged downspouts.
A blocked connection between your home and the main sewer in the street.
A backup of wastewater in the sewer system, or a combination of wastewater and rainwater from the sanitary sewer system.
Failure of a sump pump used to pump weeping tile water.
Overloaded sewers, which force wastewater back through the sewer pipes where it escapes through floor drains or any other low lying plumbing fixtures in your basement.
Reduce your risk of basement flooding
You can reduce your risk of basement flooding due to sewer backup by:
Inspecting and repairing slow drains.
Being mindful of roots, damaged pipes and back up sewers that can slow your drains.
Not pouring fat, oil or grease down the drain.
Our Works Department inspects and cleans the sewer from the main to the property line only.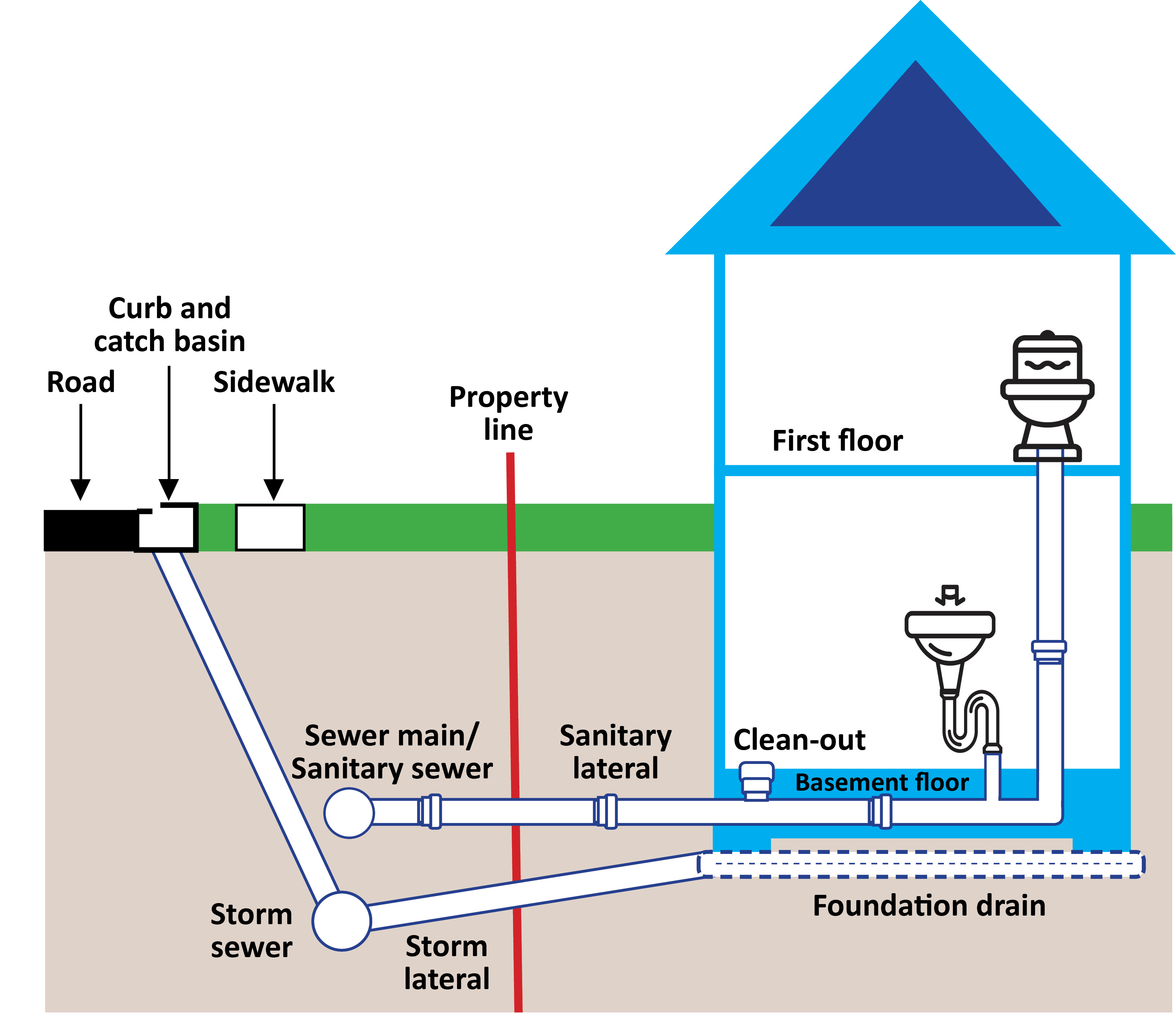 One of the major factors contributing to basement flooding is the lack of overland flow routes for storm drainage during extreme storms. A lack of proper controls on private property, such as downspout disconnection from sewer collection systems and proper lot grading are also contributing factors.
The Institute for Catastrophic Loss Reduction's Handbook for Reducing Basement Flooding provides information on how you can reduce the chances of having basement flooding.
Flooding claims
If you experience flooding, contact your local Region of Durham Works Department depot. Staff will inspect the problem, assess the flooding and attempt to determine the source.
Call your insurance company as soon as possible and report property damage caused by the flooding. Remember to take photos of any damage and keep receipts from emergency repair work or cleanup work done to prevent or reduce further damage.
If the flooding is a result of a blocked drain pipe, leaking foundation or walls or drainage issues on your property, you are responsible for repairs and any subsequent damage caused by flooding. We will make all repairs to Regional pipes.
Frequently, sewers or drains are blocked by tree roots. We will help clear the blockage. Contact your local Region of Durham Works Department depot for more information.
You can submit a claim for damages to the Region. Your claim information will be forward on to our Finance Department, Risk & Insurance Division for investigation. You will receive a letter of acknowledgment.
If you have any questions, contact our Risk & Insurance Division by telephone at 905-668-7711 ext. 2493.
Cleaning up after flooding
Put your health and safety first when cleaning up your flooded basement. Exposure to contaminants carried by flood water or sewer backups into basements can be dangerous. Homeowners may be exposed to waterborne diseases, corrosive cleaning agents and irritants found in leftover sludge from a flooded basement. Electrical accidents may occur because of contact with water and electricity. It is important to clean up your basement quickly to avoid mould.
There are steps you can take to safely clean up your flooded basement, such as:
Dress appropriately: wear overalls, gloves, protective eyeglasses, rubber boots and a mask.
Open windows to let fresh air in.
Turn off the power at the box or ask your utility for help.
Stay away from electrical equipment, keep extension cords out of the water and do not attempt to change any fuses if standing in water or on damp ground.
Work from the top down, removing any materials that have been deeply soaked.
Minor debris can be put out for regular garbage pickup.
Scrub furniture affected by flood water with soap and clean water and put it outside in sunny area to dry (weather permitting) or steam clean. Furniture, dry wall, flooring and any other items contaminated with sewage will likely have to be discarded.
Clean and deodorize carpets within two days, or have them professionally cleaned.
Disinfect walls and floors using a chlorine bleach and water solution (one part bleach to 10 parts water). Never mix bleach with ammonia since the fumes produced together are toxic.
Make sure the area is thoroughly aired-out and dry before reoccupying it. Ensure that there is proper ventilation at all times. Fans may also help with the drying process.
Clean dry surfaces.
Wash clothing following manufacturer's instructions.
Check for damaged packaging. Throw out canned foods, home-prepared food in jars, meats and dairy products and any packaged foods that may have been affected by the flood waters.
If your freezer's power is off, move the frozen food to another freezer or throw it out if you can't keep it frozen.
Rent extension cords, submersible pumps, wet/dry shop vacuums and dehumidifiers or heaters (if required).
Consider getting professional help with flooding cleanup.
Resources
We have many projects to update our water and sewer works.