Resources for Child Care Professionals
The Regional Municipality of Durham, Children's Services Division is committed to providing resources and learning opportunities for new and existing early learning and child care (ELCC) educators to improve their knowledge, understanding, and use of ELCC best practices.
Respect in the Early Learning Workplace (Self-guided workshop)

Presented by the Training Specialist Team, Early Learning

Respect is a necessary component to establishing and maintaining a positive work environment and can have a direct impact on an individual's mental health. It is important that educators feel safe, comfortable, respected, and understood in the workplace.

In the new, self-guided Respect in the Early Learning Workplace workshop, participants will learn about respect and how to support it in the work environment. This workshop will support individuals with examining their own emotional intelligence (EI) to gain a better understanding of how they show emotions, what makes them feel comfortable, and explore strategies to improve their EI.

The Respect in the Early Learning Workplace workshop will examine characteristics of a psychologically safe workplace environment and how this can be cultivated to ensure trust, respect, and understanding of one another. Additionally, this workshop will help learners recognize conflict, develop effective strategies to address and resolve differences, and acquire the skills to build stronger relationships.

Throughout the workshop, there will be the opportunity to explore targeted case scenarios that will encourage learners to practice using the skills and strategies discussed, and engage in reflective practice to problem-solve common workplace challenges.

To access the Respect in the Early Learning Workplace workshop you will be required to enter your name, email address and company name. The preferred browser is Google Chrome. If you need assistance accessing this workshop, contact Tracy Barclay at Tracy.Barclay@durham.ca
Professional learning opportunities
The Spring 2022 GROW Newsletter is now available. Check out the online opportunities and resources for professional learning.
Visit the College of Early Childhood Educators Continuous Professional Learning (CPL) website for additional early learning and child care professional resources.
Important notice from the College of Early Childhood Educators: Effective April 2020 to August 2021, all members will have the option to defer compliance with their program requirements for one membership year due to COVID-19. The option to defer compliance will be available to members on their next annual renewal. Member may only select this deferral option once.
Other Resources
More information about early learning and child care professionals can be found on the following websites:
To order Heath Department resources for your daily practice, please visit the Health Care Provider Resource Order Form.
Professional Resource Library
Important Update: While the Resource Library remains closed for in-person visits, it is open for curbside drop-off and pick-up every Wednesday by appointment only, between 9 a.m. and 6 p.m., with a minimum of 24-hours' notice. Please contact Ameera Alhiraki by email at Ameera.Alhiraki@durham.ca to make an appointment.
The Region of Durham's Professional Resource Library for early learning and child care professionals is funded by the Ministry of Education's Capacity Building funding. Contact us to book an appointment at the Professional Resource Library.
The resource library has many free resources, including new curriculum and inquiry-based kits.
The Children's Services Division, Early Learning Training Specialist Team has developed two new resources for the child care community.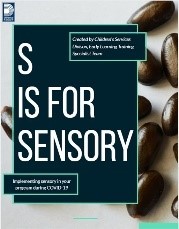 S is for sensory is a thoughtfully developed resource guide on how to implement sensory in your programs during COVID-19. It includes connections to How Does Learning Happen?, benefits of sensory play, considerations for classroom set up, and sensory ideas you can implement in your program.
S est pour Sensoriel est un guide de ressources soigneusement développé sur la manière de mettre en œuvre le sensoriel dans vos programmes pendant le covid-19. Il comprend des liens avec Comment Apprend-On ?, les avantages du jeu sensoriel, des considérations pour la configuration de la salle de classe et des idées sensorielles que vous pouvez mettre en œuvre dans votre programme.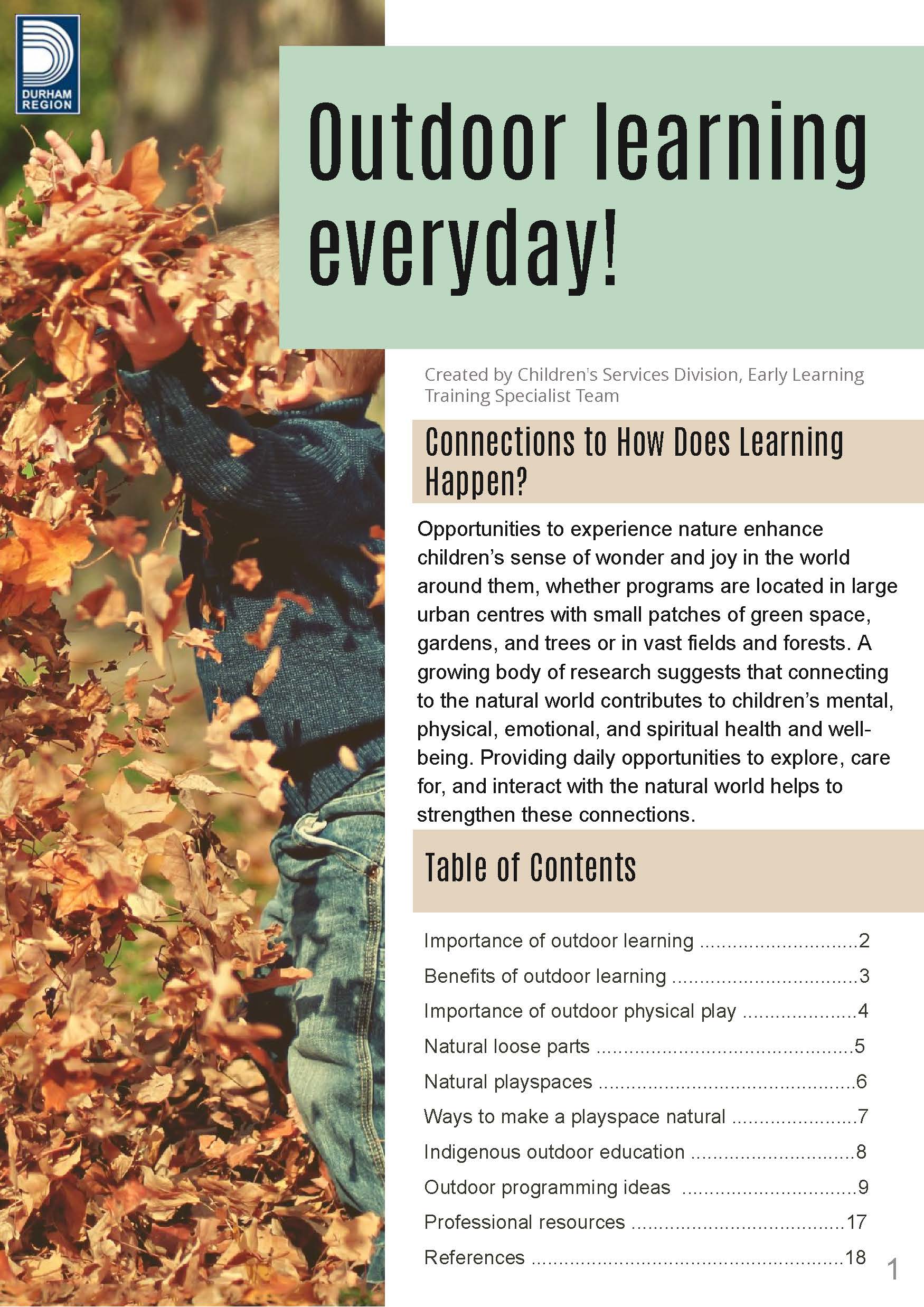 Outdoor learning everyday is an outdoor resource guide developed to enhance the outdoor learning experiences in your program. It includes the benefits of outdoor play, natural loose parts, natural play spaces, Indigenous outdoor education, and outdoor programming ideas.
L'apprentissage à l'extérieur tous les jours est un guide de ressources pour l'extérieur développé pour améliorer les expériences d'apprentissage à l'extérieur dans votre programme. Il comprend les avantages du jeu a l'extérieur, des pièces détachées naturelles, des espaces de jeu naturels, de l'éducation Autochtone a l'extérieur et des idées de programmation a l'extérieur.
Membership and Networking Opportunities
Durham's Best Start Network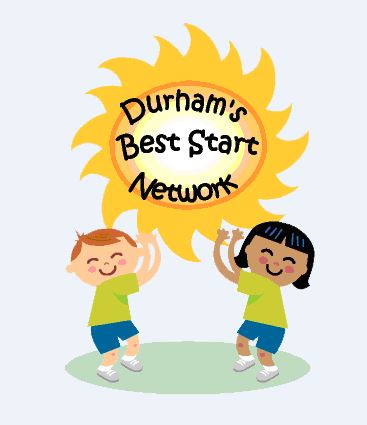 Durham's Best Start Network started in 2005 with funds from the Government of Ontario. With more than 85 members from 45 organizations, the Network creates a space for creating resources, establishing partnerships, and sharing best practices.
The Network is open to all representatives from organizations who work with children from birth to 6 years of age. To join one of our quarterly meetings, please contact us at beststart@durham.ca.
Child Care Sub-Committee
Providing members of the early learning and child care community with an avenue to:
Receive updates on the current child care environment.
Network and share strategies for responding to changes in the child care sector.
Provide feedback to various legislative bodies on how to promote quality child care and deliver services that reflect current research and best practices.
Participants can attend with a goal of becoming informed, networking, and/or taking on a role in a working group.
For more information on the Child Care Sub-Committee, connect with us at beststart@durham.ca.
Infant Mental Health Sub-Committee
Working to improve infant mental health experiences for children and families across Durham by integrating the science of mental health into professional practice.
For more information on the Infant Mental Health Sub-Committee, contact us at beststart@durham.ca.
Research and Knowledge Mobilization Sub-Committee
Our vision is to build a community where research informs practice, and practice informs research.
The goal of the community is to build capacity for research and knowledge exchange in post-secondary institutions and agencies serving children and families in Durham Region.
The Sub-Committee welcomes new members on a regular basis. Our existing members represent The Regional Municipality of Durham, Durham College, OntarioTech University, Trent University, local special needs resourcing agencies, EarlyON Child and Family Centres, and licensed child care agencies. Our valued members come from various backgrounds including early childhood education, research, social work, policy, and behavioural science.
If you're interested in joining one of our bi-monthly meetings, please contact us at beststart@durham.ca.
Current projects
The Sub-Committee is currently working on a project, where parents, registered early childhood educators, public health nurses, and behaviour consultants work together to create a new resource. This resource will help preschool children develop their social competence skills. These skills are very important during the early years and can influence how children learn in school and achieve success in their social relationships.
This project has been made possible with funds from the College and Community Social Innovation Fund.
Durham Region Child Care Forum
After over 30 years of contribution to professional learning in Durham Region, the Board of Directors of the DRCCF would like to inform the early learning community that the Durham Region Child Care Forum will officially dissolve our operations by the end of 2021. This decision has been made through facilitated reflection and discussion regarding the role of DRCCF now and in the future.
Rest assured, professional learning opportunities will continue as the Professional Education and Training (PET) Committee will continue to exist as a sub-committee of the Best Start Network.
We thank you for your many years of shared learning and support and look forward to engaging with you through the Best Start Network in the future.
If you have a topic of interest that you are willing to share, please contact Lauren.Goldsmith@edukids.ca or Janine.Keith@durham.ca.
How Does Learning Happen?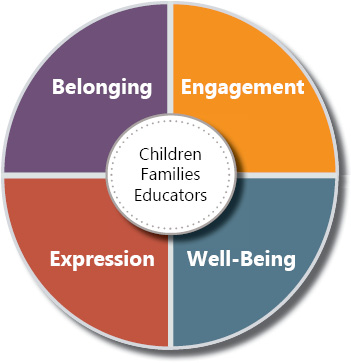 In Fall 2020, the Ministry of Education released Building on How Does Learning Happen? Pedagogical approaches to Re-opening Early Years and Child Care Programs in Ontario. This resource shares ideas, reflective questions, and lessons learned from emergency child care to help support child care and early years settings to continue to meet quality and curriculum requirements as they work to provide healthy physical, social, and emotional spaces for children and their families during the reopening phase.
In 2014, the Ministry of Education launched How Does Learning Happen? Ontario's Pedagogy for the Early Years. The pedagogy recognizes children as competent, capable of complex thinking, curious and rich in potential.
How Does Learning Happen? (HDLH) is organized around four key concepts: belonging, engagement, expression, and well-being. These concepts are the foundation of high-quality care, supporting children's future potential. Early learning and child care centres and licensed home child care agencies follow this pedagogy.
Printable posters of the four foundations of HDLH can be found in the links below:
Pedagogical Inquiry Tool

This tool supports continued pedagogical reflection. The activities will support deeper exploration of the four foundations of How Does Learning Happen?, a pedagogical leadership, inclusion, cultural identity, and bullying, etc.
Requests for USB sticks containing the original Pedagogical Inquiry and its extensions in both English and French can be made to Tracy.Barclay@durham.ca.