Look for the ring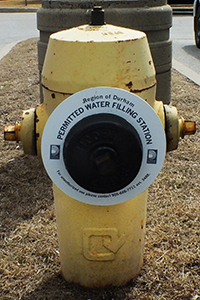 The Regional Municipality of Durham only places rings on hydrants with existing hydrant permits. Companies must use their assigned hydrant. If two companies use the same hydrant, something is wrong.
Why is it important to get a hydrant permit?
The Region needs to protect our drinking water.
The Region bills each company for water taken from the hydrant.
You can report water theft or unauthorized use by email or telephone at 905-668-7711 ext. 3488.
How do I apply for a hydrant permit?
To apply for a hydrant permit, please contact your local Region of Durham Works Department depot.