Long-term Waste Management Plan 2021-2040
From September 20 until October 25, residents are invited to provide input on the 2021-2040 Long-term Waste Management Plan by visiting the virtual public engagement website DurhamWasteOpenHouse.ca.
The Region is developing a new Long-term Waste Management Plan or Waste Plan. As Durham continues to grow and change, we want to ensure our waste services evolve to meet these needs and challenges. Contact the Waste Plan team throughout this project.
The Waste Plan will focus on maximizing diversion of waste from disposal for the next 20 years. It will do this by developing innovative ways to use waste a resource in a circular economy while demonstrating leadership in sustainability and addressing the climate crisis. Examples of innovative ways to use waste as a resource include Anaerobic Digestion to generate renewable energy from food waste and finding reuse options for ash generated at the Durham York Energy Centre.
Vision, Guiding Principles and Objectives
Vision
Together, with our residents, we will reduce the amount of waste we create and manage the generated waste as a resource. We will build an innovative system, balancing financial needs and environmental sustainability.
Guiding Principles
Regional Council endorsed the guiding principles, vision and objectives for the Long-term Waste Management Plan on January 27, 2021. These principles will help shape the goals of the new plan:
Emphasize rethink, reduce and reuse principles as the first steps in reducing waste generation.
Deliver cost effective waste management services to a rapidly growing and diverse population.
Work with producers and importers of designated products and packaging to implement "Extended Producer Responsibility" and adjust Region waste programs as required.
Apply innovative approaches to Region waste streams to manage them as resources in a circular economy.
Demonstrate leadership in sustainability to address the climate crisis by reducing greenhouse gas emissions from waste management activities.
Objectives
Engage with residents to build an understanding and awareness of the 5Rs (Rethink, Reduce, Reuse, Recycle, Recover) and the Region's waste management programs and services.
Reduce the quantity of waste we create.
Increase diversion of waste from disposal and support the Circular Economy.
Support the Region's greenhouse gas reduction and climate change mitigation efforts.
Protect or improve water, land, and air quality in Durham Region.
Phase One Consultation
2020 Online Public Consultation
In 2020, the Region launched an online consultation to engage with residents and stakeholders to get input on the priorities for the new Waste Plan.
If you missed the 2020 consultation survey or the recent spring 2021 survey, there's still time. Feedback on these questions or other aspects of the Waste Plan development is welcome any time. Look for online consultations coming this fall.
2020 Virtual Waste Plan Town Hall
Thank you to everyone who joined our virtual Waste Plan Town Hall! Your questions, feedback and suggestions will help us develop the framework for the plan.
Missed the event? Review the Waste Plan Town Hall presentation or watch a recording of the event on the Regional Streaming page (under live events).
Project Updates and Background Documents
Frequently Asked Questions
What is a Long-term Waste Management Plan?
A Long-term Waste Management Plan or Waste Plan for short is a document that describes the Region's principles and objectives for waste management for the next 20 years.

Durham Region's Long-term Waste Management Plan Development Timeline - Accessible
Why do we need a Waste Plan?
Durham Region needs a plan to manage our waste for the next 20 years. We've accomplished great things with the old plan, now we need to look to the future. Now, more than ever, we need to consider:
Population growth
More people means more waste to manage
Changes to regulations
Climate change
Waste as a resource
Circular Economy
Durham Region is also promoting innovation and environmental sustainability in its Strategic Plan. We're looking to the future with clean energy solutions, green technologies, programs that divert waste, increasing resource recovery, and concentrating on efforts to reduce greenhouse gas emissions.
What is the Five-Year Action Plan?
The Five-Year Action Plan will complement the Waste Plan by setting smaller goals and milestones for us to achieve along the way to meeting our long-term objectives. There will be a total of four five-year action plans, each picking up where the last one left off.
Has Durham ever had a Waste Plan before?
Durham developed its first Waste Plan in 1999 and it covered the period of 2000 – 2020. Under the first Waste Plan, the Region expanded the Green Bin and Blue Box programs, increased its waste diversion rate from 30 per cent to approximately 63 per cent, and developed the made-in-Durham waste disposal solution in the Durham York Energy Centre.
What information will be included in the Waste Plan?
The new Waste Plan will outline the Region's objectives for reducing waste, increasing waste diversion and contributing to a Circular Economy. Goals for meeting these objectives will also be included. Consultation with stakeholders will provide input for use in developing, confirming and refining objectives.
How can I provide feedback?
Watch this webpage and the Region's social media channels for information about upcoming open houses – either on-line or in person when it is safe to do so. You can also contact the Waste Plan team by email.
What steps has Durham taken to consult the community?
We are consulting with the community virtually this year with presentations to Local Area Municipalities, Regional Advisory Committees and an on-line Open House and survey later in the summer. We hope in-person consultation will be possible in 2021.
How much will this plan cost?
Council approved a budget of $200,000 to consult on and develop the Waste Plan. Costs to implement the Waste Plan will be approved by Council as we move forward to accomplish goals set in the Waste Plan.
When will the plan be finished?
The Waste Plan will be completed by the end of 2022. Implementing the Waste Plan will keep us busy for the next twenty years until 2040.
How does Durham Region currently manage waste?
What is a Circular Economy?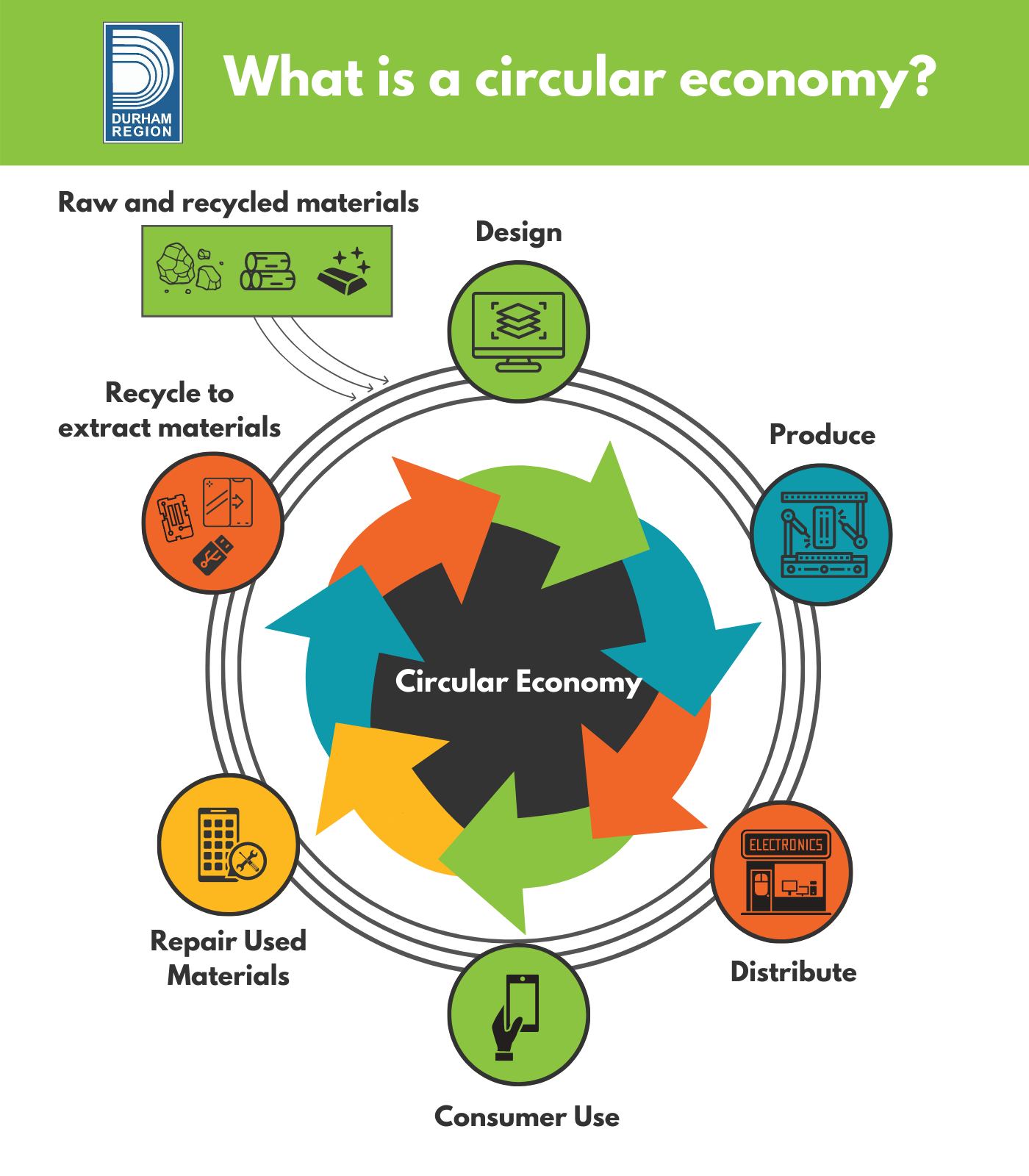 A circular economy is a closed loop economic system aimed at minimizing waste and making the most of our resources. In this type of system, all waste is recovered and reused to make new products. This approach replaces the current linear product development system where products are made, used and then disposed.
What is Extended Producer Responsibility?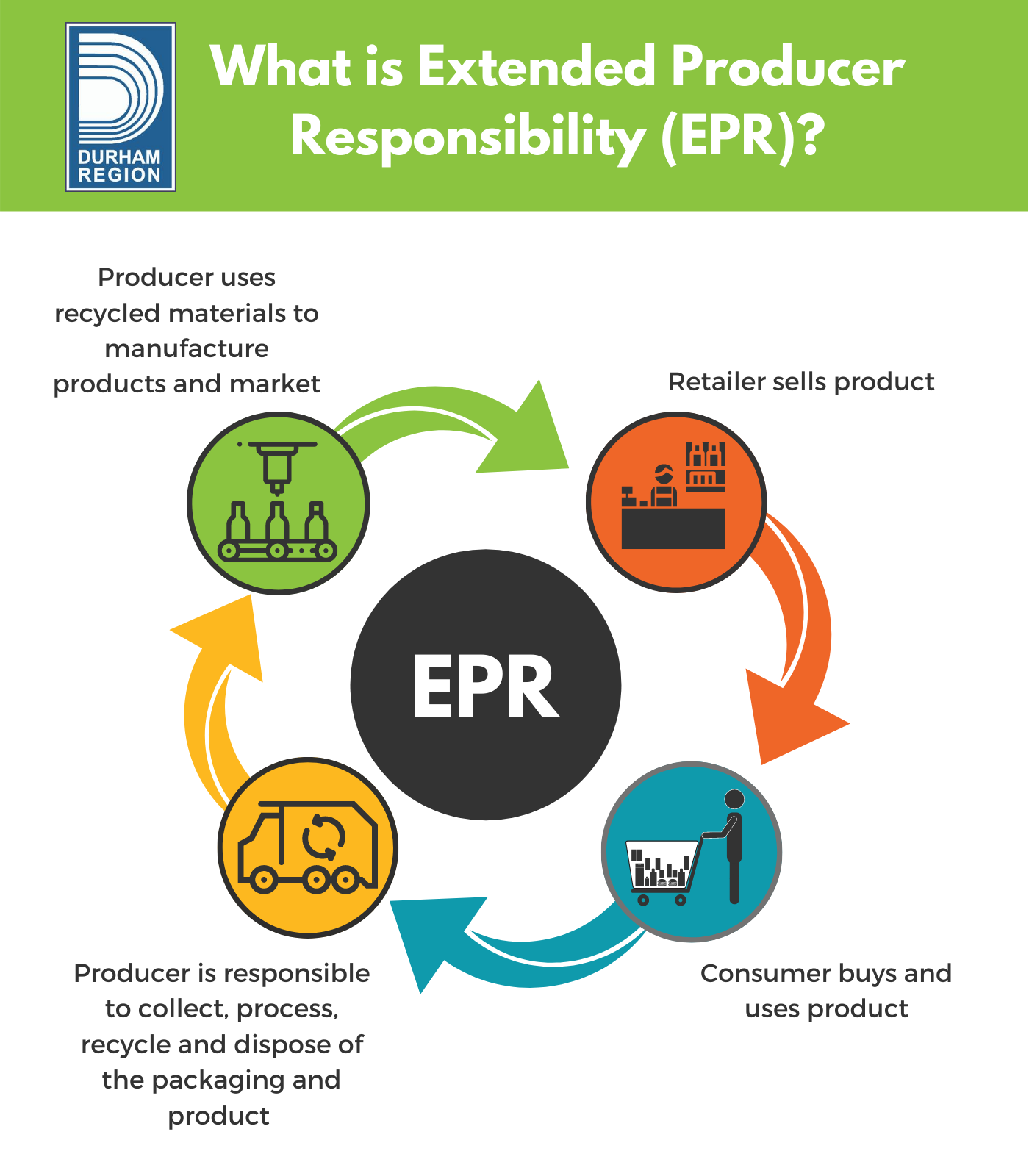 Extended Producer Responsibility (EPR) is the approach Ontario is using to make companies doing business in Ontario fully financially and operationally responsible for the environmental impact of the products and packaging they produce or import into Ontario.
Companies will design collection systems for designated products and manage the end of life recycling or disposal. Currently, tires, electronics, batteries, household hazardous waste and blue box paper and packaging are designated materials. These products are gradually transitioning to EPR.
Details about EPR and the consultations being held on its development are found at the Resource Productivity and Recovery Authority's website.
What about the new AD facility the Region has approved?
Regional Council approved a waste pre-sort and anaerobic digestion facility to manage the Region's organic waste. This new facility will help the Region meet new provincial organics diversion targets.