Greening Regional Operations
Greening Regional Operations
The Region has developed several programs to reduce the environmental impact and costs associated with municipal operations while supporting key goals and targets, including those associated with Durham's low carbon pathway.
Corporate Climate Change Action Plan
The Corporate Climate Change Action Plan was adopted by Regional Council on March 24, 2021. The Climate Change Action Plan (CCAP) is the Region's overarching framework that sets greenhouse gas (GHG) emissions reduction targets to become Net Zero by 2045.
Short, medium, and long-term targets to reduce corporate GHG emissions are:
• 20 per cent GHG emissions reduction by 2025, below 2019 levels,
• 40 per cent GHG emissions reduction by 2030, below 2019 levels,
• 100 per cent GHG emissions reduction by 2045, below 2019 levels.
The CCAP, together with Council Report 2021-A-3, identify how climate change considerations will be embedded across all elements of Regional business, decision making, Business Planning and Budget, and governance. A Carbon Budget Management Framework together with a Carbon Accounting Tool will be implemented to forecast GHG reductions by corporate project and trend against these targets. A climate update report will be presented to Council annually, outlining progress against the targets and tracking key performance indicators.
Climate Mitigation Reserve Fund
In June 2020, Regional Council approved an investment plan for a $5 million climate initiatives reserve fund. Approved investments include: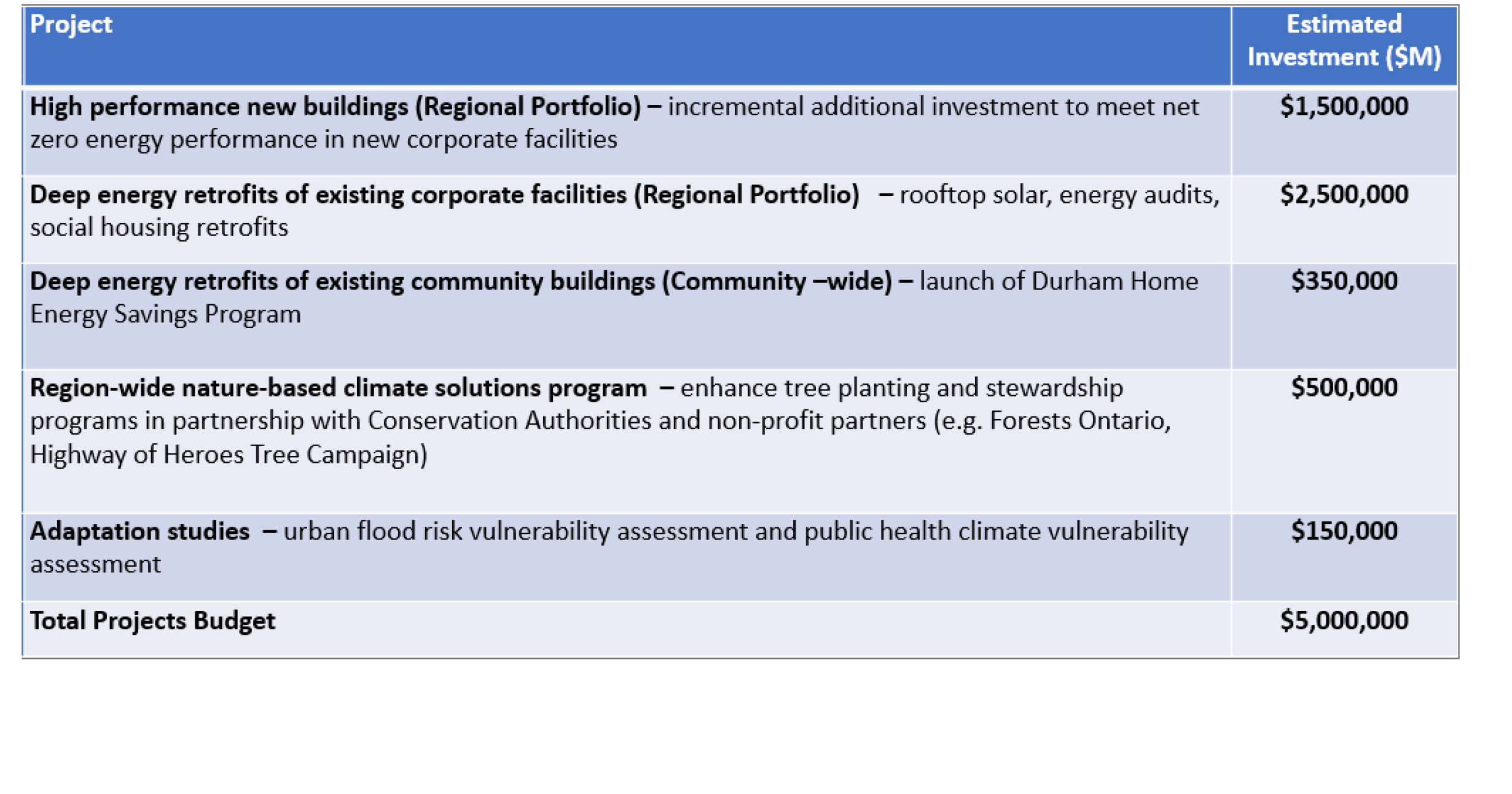 Energy Conservation and Demand Management
Learn more about the Region's Energy Consumption and Conservation.
Waste Management
Learn more about Waste Management in Durham Region.
Corporate Low Carbon Fleet Strategy
Durham Region is taking steps to decarbonize its vehicle fleets, including our Works vehicles, Durham Region Transit, Durham Region Police and Paramedics vehicles. Read below for more information on our actions to date and plans moving forward:
A Low Carbon Fleet Strategy is being developed to optimize the efficiency of on-road vehicles for Durham's four fleet groups – Paramedics, Police, Transit, and Works. The strategy will consider the mode of travel, fuel use and type, route planning, fleet operations, driver behaviours, best management practices, optimal lifecycles, green technologies, right-sizing, and fuel switching. Lifecyle analysis will recommend optimal replacement cycles based on historical data and cash flow. Data-modelling will look to reduce operation and capital costs, fuel usage, and greenhouse gases.

In November 2019, Council designated $10.1 million from the federal gas tax funding to launch Transit's first battery electric buses and charging infrastructure. This pilot project is the first step to transitioning transit's fleet to zero emission buses over the next 10 years. To support this transition, a new bus depot will be designed starting in 2021 to support electric vehicle charging of the zero emission fleet.