The lead service replacement program is a proactive approach to reducing lead water service pipes in Durham Region.
Prior to the mid-1950s, lead was thought to be a beneficial plumbing material as it is highly malleable and resistant to corrosion. Municipalities and contractors phased-out lead pipes for use in plumbing when the negative health effects associated with lead were recognized. The National Plumbing Code banned the use of lead piping in 1975 and later banned the use of lead solder and fittings in the mid 1980s. Replacing any existing lead water service pipes is the best way to reduce your exposure to lead in drinking water.
What is a water service pipe?
The water service pipe delivers water to a building from the watermain. This service pipe is jointly owned by both Durham Region and the customer (property owner). The service pipe and replacement on private property is the responsibility of the property owner as illustrated by the diagram.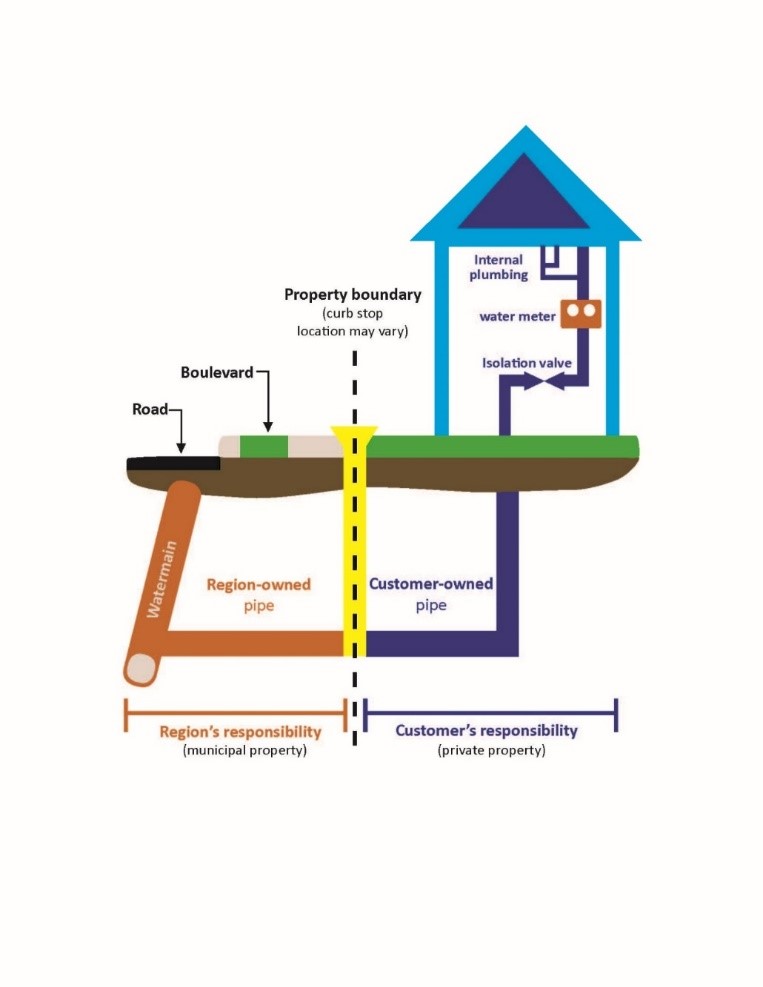 How do I know if I have a lead water service?
Lead water service connection pipes are typically found in homes built prior to the mid-1950s. If possible, examine the pipe that connects to the water meter. Lead pipe is generally a dull grey colour, is soft and will turn a bright silver colour when scratched with a key or coin. To confirm whether your home has a lead pipe, it is recommended that you hire a licensed plumber.
I have a confirmed lead service, what are the next steps?
If a licensed plumber has confirmed a lead water service is installed on your property, you may be eligible to receive a free water sample to test for lead concentration in your drinking water. Contact the Durham Region Works Department, Technical Support Division to determine your eligibility at 905-668-7711 extension 3488.
If you have a confirmed lead service and are planning to replace the private portion of your lead service, Durham Region will replace the lead pipe on municipal property to ensure a full lead service replacement. Complete the Lead Service Replacement Application Form and send the application form along with supporting documentation, to the contact information provided on the form.
The costs associated with replacing the service pipe on private property is the property owner's responsibility. Durham Region will only fund and replace the Region-owned water service pipe.
What does the lead service replacement program include?
Upon replacement of a lead water service, you will receive:
Information package: The Health Department's Lead in Drinking Water fact sheet and internal plumbing flushing instructions to follow post-replacement.
Free supply of NSF-53 approved water pitcher and filters for lead removal.
Complimentary water sampling to be completed six-months following a lead water service replacement.
How I can reduce my exposure to lead from drinking water?
Replace the lead water service pipe
The best way to reduce your exposure to lead is to have both the Region-owned and customer-owned portion of the lead pipe replaced. Research has shown that replacing only a portion of the lead service may cause an increased concentration of lead in drinking water due to the disruption of the pipe upon replacement.
Use water filters that are certified for lead removal
Use a point of use or inline filtering system that is certified by the National Sanitation Foundation for lead removal and reduction from drinking water (NSF-53).
Use an alternative source of water for cooking and drinking
Boiling water will not remove lead, it is important to take precautions when preparing meals if you have lead in your drinking water.
It is recommended that you use bottled water or an alternate source of drinking water for cooking and drinking.
Complete an internal flush after periods of no use
If you have not used any water in your home for more than a few hours, you should complete an internal flush to remove any stagnant water that has contacted lead. Open all the cold water taps in your home for three to five minutes or until you feel the temperature change. This will ensure you are receiving the freshest water from the distribution system.
For more information, view the Health Department's Lead in Drinking Water Fact Sheet. You can contact Technical Support Division at 1-800-372-1102 extension 3488 or by e-mail at workstechnical@durham.ca.