Welcome to the Region of Durham's Long-Term Care and Services for Seniors Division. We are pleased you have chosen to visit us and are excited for you to see all that we have to offer.
We own and operate four long-term care homes, all accredited by Accreditation Canada.
Fairview Lodge is in Whitby and has 198 beds.
Lakeview Manor is in Beaverton and has 149 beds (including two short-stay beds).
Both Hillsdale Terraces (200 beds) and Hillsdale Estates (300 beds) are in Oshawa.
Long-term care offers constant care and services for people who are eligible and need extensive support.
We also run three Adult Day Programs at Hillsdale Estates, Lakeview Manor and in Port Perry. Adult Day Programs are part-of-the-day supervised programming in a group setting for dependent adults. Some homes also provide other community services, such as Meals on Wheels.
We hope these services and support systems will help residents and clients live vibrant and full lives. We focus on individualized care. We take an interdisciplinary approach, and focus on improving the lives of our residents and clients.
We strive for service excellence by adapting to new and innovative forms of care. Our teams provide the highest quality of service to our clients in a caring and ethical environment. Through a caring community of service providers, we hope Durham Region's seniors have the strong platform they need to live a high quality of life.
Thank you for taking the time to visit us; we welcome your comments and suggestions.
Sincerely,
Laura MacDermaid, Director
Seniors' Month: Residents' Stories
In celebration of Seniors' Month, we are featuring some of Durham Region's amazing long-term care residents. Read their stories below.
Meet Ian, a resident at Fairview Lodge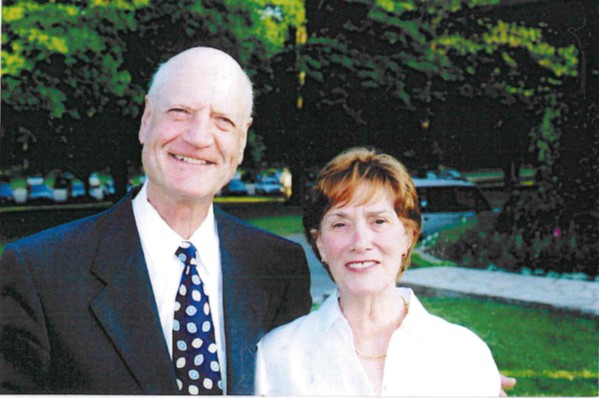 Born in Kolkata, India, Ian moved to Scotland at 12 years old to live with his grandmother, attended boarding school in England for four years followed by a move to Australia, and then a return to London for work.
Ian worked as a salesman for a packaging company, where he sold products in Australia, Canada, and England. His favourite thing about his career was driving around to different places. Ian enjoys sports cars (he once restored a 1956 MGA!), planes, watching sports (he used to play tennis, rugby, and soccer), and jazz music; he used to play trumpet in a band that performed music at nursing homes.
Ian met his wife Val at a party in England; Val was visiting from Canada, where her family had moved to from England. Ian proposed to Val in Canada and they moved to Australia to get married. The couple has two children and three grandchildren.
At Fairview Lodge, Ian enjoys walking outside, trivia and word programs, watching old movies, and visits from Val.
Meet Carol, a resident at Hillsdale Terraces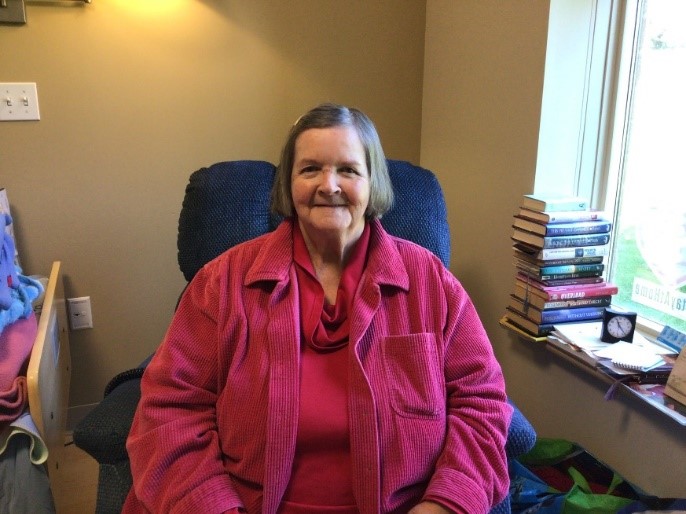 Carol first met her husband Kenwyn at a wedding when she was five years old and he was seven, but they didn't reunite until much later when Carol was 26 years old and had ended up living across the street from Kenwyn's family. They invited Carol to their New Year's Eve party and, one year later, Carol and Kenwyn got married. They have four children and six grandchildren.
For seven years, Carol worked as a nurse in a hospital in Montreal. After moving to Toronto, she had a job educating mothers on caring for newborns and how to breastfeed. The best thing about her career was being able to help others.
At Hillsdale Terraces, Carol enjoys singing and listening to music, chatting with other residents and delivering the newspapers to their rooms, and relaxing in the garden.
Meet Jane, a resident at Fairview Lodge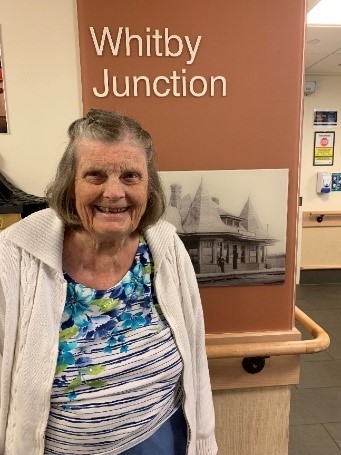 Jane moved to Fairview Lodge to be with her husband Allen, who she met at a Labour Day baseball game at the Mount Zion Country School; they married at 20 and 21 years of age. Jane and Allen have three children, six grandchildren, and two great-grandchildren.
Jane is from Orillia and, growing up, she enjoyed choir and playing the piano. She spent her summers working; her first job was in an old-fashioned laundry, working seven days a week from 7 a.m. to 5 p.m., and she later worked as an assistant cook at a summer camp, washing dishes and learning how to make wonderful food. Jane went on to become a teacher at Mount Zion Country School and loved working with children of all ages.
Today, Jane loves spending time with her husband, going outside in the morning for a walk, doing arts and crafts, and socializing with the other residents at Fairview Lodge.
Meet Elizabeth (Betty), a resident at Hillsdale Terraces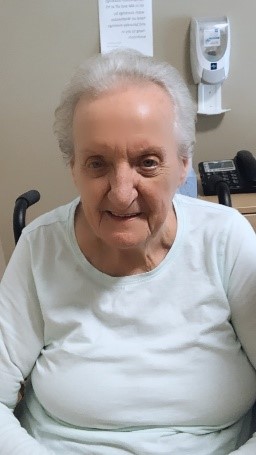 Betty was born in Scotland. Her father was a coal miner and her mother picked potatoes. Betty is the youngest in her family and has two brothers and two sisters. She met her husband, Ronald, at the age of 26 years old at a dancehall in Toronto. The couple moved to Oshawa in 1971 and got married on May 24, 1975; they were together for 55 years and married for 47 years.
Betty and Ron enjoyed playing bingo and buying scratch tickets. On August 11, 1990, they won $100,000 on a $5 Ontario Lottery scratch ticket and shared the winnings with their family. Ron worked at General Motors since 1955 and retired in 1993 after 37 years of service.
Betty enjoys a variety of activities at Hillsdale Terraces, including Snakes and Ladders, Scrabble, shuffleboard, bowling, and the music programs. Betty's words of wisdom are: "Just enjoy the process. Before you know it, you're 70, then you're 80—the time flies by." Betty will be 80 years old this year on October 31 (she is a "Halloween baby"). She says she doesn't feel 80 and is happy where she is.
Meet Bill, a resident at Fairview Lodge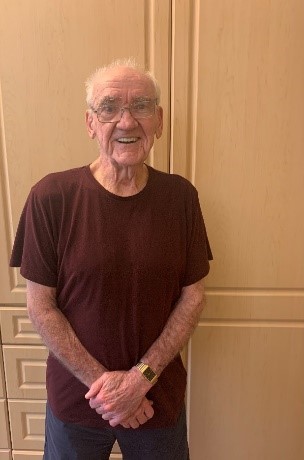 Bill was born in Whitby in 1943 and joined the military at 17 years of age, serving on the Infantry doing foot patrol. He went on to the Armoured Corps working on tanks and later joined the Police Corps. Bill travelled to England, Scotland, Germany, France, Egypt, China, America and across Canada.
After serving 18 years, Bill moved back home to Whitby and found work as a guard at The Whitby Jail; he became a Sergeant and a Lieutenant and retired after twenty-five years there. Bill was also an entrepreneur with his own landscaping company.
Bill has two biological daughters and stepchildren from other marriages, with a combined 47 grand- and great-grandchildren in his blended family. He enjoys conversation, golf, card games, walking, cycling, and watching hockey and baseball.
Meet Lea, a resident at Fairview Lodge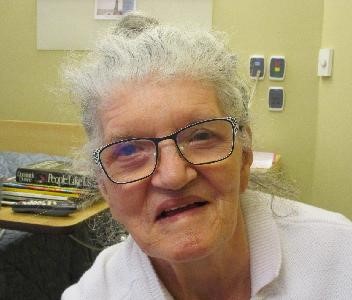 Lea was born in South Africa. She had a career in payroll, was married for nearly 60 years to her husband Clifford, and has three children.
Lea remembers when Clifford saw her on their wedding day; he told her how great she looked in her long wedding dress. Lea loved to support Clifford by watching his soccer games and cheering him on.
Clifford passed away in 2017 and Lea remembers him as the person who brought her the most joy.
Lea enjoys living at Fairview Lodge and her favourite hobby is dancing.
Meet Emma, a resident at Lakeview Manor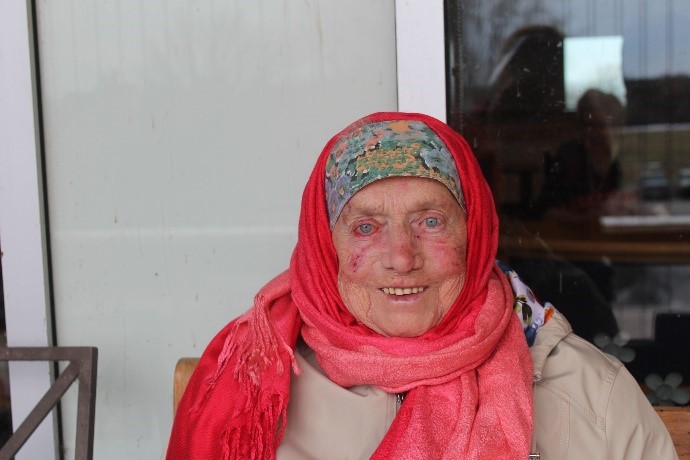 Emma was born in Poland and moved to Canada with her brother in 1950. Despite knowing very little English, she started working right away as a waitress at the Honeydew Café; she was expected to supply her own white jacket and white shoes, and she remains grateful for the helpful salesperson at Eaton's who kindly helped her.
Emma later met her husband and bought land in Greenwood, Ontario, where they raised their two sons. They lived in that house for 32 years.
For the past year and a half, Emma has lived in Lakeview Manor. She loves to play Bingo, Jeopardy, Scattegories, and Finish the Lyrics at the home. She said meeting other residents from different walks of life has been wonderful because she has learned new things and made new friends.
Emma shared that while her disability may prevent her from seeing, she doesn't let it prevent her from doing what she wants to do. Emma says she appreciates the guidance and encouragement from staff to continue participating in the activities she enjoys.
Meet Ron and Anne, residents at Hillsdale Estates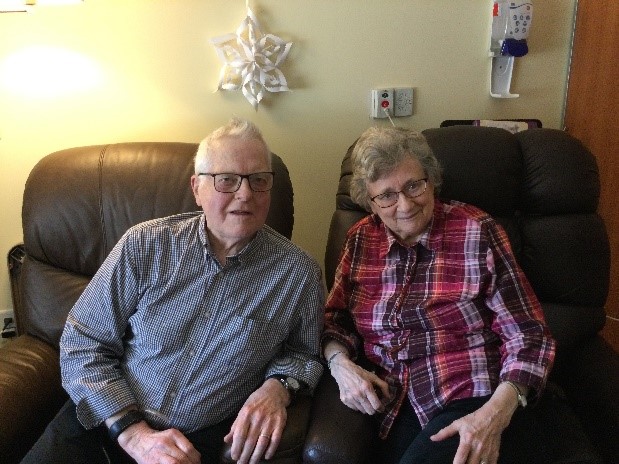 Ron and Anne met through Ron's aunt, who taught at the one-room schoolhouse located on Anne's family farm property. The couple married in 1965, have two daughters and six grandchildren (who they are very proud of), and now live side-by-side at Hillsdale Estates.
Ron worked as a dispatcher at an oil company for 38.5 years and, in his free time, taught Sunday School at their church. Ron would use his vacation time to take the kids to camp and supervise the bus ride. Anne was also very involved in their church and would sing and play (piano, organ, accordion, flute, and recorder) at church services, weddings, and funerals. The couple often hosted dinner parties for their church friends and Ron was a great help in the kitchen getting the meals ready.
Anne started her career as a teacher after taking a certificate course, teaching all eight grades in a schoolhouse for two years; she then went to teacher's college and taught for four more years. Anne and a girlfriend then decided to go into nursing and trained in Peterborough for three years, plus one year of university; she worked at Ontario Shores for five years. When Anne and Ron started their family, Anne stayed home with the girls and volunteered at their school, helping with all grades and special needs children. After a few years, the principal hired Anne to teach the special needs class, which she did from 1981 until retiring in 1998 (She enjoyed every minute of it!)
Anne and Ron love living at Hillsdale Estates. Ron enjoys Bingo, gardening, and - before the pandemic - he enjoyed going to the pub. Anne participates in the choir and other activities in the home and they both love having all their meals prepared for them!
Adult Day Program Story
Throughout the COVID-19 pandemic, the Region of Durham's Adult Day Programs has offered programs virtually to help seniors have fun while feeling connected, healthy, and supported.
Meet Marie, an Adult Day Programs participant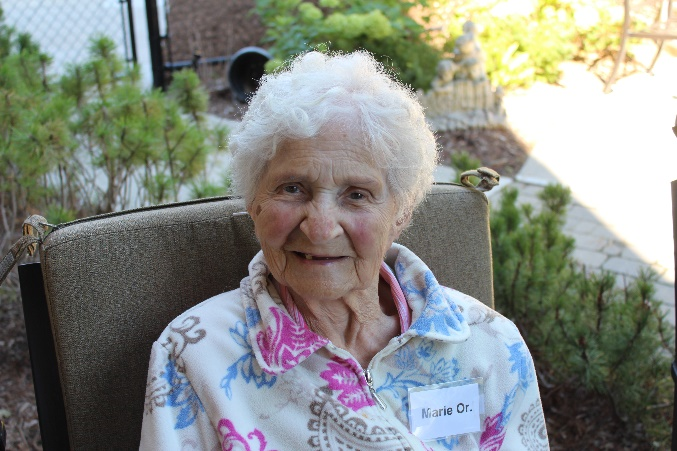 Marie enjoys her daily Adult Day Programs with the Region of Durham via Zoom. Since the virtual programs launched in December 2020, Marie rarely misses a day and has attended close to 200 programs over the past six months.
On Tuesday and Thursday mornings, the 102-year-old sits in front of her laptop, ready to do some gentle chair exercises. At 10:30 a.m., Marie enters a Zoom meeting with the help of her daughter-in-law Lisa or granddaughters, Julia and Stephanie. Known as "Baba" to everyone, Marie joins others online who eagerly wait for the exercises to begin.
A wide variety of programs are offered every morning and afternoon via Zoom, and Marie enjoys the music and laughter most. Recreation staff facilitate the programs and the clients have plenty to discuss amongst themselves. This includes daily news and other topics at the coffee and conversation Zoom meeting.
Marie's daughter-in-law appreciates the programs for keeping Marie engaged throughout the pandemic. "Seeing the affect the Zoom programs have had on Baba is just remarkable," says Lisa, who usually listens in on the sessions with Marie. "It's been a lifeline; she gets to see her friends, which has truly reduced feelings of social isolation."
Born in Sundown, Manitoba in 1918, Marie grew up on a farm and shares fond memories of her early years. She met her husband at the local dance hall, and they married and raised four children together. Marie is very proud of her three grandchildren, great-grandchild, and is excited that another is on the way.
In addition to the Zoom programs, Marie participates in an inter-generational pen pal program facilitated by the Region of Durham's Adult Day Programs and the Edna Thomson Early Learning and Child Care Centre. As a former teacher, Marie loves children and enjoys the letters she receives from the childcare classroom. Marie also stays busy by connecting with her grandchildren through Facetime and WhatsApp.