Anaerobic Digestion will help us achieve our diversion target by managing organics from the Green Bin program, multi-residential buildings and garbage.
Durham Region's population is growing and is expected to be over 1 million people in the next decade. More residents mean more garbage for the Region to manage. The current composting facility for resident's organics and the Durham York Energy Centre (DYEC) for residents' garbage are at capacity. This new facility will help meet the increasing waste management demands and will reduce the quantity of garbage that the DYEC needs to process.
Removing organics from the garbage is a key waste diversion strategy in Durham Region and has helped to achieve over 50 per cent diversion. Currently organics are managed through yard waste collection, Christmas tree pick-ups and the Green Bin program.
In 2008, Durham Regional Council set a target of 70 per cent diversion. In 2018, our diversion rate was 64 per cent.
Public Consultation
Waste Pre-Sorting and Anaerobic Digestion Facility - Draft Siting Report
Comment period has closed. Questions? Contact us by email.
Public Information Centre - February 27, 2020
Comment period has closed. Questions? Contact us by email.
Waste Pre-Sort and Anaerobic Digestion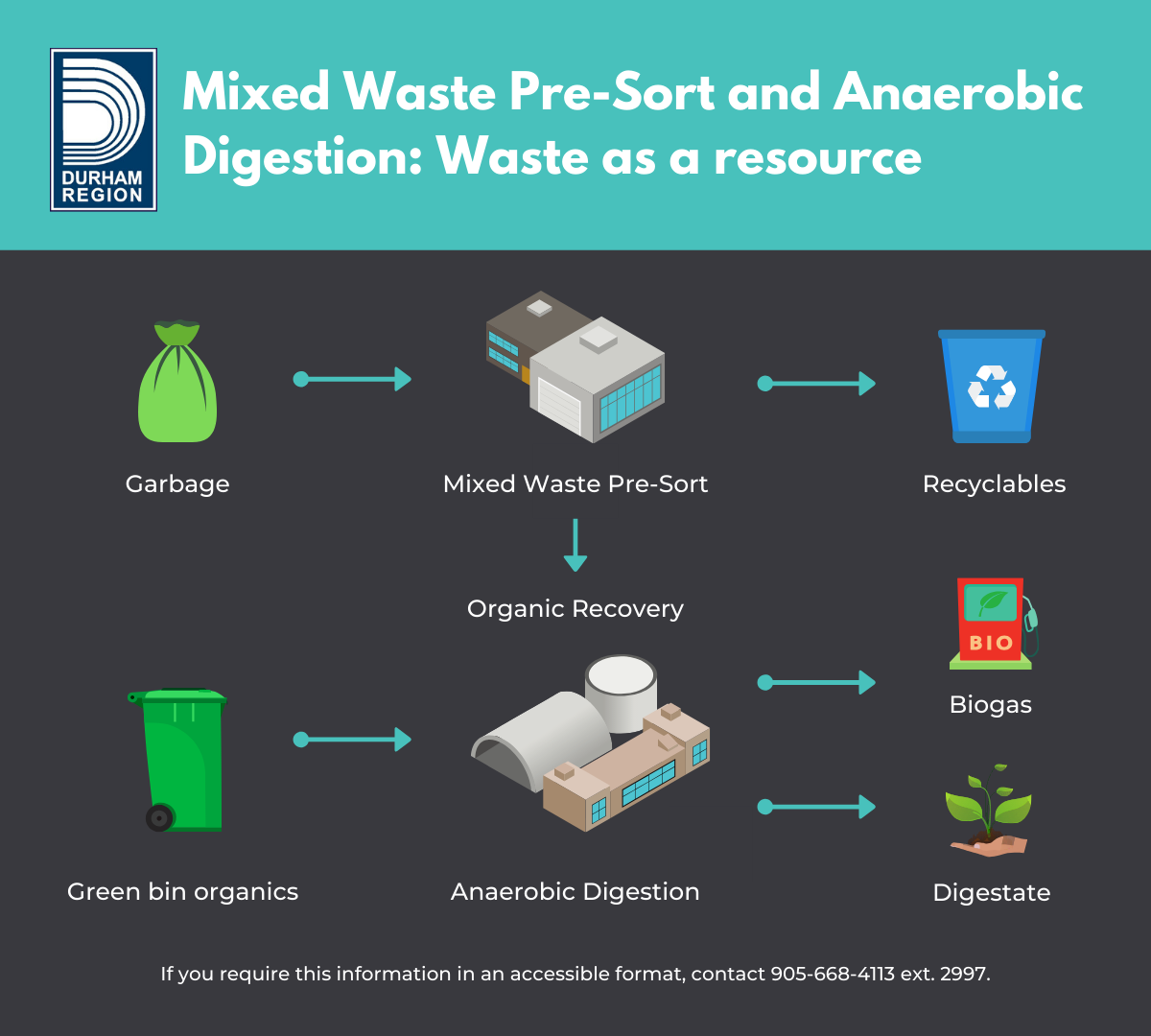 How will the waste be processed?
Mixed Waste Pre-Sorting
Pre-sorting of mixed waste involves systems which separate recyclables in the garbage bag from organic waste and other residual materials that can be processed at the Durham York Energy Centre.
Anaerobic Digestion
Anaerobic digestion is a process where organics are broken down (degraded) by microbial bacteria in the absence of oxygen under controlled conditions. This process produces biogas, compost liquid wastes and solid residue. The digestion of organics takes place in an special reactor (or enclosed chamber) where critical environmental conditions such as moisture content, temperature and pH levels are controlled to maximize biogas generation and organic decomposition rates.
Where will a Waste Pre-Sort and Anaerobic Digestion facility be located?
The siting report is available in the link above for the new Mixed Waste Pre-Sorting and Anaerobic Digestion facility. The report recommends the south Clarington site located next to the Durham York Energy Centre as the preferred location, and details the methodology used and the factors considered to assess each site, including environmental and developmental impacts, as well as total cost. Six potential candidate sites were evaluated to identify the most suitable location for this facility:
West Scugog – #10 Regional Road No. 21, Scugog
East Scugog – 1623 Reach Street, Port Perry
North Clarington – 9293 Woodley Road, Clarington
South Clarington – 339 Courtice Road, Clarington
Oshawa – 1640 Ritson Road
Whitby – 4600 Garrard Road
Benefits from a Waste Pre-Sort and Anaerobic Digestion facility
In addition to diverting organics that are sorted from the waste stream, other benefits include:
Produces a methane bio-fuel, which can be combusted to generate electricity and heat or can be processed into renewable natural gas and transportation fuels
Generation of a 'digestate' product that can be turned into a nutrient-rich compost or fertilizer product
Removes recyclables that end up in waste
Reducing the amount of waste sent to the Durham York Energy Centre
Promotes circular economy of waste
Serves as an international model for other municipalities
There are no stack emissions or combustion involved in the anaerobic digestion process. This facility will convert organic materials like food scraps into a renewable natural gas—the building will be under negative air pressure and air from the facility must go through biofilters prior to release. There will be minimal impact from truck traffic as the trucks are already on route to the DYEC, it is anticipated there will be two additional trucks added to the daily total. There will be disposal of some residues.
Where will the waste come from?
We will accept garbage and source separated organics collected from Durham Region's eight municipalities: Oshawa, Pickering, Ajax, Whitby, Clarington, Brock, Scugog and Uxbridge.
Publicly available background documents
Media Material
Council Reports
Procurement
Technical Reports